"I gained less job satisfaction as the years went on. I felt that I wanted to give something back to society."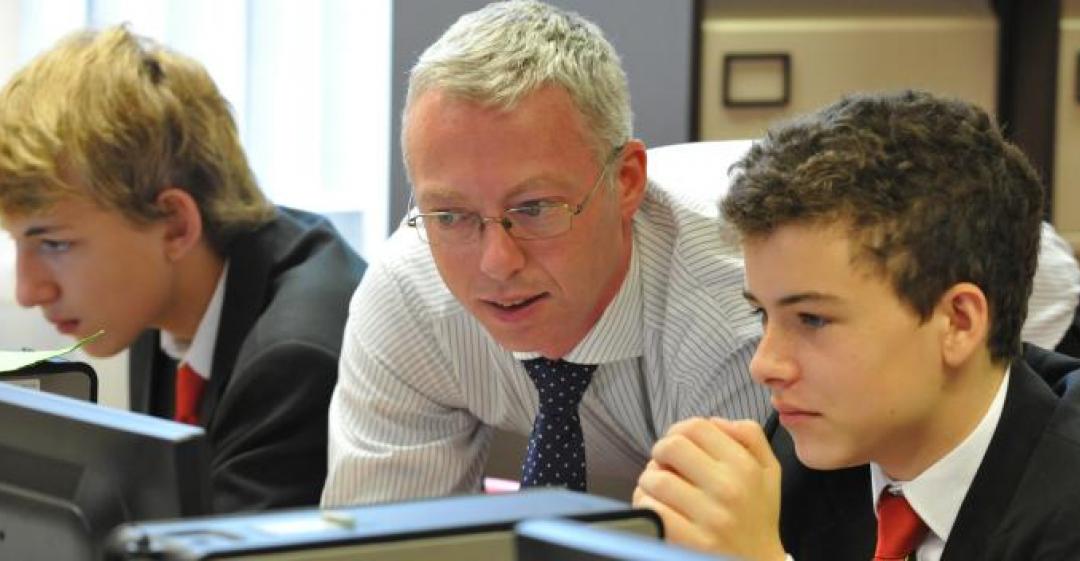 From The City to The Classroom
What work were you doing previously?
Before getting into teaching, I worked in investment banking.
After graduation, I worked for Goldman Sachs in London as a programmer analyst. My responsibilities grew, over a fifteen-year period, into team, project and programme management for a variety of top-tier banks, including Deutsche Bank, JP Morgan and Lehman Brothers.
I also spent time working in both Sydney and New York.
What are you doing now?
I'm Assistant Headteacher at Sandringham School, St. Albans.
I teach Computer Science and am also in charge of Initial Teacher Training and Strategic IT for the school.
Why did you change?
The financial crisis in 2008 made me question my motivation and purpose.
Although investment banking was always fast-paced and interesting work, I gained less job satisfaction as the years went on. I felt that I wanted to give something back to society.
When was the moment you decided to make the change?
I decided to become a teacher after working with young people as a coach for a junior rugby team.
I realised, during that time, that I enjoyed working with young people much more, and that the personal rewards, such as seeing the team learn and grow, were much more satisfying than the monetary rewards from a career in the financial sector.
Are you happy with the change?
Yes.
The great thing about teaching is that the career progression opportunities are great, with a no-barriers structure. So long as you have the skills, there are all sorts of opportunities to progress within your career. After completing my training, I was head of a department after two years and an Assistant Headteacher in four.
Being able to create a lasting impact on students, providing inspiration for the subject and their future careers, is just so rewarding.
What do you miss and what don't you miss?
I don't miss the commute!
I can walk to work and don't miss the cattle trains into London early morning and late evening.
I do sometimes miss some of the perks of banking – international travel, first-class flights and nice lunches!
How did you go about making the shift?
I found out about the School Direct route into teaching through the National College for Teaching and Leadership at a recruitment event in London.
I followed this route, training at Roundwood Park School, Harpenden. I also took part in the Schools Experience Programme across a range of schools.
The School Direct route was great for me, as (unlike the university-led Postgraduate Certificate in Education route) it meant I didn't have to go back to an educational setting to study. It's a brilliant scheme and I felt it allowed me to become part of the community in teaching.
What didn't go well? What 'wrong turns' did you take?
The amount of time and energy that the job takes has been a real eye-opener.
Choosing teaching is definitely not a 'lifestyle' choice. There is always more that can be done, so I've had to be very organised, managing my time carefully.
How did you handle your finances to make your change possible?
This was definitely a challenge, as there's obviously a significant pay differential to banking.
My partner was supportive and went back to work, and there were a few years of very careful financial management!
That said, there are now significant bursaries and scholarships available for shortage subjects (up to £25,000 tax free) or the School Direct (salaried) programme for career changers, where you are employed by the school and paid to train.
What was the most difficult thing about changing?
Developing the confidence to stand up in front of, and inspire, 30 expectant faces, five times a day!
What help did you get?
I've found that the best way to learn is by observation.
I picked up so much more from watching great teachers than I could get from reading a textbook or sitting in a lecture theatre. The Schools Experience Programme was also great for trying out the classroom environment.
In the School Direct route, the support I got from Subject Mentors was very personalised and I was able to progress at my own pace. I attended school trips and staff training, too. The overall route was supportive, offered greater independence, and provided opportunities to get straight into the classroom and build relationships.
The National College of Teaching and Leadership offers a whole range of support, including advisers available for you at each stage of your teacher training application.
What have you learnt in the process?
I've come to understand a lot about how children all learn differently.
I've even felt inspired to do further research in this area; I'm completing a part-time Master's degree in Education at the University of Hertfordshire.
What do you wish you'd done differently?
Although working at your local school has advantages, there are some downsides to seeing your students out in town. Perhaps I could have aimed to teach in an area a little further away from where I live!
What would you advise others to do in the same situation?
I would recommend teaching to those who are interested in working with young people: the rewards are limitless.
So long as you have the motivation, it's a great job because of the variety. It's like performing, yet you're not only the actor – you're also the scriptwriter, producer, designer and stage manager!
What resources would you recommend to others?
The Get Into Teaching site is great.
To find out more about how to start a career in teaching, visit www.education.gov.uk/get-into-teaching
What lessons could you take from Fergal's story to use in your own career change? Let us know in the comments below.