"I wanted a new adventure."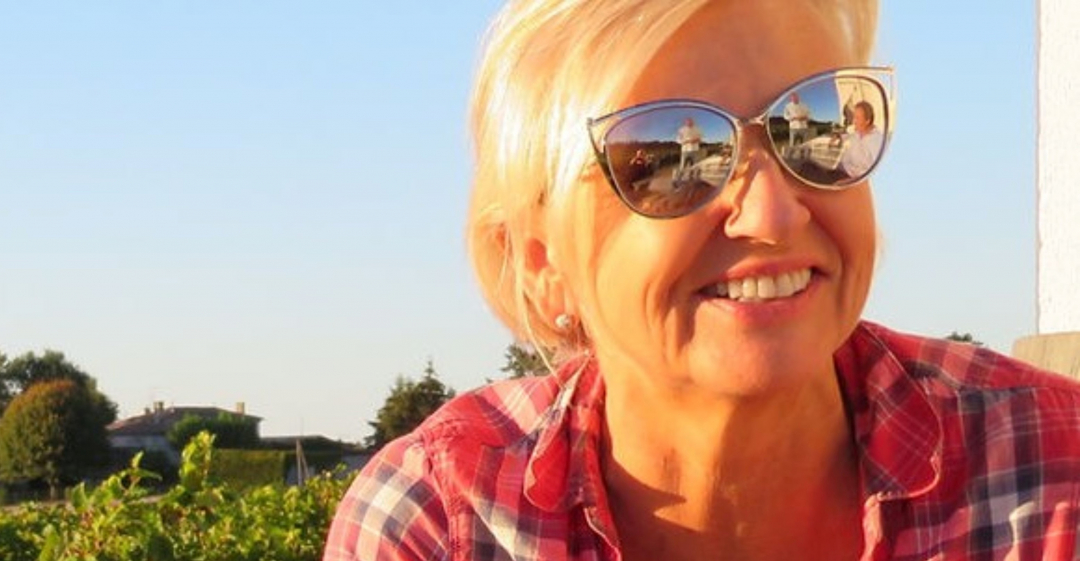 From Marketing to Wine
What work were you doing previously?
I was a marketing director at a large consulting company for sixteen years.
What are you doing now?
I now own a vineyard in Bordeaux.
I created a wine chateau from a parcel of vines and a dilapidated building.
Why did you change?
I wanted a new adventure in my 50s.
I wanted to experience a new industry, be my own boss and learn a new area.
When was the moment you decided to make the change?
I gave up work for two years to spend time with my youngest son before he left home for university.
I had some 'Mum guilt' that I hadn't seen him as much as I'd wanted while he was growing up, while I was in a big, busy job.
So I had those years with my son, and the decision was whether to go back to corporate life or follow a new passion.
The decision was easy.
How did you choose your new career?
I took advantage of the time that I had to learn/study something I'd always meant to spend time studying, but just hadn't had the time to tackle properly.
I completed WSET (Wine and Spirit Education Trust) courses, and was bitten by the bug.
I decided to take it one step further – why not make wine? And I then thought, 'where do they make great wine?'. A friend suggested Bordeaux.
So off I set, and discovered the amazing city along with the wonderful, huge and diverse winemaking region.
Are you happy with the change?
Absolutely!!
What a fabulous adventure. I am now 60, my wines are award-winning, I have renovated an old tractor barn into a wine tourism venue, which within two years already won the Best of Wine Tourism Gold Award.
What do you miss and what don't you miss?
I sometimes miss the fact that at the end of the day, I don't have anyone else (i.e. bosses) to lean on and ask for help.
Everything stops with me, but that is also an advantage too because I'm the master (or mistress) of all that I do – every day, all day.
I don't miss the aspect of having to get approval for big decisions, or working on an intangible product.
How did you go about making the shift?
I started with wine studies to get knowledge and also credibility, as I was going to dive into a new industry with no previous experience.
I decided to start small – I bought a small parcel of vines and a very run down house which I renovated as a holiday home during the first two years.
Alongside this, I built a network around me and spent time helping my neighbour, talking to people and understanding more about the politics, the industry and the key players and how to go about things.
How did you develop (or transfer) the skills you needed for your new role?
Over the years I've gathered a lot of skills that have proven useful.
Most recently from my time as a marketing director and small business consultant I have business and marketing skills, as well as budgeting and people management skills.
I also had skills from my studies (French as well as communications from my Masters), and from the hospitality industry when I ran a country inn during my twenties.
I evaluated all the skills I thought I'd need and then decided to buy in the best I could afford where I'd identified gaps.
This was local expertise in terms of winemaking, i.e. those who have worked the land in the area for years and know the terroir, the climate, have the contacts for supplies etc.
What didn't go well? What wrong turns did you take?
I'm still learning.
I've made some decisions regarding packaging that are costly because of my small production, but adds a lot to the price of making a bottle of wine. I had to label my first two vintages by hand because the cost of a labelling machine was way beyond my reach.
I underestimated the cost of all the machinery – I still don't have the cash to spend on a forklift truck, so have to borrow still.
How did you handle your finances to make your shift possible?
I started small.
I bought a small parcel but in the best appellation (area) that I could afford, so that the wines would immediately have a higher value than others in the region.
I then only worked 2/3 of that land as I also had to buy equipment, and wanted to put more money into the best quality I could afford with a smaller quantity rather than make a lot that would be very average.
Then in time I worked the additional third of the land because I'd built demand for my wines.
What was the most difficult thing about changing?
That everything was totally new – new industry, new region, new contacts.
I was a complete outsider and doing it all as a Brit woman on her own…
What help did you get?
I built a network locally and reached out to help the local appellation.
My neighbours have been a great help.
I've had great support in return and especially from other women in wine – not necessarily wine production but wine tourism, wine writers etc.
Getting the local advisor to help with winemaking was essential too – he knows the area and soil and weather so well, with knowledge built up over four generations that I'd never have.
What resources would you recommend to others?
Undertaking relevant studies.
It will help you gain confidence, credibility and give you a great foundation.
It's never too late to learn a new subject.
What have you learnt in the process?
So much.
About wine – I now have the WSET Diploma plus many skills of winemaking and wine tasting.
About the wine business in general, about sustainability at the coal face and making decisions that have impact.
And importantly, what I'm capable of. I've learned how resilient and strong I am to keep going, and keep coming up with new ideas to grow the business without having anyone else to lean on financially or emotionally in terms of big decision-making.
My grown-up sons and my friends have been amazing but when it comes to it, the buck stops with me and I've managed it!
What do you wish you'd done differently?
I wish I'd done it twenty years ago!
Although I might not have had the funds then and would have had children at home.
I also wish I'd bought some white wine vines at the outset, as the turnover to cash is quicker and would have helped with cashflow. Red wine takes 3+ years in total.
What would you advise others to do in the same situation?
Do it.
Take your time, start small and enjoy every moment.

To find out more about Sally's business, visit www.chateaugeorge7.com

What lessons could you take from Sally's story to use in your own career change? Let us know in the comments below.