"I didn't feel 'in place', as if I was only a ghost in someone else's life."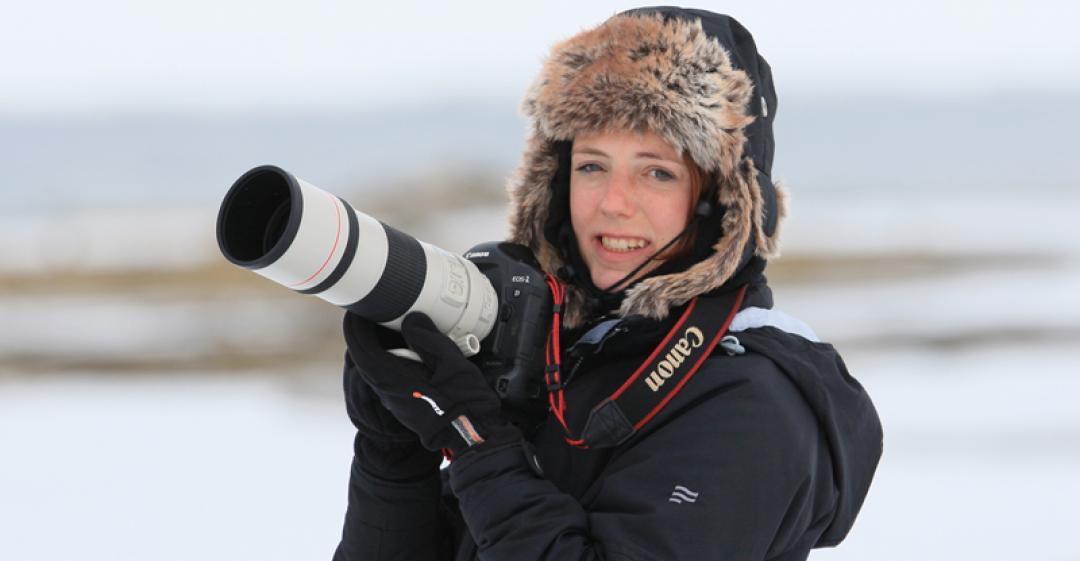 From Technical Writer to Hydrobiologist
What work were you doing previously?
Previously I was working as a Technical Writer for an IT company in the Netherlands. I wrote manuals, programs, training documents and I designed flyers. I was in close contact with the programmers and testers. Alongside my IT job, I also worked as a freelance reporter and photographer. Most of my freelance assignments were carried out for the newspaper of Tilburg University in the Netherlands and a blog site of a local pub focusing on cultural events.
What are you doing now?
Nowadays I work as a Hydrobiologist in Phytoplankton at a big laboratory for the Dutch Water Boards. My work consists of examining water quality by determining species of phytoplankton (algae and cyanobacteria) in inland water bodies. These results are used by the Dutch Water Boards to report water quality to the EU, in line with the European Water Framework Directive. I am also following a pre-Master programme at the Open University to eventually get a Master degree in Environmental and Natural Sciences.
Why did you change?
My work as a Technical Writer wasn't fulfilling me. I was always longing for nature, the big outside world and its secrets. Besides, the economic crisis, reorganizations, new management and regulations resulted in negative vibes at work. I didn't feel in place, as if I was only a ghost in someone else's life. I decided that I needed to boost my career and I wanted my job to feel like a hobby or even a true adventure.
When was the moment you decided to make the change?
I shifted from one day to another from a ghost-like employee to a vibrant dreamer, although I didn't have my cards in play just yet. I left my job despite the fact I was offered a new one with a bigger income, more flexible hours and even working time at home. My partner and family supported me. I wanted to do something that others didn't expect of me, so I planned a trip to Spitsbergen (a Northern Norwegian island with an Arctic climate) to seek solitude and pure inspiration of what I wanted to do next for my career perspectives.
Are you happy with the change?
Truly, I am thrilled about jumping in. I was in for a new start and if I had to go back and do it again, I would.
What do you miss and what don't you miss?
I won't miss the politics of people who are mainly focused on keeping their jobs, even going into panic mode, without realizing that it's not about them. I do miss the colleagues that were dear to me in that time.
How did you go about making the shift?
I was already working as a freelance photographer, doing mostly portraits, weddings, and documentary work. But my greatest passion was nature photography. Somehow down the road I realized that I was intrigued by the topics that I photographed: animals, landscapes, plants and my mostly beloved place to be, the Arctic.
I was overwhelmed when I visited Spitzbergen, travelling from the Netherlands, Scotland, Faroer Islands and Jan Mayen way up to the North of Spitzbergen – my record is 80 degrees North! I saw the interrelatedness, ecological and physiological advantages of species in specific surroundings and the harshness to survive.
I always believed that biology was my destination, but I wasn't convinced I could work as a biologist. During the Spitzbergen trip I met a Marine Biologist from the Netherlands. We talked quite a lot about biology during the trip and I informed him that I was thinking of starting a new course at the Open University of the Netherlands, called Environmental and Natural Sciences.
When I came back from my trip, I contacted him, and a few months later he offered me an internship at an ecological institute on the Isle of Texel in the Netherlands. The internship was to research the behaviour of common seals on mudflats close to human activities, the Eems Harbour in Groningen.
After the internship I needed to get my financials in order again! As if it was meant to be, I found a job on secondment in hydrobiology, although quite a different working field than animal behaviour: analyzing fresh water bodies for potential toxic cyanobacteria in line with the 'Cyanobacteria Protocol for Swimming Waters'. It was a simple laboratory job. I was in for more and deeper knowledge. Gladly, I got the chance to stay. When my secondment ended, my contract was extended for two years to learn more about Phytoplankton as a whole! This year I will get a contract at the organization itself.
How did you handle your finances to make your change possible?
At the beginning I received redundancy pay. I also made use of my savings and got some help from my family and partner now and again.
What was the most difficult thing about changing?
Changing your career isn't about taking on a new job. It's changing your heart, to the core of it. The path to expand my horizon and to really 'see' new possibilities was the most difficult part. But when I started, I didn't stop and I am still 'playing around' to keep ahead with new possibilities. For example, one and a half year ago I contacted an agency organizing short trips on the North Sea and the Dutch Voordelta. I now work there as a volunteer observing harbour porpoises, documenting their behaviour and locations.
What help did you get?
Most of the help came from people working in biology – by talking to them, and then keeping in contact. And of course my beloved family, partner and friends for believing in me.
What have you learnt in the process?
Keeping true to myself is the most important thing to do when making a shift. I documented every success in the past years to 'push' myself to go on. It's really amazing to see that list of successes now and remind myself of how far I have come.
What do you wish you'd done differently?
I believe things happen for a reason and that you are always in charge of your own actions. Even things that I wish I'd done differently, showed me what needed my attention the most.
What would you advise others to do in the same situation?
Listen to that voice that is always nagging you, telling you there is more to do in this world than to get stuck in a job that makes you feel 'invisible'. People who say to you "you have a job, be glad" are actually people who are very afraid of that nagging voice. Start listen to your intuition. Mother nature gave you intuition for a reason. Use it as an advantage, as a power.
What resources would you recommend to others?
Get out, show yourself. Get on with 'trials' like internships, courses, symposia, blogs and focusing your CV on the area you want to work in. Every thing you do counts, and shows that you are in for this new challenge.
And be true to yourself, leaving sceptics behind. For biology you need to learn about ecology, different habitats, get experience in field work, in the laboratory, in reporting. Talk to experts. You will be surprised how easy it is to talk to them if they see that you are really interested.
To find out more about Marta's work and her blog which includes stories from her internship, visit www.orbica.nl
What lessons could you take from Marta's story to use in your own career change? Let us know in the comments below.