"I was thinking about work all the time, even when I was at home with my family."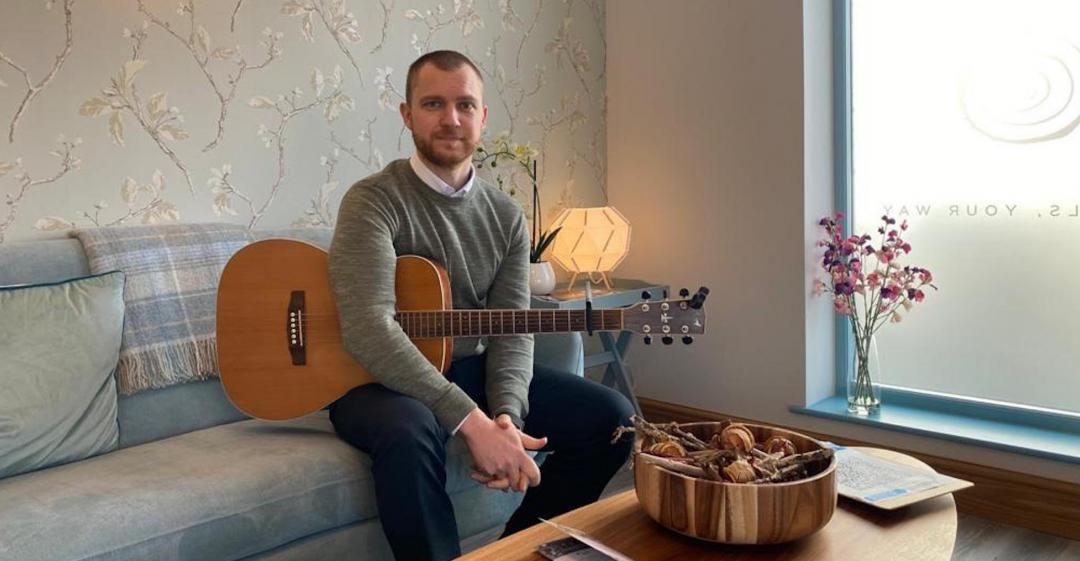 From Teacher to Funeral Director
What work were you doing previously?
I was a high school music teacher in South West London for ten years and Head of Performing Arts.
What are you doing now?
I am a funeral director with Full Circle Funerals in Harrogate, North Yorkshire.
How did you feel in your work before you decided to make the change?
Although there were many aspects of teaching that were fulfilling, it had become all-consuming for me. This was partly the nature of the job and partly my conscientious nature.
I realised I was thinking about work all the time, even when I was at home with my family. I was finding it hard to switch off. My wife said the family got me back in the holidays but during term-time I was distant.
Why did you change?
I was looking for a new challenge and a career that I could combine with family life.
When was the moment you decided to make the change?
Originally from Yorkshire, I moved back with my wife and two young children to be closer to family.
My life changed course when my sister spotted an advert in the window of the local funeral directors. She knew that the part of my job I enjoyed most was having a positive impact on people's lives, so although it might seem like a big change, there are a lot of similarities.
It wasn't a career I'd considered before, but I realised it would be an opportunity to work in a role that would allow me to spend more time with my young family.
How did you choose your new career?
It was quite by chance, after my sister spotted the advert.
Are you happy with the change?
Yes.
I was a musician before I was a teacher and teaching as a career only existed for me within the subject of music. As a funeral director I now have breathing space to be creative with my music, whereas before I would be learning pieces for a lesson or performance. This has had a hugely positive impact on my personal well-being. I feel like I've regained my passion and can play music on my own terms.
In terms of job satisfaction, I've always enjoyed mentoring others; in this role I know I'm taking some of the stress out of a difficult time for people. As I meet them for the third or fourth time, I enjoy building the relationship and getting to know them. If they want to introduce personal touches to their funeral, it's rewarding to help them do that and see the positive impact that has on the whole family.
If you'd told me last year that my next career move would be into the funeral industry, I would not have believed it.
What do you miss and what don't you miss?
I miss watching young people grow up, come out of their shells and develop into young adults.
I miss having a part to play in that transformation, and feel extremely privileged to have shared in some of the most significant moments in the lives of the young people I've taught.
I don't miss the challenging behaviour I had to cope with. It's nice to be able to go into work and be myself, rather than having to put on a front and deal with conflict.
How did you go about making the shift?
I'd known for a while that I wanted to find a way out of teaching, for the sake of my well-being and family life.
I'd been teaching in London for ten years; when we first moved up to Yorkshire to be closer to family, I took another teaching job in Leeds, even though I knew I no longer wanted to teach.
It was hard to make decisions about my future with a clear head while I was in a full-time teaching role so I decided to leave and give myself time to look for new opportunities. This isn't something I would necessarily recommend. It was very challenging and I spent long hours trawling job sites trying to decide what I wanted to do next.
Then the pandemic lockdown hit, which made it even tougher. I didn't really know what I wanted to do, but I knew I had the transferable skills for office work. My main concern was that I would be bored in an entry-level admin role.
Then my sister spotted the advert for a funeral director and it seemed to be just the right avenue to explore. I underwent a period of training when I joined Full Circle Funerals and the training and knowledge sharing is ongoing.
What didn't go well? What wrong turns did you take?
I really haven't looked back since starting work as a funeral director.
It was totally the right move for me and came at just the right time. I feel like I'm learning all the time and I'm lucky to have a very supportive and inspiring work team around me.
How did you handle your finances to make your shift possible?
I moved from one paid career to another so this wasn't an issue in my case.
I was lucky that my wife had a good salary, which meant I could afford to take a salary drop, so it was the right time financially. For me it was about having enough money to be comfortable whilst still being able to enjoy the lifestyle I wanted. The move to funeral directing has given me that.
What was the most difficult thing about changing?
There is a lot to learn.
I've faced challenging situations as a teacher and supported students and families through difficult conversations, but I did wonder if I would know the right thing to say to people who have been recently bereaved.
I now realise it's all about trusting myself to navigate the conversation and my past experiences in school have proved to be very helpful.
What help did you get?
The Full Circle Funerals team are incredibly supportive.
They do something called reflective practice where we talk through our work to reflect on what went well and whether there are things we could learn to improve the experience for us and the people we support in the future. There are parts of the job that can be challenging and this process is incredibly helpful. I didn't expect to feel so supported.
On top of that, I find the admin and systems that the company has in place very reassuring, giving me confidence that I'm following the right procedures.
Music has helped me too. I've been drawn to all things musical from a young age but it's only been in later life that I've realised how much it has been my 'soul food'. I have turned to music as a way to manage stress, practise mindfulness, gain support from others and to also celebrate key achievements.
What resources would you recommend to others?
One of the hardest things for me was writing a CV.
As a teacher you don't have a CV, you have a personal statement, so I had a lot of work to do to pull out the skills I'd developed as a teacher and apply them to job opportunities in the private sector.
I found information about CV writing online. I would say to anyone looking to make a similar move that you'll have skills that are valuable to other professions, it's just a case of taking time to tease them out and present them in the right way.
I found the Full Circle website really helpful – it helped me understand the ethos of the company and there's also a lot of helpful information about the process and funeral choices on there. It made me think of funeral directing differently, in a positive way.
I also read the company founder Sarah Jones's book Funerals Your Way, which is designed to support people through the process of arranging a funeral – I found that a helpful insight into what the role might entail.
What have you learnt in the process?
I've learnt that my musical background is ideally suited to my new career, which is all about well-being.
Should a family have a strong interest in how music is incorporated into the funeral, I'm confident I can enable them to make positive and meaningful choices.
What would you advise others to do in the same situation?
Keep your mind open to change. It can lead you in an unexpected and rewarding direction.
Thank you to Full Circle Funerals for providing this story.
What lessons could you take from David's story to use in your own career change? Let us know in the comments below.