"I wasn't waking up excited anymore."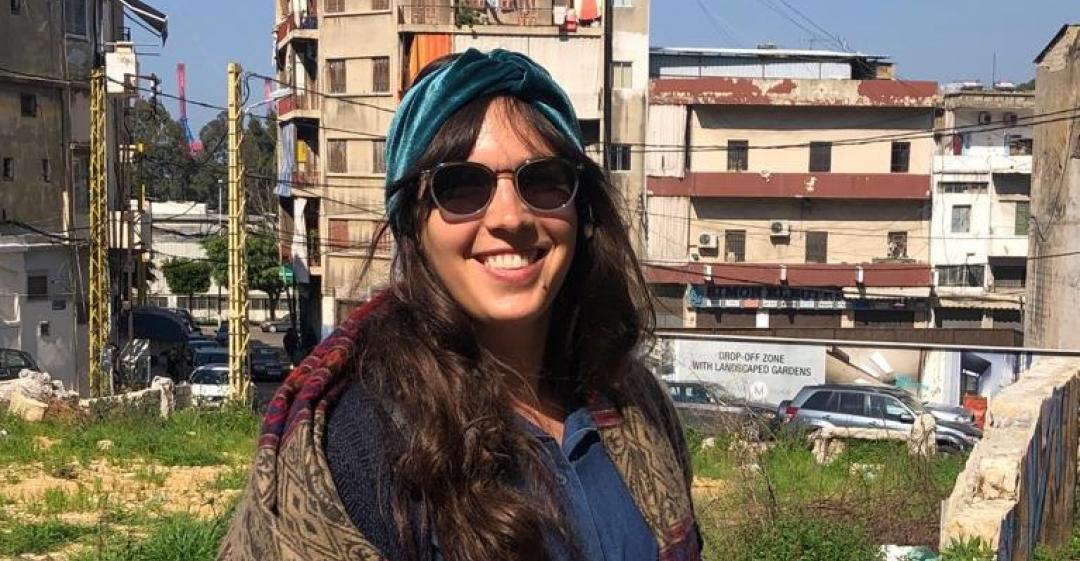 From Own Business to Humanitarian Work
What work were you doing previously?
I worked as a dentist for six years, at a family clinic back in Poland that I ran with my mother and sister.
What are you doing now?
I'm Field Coordinator for a grassroots NGO called Dental Mavericks.
It's a charitable dental relief organisation with operations in Morocco and Lebanon. It's been almost a year now since I moved to Lebanon. Our projects focus on making dental care accessible to vulnerable populations and promoting oral hygiene.
Since it's a grassroots organisation my responsibilities vary from project and volunteer coordination to writing grant proposals, policies, tracking budgets and preparing strategies – anything that's essential to our operation.
Why did you change?
Ever since I graduated, I've volunteered as a dentist too, and these have been some of the most satisfying experiences of my life.
However, there came a point where I realised it just wasn't enough only to do it for a few weeks per year.
Also, as much as I was passionate about dentistry for the first few years of my professional career, a moment came when I wasn't waking up excited anymore. I tried to change a lot of things around work but still felt it wasn't really my world.
When was the moment you decided to make the change?
I was doing a post-graduate diploma in Humanitarian Action, to learn more about the sector.
I decided to take a sabbatical when I finished, and I knew that I would spend the first few months in Lebanon, the country I'd fallen in love with a few years before.
Around one month after I made that decision, I received an email from Dental Mavericks, with whom I'd volunteered before as a dentist, saying that their current Field Coordinator was leaving and asking if I would be interested in the job.
Are you happy with the change?
I couldn't be happier, though I can't say that it's been easy.
During the first few months I had at least one breakdown every month. Then, a revolution started in Lebanon.
We had to stop all our projects. I was even considering quitting. My boss gave me the freedom to choose what I really wanted, but after having some discussions with her I chose to stay in the role.
There are still a lot of challenges every week and so much that I'm learning about the humanitarian sector, and the Lebanese context specifically. But I love being here and I'm excited about what's coming.
What do you miss and what don't you miss?
Most people assume that I miss my salary because I was earning 2-3 times more as a dentist.
I had a car, and stayed in one place for more than three months, all the privileges that come with a well-paid, stable job.
However, I have to say that I don't really miss these things because I get so much more in return.
I don't miss spending whole days at one office or having a fixed schedule for the week. I love the flexibility of my days and chances to meet different people, whether colleagues from other NGOs or our beneficiaries.
That said I do miss my friends and family at home.
Luckily with WhatsApp and emails I can keep in touch with everyone I care about. I try to send an email to the same group of people once a month (which also serves as my diary). And actually some of those people reply to me with very personal, touching stories of their own that they've never shared before, which I'm finding lends new depth to those relationships.
How did you go about making the shift?
It wasn't an overnight decision but rather a long process of discovering who I was, what I want from life and what I can offer.
The breakthrough for me was my first trip to Lebanon around three years ago. I took part in a project called Follow The Women, where 120 women from all around the world cycled around Lebanon. One of the participants told me there was a big need for volunteer dentists on Lesbos island.
The following May, I volunteered there with Health Point Foundation. A fellow dentist recommended Dental Mavericks for projects in Lebanon and my translator told me about a good Arabic school in Beirut.
So, that summer I went to Lebanon for six weeks volunteering again as a dentist and I studied Arabic. I also signed up for the post-graduate diploma in Humanitarian Action in Warsaw.
The following winter, while I was doing my degree, I travelled again to Lebanon. By accident, I ran into Cally, the director of Dental Mavericks, at the airport in Beirut. We talked about my course and that led to her sending me the email with the job offer when the previous coordinator was due to finish his contract.
So, since that first trip to Lebanon, one thing has led to another.
When I finally made the decision to quit, I told my mum and my sister first and then everyone at work. I took six months to finish all the treatments for my patients and delegate my responsibilities to someone else.
In fact, it was even beneficial to our business, because we took the time to simplify and automate some procedures. Also, surprisingly, these were some of the most satisfying months in that job, because I stopped feeling pressured and my patients, knowing that I was leaving, expressed much more appreciation for my work than ever before.
What didn't go well? What wrong turns did you take?
The one thing that I wish I could have had was to get at least a couple of weeks on the project with the previous coordinator.
He did a handover for me on a call but there was a lot of information and it was hard to absorb on one call.
How did you handle your finances to make your shift possible?
Around a year ahead of my shift, I decided that I'd like to be able to go one year without making a penny.
I Googled how much money it would take to be able to live abroad for a year, and divided that by twelve months. Then, I put that amount of money into a separate bank account every month. In the end it turned out that I didn't need all the money since Dental Mavericks were covering a lot of my costs.
At the beginning it was very basic and I was still using some of my savings. After six months we renegotiated my contract, and now we're constantly working towards increasing our budget so that I can have a proper salary. At the moment I'm not able to put aside savings but I don't worry about my budget every month.
After the first six months, when I was going home for the Christmas holidays, I realised I hadn't bought a single item of clothing in that time, but it hadn't even crossed my mind.
And I know that if I want to treat myself to anything, I can use the money that's still in my savings account.
What was the most difficult thing about changing?
The most difficult thing was giving myself permission to change.
I invested so much of my time and energy to get where I was in dentistry and I still had a lot of passion for it. Plus, it was hard to think about leaving a family business behind.
And then, when I was finally in Lebanon – the place I love so much – and I was doing the work I'd dreamed of, I felt as if life wanted to challenge me again. There were so many things that I didn't know how to do that it was overwhelming at times. Luckily, step by step, I learned more and more, gained skills and confidence, built invaluable relationships and most of the difficulties disappeared.
A lot of people also ask me how I handle working with refugees and other vulnerable communities, being so close to poverty and injustice. But, for me, doing projects with them actually gives me hope and positive energy. Together we are building a bit of a better world for them, and in the end for all of us.
What help did you get?
I got a lot of help from old and new Lebanese friends.
People here are the most welcoming and kind humans I've ever met. TheIR help included everything from picking me up from the airport, explaining how the local transportation works, to putting me in touch with other NGOs in the field.
I can't underestimate what I learned during my diploma in humanitarian action. Even if just in theory it gave me a great understanding of the sector.
My boss has also been great support, helping me get through some difficult challenges. I truly appreciate our relationship and the fact that I can honestly talk with her about everything.
And last but not least, my family, friends and some mentors from back home are constantly of great help with any difficulties that come up. I can't imagine having taken this journey all by myself.
What resources would you recommend to others?
The book Getting your first job in relief and development by Nick Macdonald, which is available on Amazon as an e-book. It's a bit outdated but explains extremely well why it's so hard to get a first job in the humanitarian sector.
The EU volunteers platform.
For getting more skills and knowledge in the humanitarian field, DisasterReady.org and Kayaconnect.org offer very relevant and free courses.
The Sphere handbook is a bible for every humanitarian worker, with all the standards for humanitarian help.
All the books, blog posts, interviews and podcasts by Brene Brown and Tim Ferriss.
What have you learnt in the process?
The list is endless.
How an NGO is set up, different actors in the field, the coordination system, writing grants, strategising, writing programmes, doing assessments...
I also learned so much about myself in the process. For example, I learned that I love field work and don't really enjoy administrative tasks. This helps me get a vision of what I could be doing in the future in the humanitarian field.
I think I'm also half way to learning Arabic to the level where I can communicate easily.
What do you wish you'd done differently?
Honestly? Nothing.
I think everything happened at just the right time, even if I didn't always understand the process as it happened.
What would you advise others to do in the same situation?
In terms of starting a career in the humanitarian field, I don't think I know anyone who started in this field, especially in an expat position, without doing some volunteering or an internship first.
Also, don't underestimate the power of connections. If someone recommends you to another person, people will trust these recommendations far more than paper CVs.
There are a lot of paths depending on your education or aspirations. You can start by volunteering for a grassroots NGO and work your way up to a paid position. I know a lot of people who started with the EU volunteers programme. Others begin by volunteering for a national NGO at their HQ and then advance to a paid HQ position and finally expat role. But without 1-2 years relevant experience in the field and some connections it's extremely difficult to get a paid role right away.
More generally, in respect of making a shift in your career I would advise everyone to be patient, follow your intuition and don't expect that it will all happen in one month, or even one year. For me, the whole process, from realising that I wanted to change, to actually making a shift, took probably around five years, with two years of studies in between and so much work on myself first. Still, I'm sure that it's achievable in a much shorter timeframe, especially when you put aside fears of making the wrong shift.
What lessons could you take from Marta's story to use in your own career change? Let us know in the comments below.
Thanks to our friends at Indigo Volunteers for this story. To find out more about their work, visit www.indigovolunteers.org.