"I felt stuck, tired, and uninspired."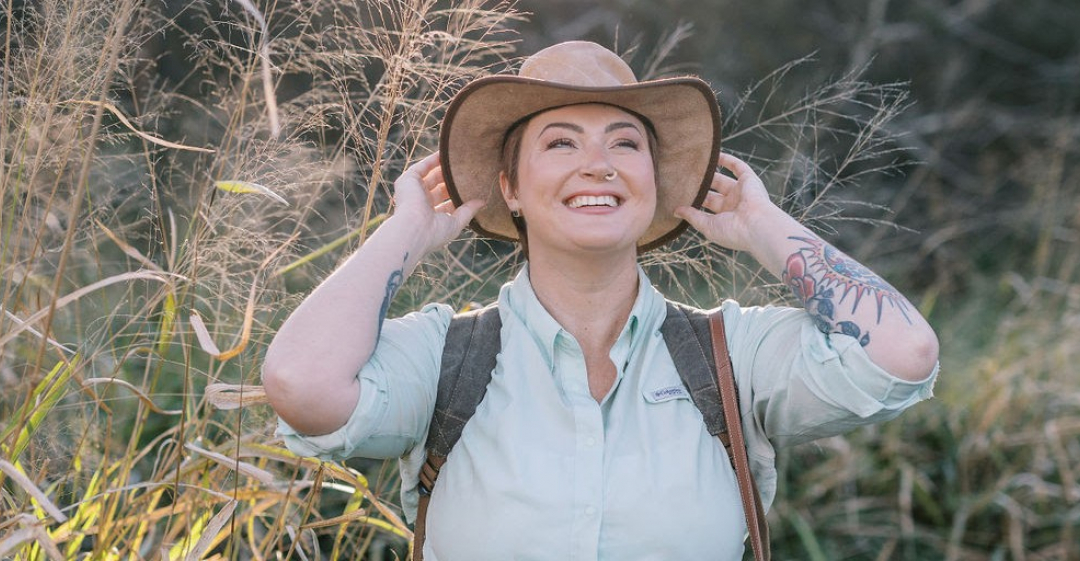 From the Media to the Natural World
What work were you doing previously?
I was a digital journalist, editor and producer at the Australian Broadcasting Corporation.
I worked there for almost 12 years, in roles spanning news and current affairs, social media, homepage curation and features commissioning.
Most recently I managed a small team of digital producers creating content for a suite of Radio National programs.
What are you doing now?
I am a certified Nature and Forest Therapy Guide, and the founder of Heartwood Nature Bathing.
In its simplest form, I take people on gentle walks to support their health and wellbeing, and help them reconnect with nature and themselves.
Nature Bathing is inspired by the Japanese practice of Shinrin-yoku, or forest bathing. There's no literal bathing; you don't get wet and you don't get naked! The 'bathing' is about bathing in the atmosphere of nature, and immersing yourself in your surroundings via the senses.
It's a very powerful practice that can be incredibly restorative and deeply healing, both for people and the planet. I lead public and private walks, and am also very interested in the field of corporate wellbeing.
I am also co-authoring a book, and doing select freelance writing and editing work.
How did you feel in your work before you decided to make the change?
I felt stuck, tired, and uninspired.
I had known for a few years that I wanted a change. I had talked in circles about leaving, but I didn't know where I wanted to go next, so I stayed put. I was in a loop of feeling burnt out, then being reignited by a special project or story, only to dwindle again.
During lockdown, when I started working from home, I started to think deeply about the role of work in my life: not just what I did for work, but why I was doing it. I realised that I was working myself too hard for things that didn't really matter to me, and weren't filling me with a sense of meaning and purpose.
I felt very guilty for feeling this way, particularly during the pandemic when so many around me had lost their jobs and were struggling.
And my job wasn't a bad job: it was an amazing job. I adored the stories I was fortunate enough to be working on. I loved the people I worked with, and I had a really incredible manager who would have done anything in her power to support me to stay.
But when I was really honest with myself, I knew it wasn't the job for me any more.
Why did you change?
When I sat down and looked at the reality of shifting to Nature Bathing as a career, I saw a very stark picture of how hard it would be.
I'd never been my own boss before. I'd have to start a business from scratch. It felt super risky: not only was I leaving a stable, secure job in the middle of a global pandemic, but I was leaving it to do something hardly anyone has even heard of.
But despite knowing all this, I was only energised, and excited, by the idea of change. I had come alive. For me, there was no going back from that feeling.
I felt a deep sense of purpose. I believe this practice has the power to help people in myriad ways, and also to help the planet. The sense of connectedness that grows from Nature Bathing can lead toward the kind of relational values that will support new solutions for the health of the planet.
As Jacques Cousteau once said, "People protect what they love."
When was the moment you decided to make the change?
I'd taken some long-service leave before making the change.
I wanted to make sure I was making the decision for the right reasons, and not just because I was burnt out.
As the time to return to work came nearer, my anxiety spiked. I actually cried at the thought of going back. I had a meeting scheduled with my manager to chat through the possibility of extending my leave, and before she could say anything, I blurted out, "I'm so sorry but I need to resign."
I think I only made the decision ten minutes before the call, though I had made it in my mind over and over again during my leave. It was super abrupt (sorry Julie!).
How did you choose your new career?
I looked at how I was voting with my feet.
What was I doing simply because I wanted to? What did I do that I wasn't required to do? I realised that every chance I got, I headed out into nature.
I am so in love with this world, and am constantly in awe of its beauty and mystery. I knew I didn't want to switch to another career in media, so why not shoot for something really wild?
I started looking into different careers outdoors – tour guiding, becoming a park ranger, working in bush regeneration, doing an apprenticeship as a landscaper. They were all fine options ... but I wanted more than 'fine'; I wanted something that completely lit me up inside.
I learned about forest bathing through Julia Baird's beautiful book, Phosphorescence. I had had no idea such a thing existed, but as soon as I discovered it, I felt a deep sense of a calling. I knew I had to answer it.
Are you happy with the change?
Yes! A thousand times yes!
It doesn't look exactly like it did in my dreams; I'm not just out basking in nature's beauty each and every day. I knew it would be hard to start and run a business, and I wasn't wrong! You can't underestimate the amount of time and energy that goes into it behind the scenes.
But I love what I do, and I believe in what I do, and that is an incredible feeling.
I've been so thrilled to find some freelance writing and editing work as well; I have rediscovered my love of words now that it is not my 'day job'. It feels like the best of both worlds, and I'm so grateful.
What do you miss and what don't you miss?
I really miss the people.
Having worked at the ABC for so long, many of the people there are like my family. They've known me through so many triumphs and supported me through a few tragedies, and it's hard to feel disconnected from them. I miss their creativity, insight and warmth. I still know them, of course, it's just harder.
I also miss the routine of a 'normal' work day (not that I ever really did a straight 9-5!). I'm an anxious beast at the best of times, and have had to work hard to bring some structure into my days. I have to be very disciplined about managing time, including having time to rest. When you're your own boss, it is easy to feel guilty for resting instead of working.
How did you go about making the shift?
I absorbed everything I could about forest bathing, and looked into the different ways I could become certified.
There are a few different branches of the practice, with different methodologies, so I did a lot of research to determine which was the right one for me.
I applied to do a certification with the Association of Nature and Forest Therapy Guides. Thanks to COVID, this course was available virtually, opening it up to me in Australia. I cried when I got in – I had expected, somehow, to be turned away.
The community of forest bathing guides is very small, so there wasn't much chance to shadow anyone, or talk to people in person. But I was able to find a few books and start to cultivate my own practice before my training began.
How did you develop (or transfer) the skills you needed for your new role?
I did a six-month online practicum with the Association of Nature and Forest Therapy Guides.
Three trainers – Vix, Amanda and Youmin – created this incredible space of warmth and openness, where our cohort learned and grew together.
The training was deeply reflective, and completely transformational for me. I developed my guiding skills by leading a series of training walks with friends, and friends of friends. I also completed a full wilderness first aid certification, so my participants are always in safe hands.
On the sidelines, I did a couple of free short courses in small business management online, so I could hit the ground running (or at least crawling) when I was certified.
What didn't go well? What wrong turns did you take?
I found it incredibly challenging to be in a space of learning again.
This will sound so vain, but I was used to being an expert, used to having the answers and knowing what to do. It was uncomfortable and confronting to go back to not knowing; to be trying and stumbling. I felt like anything that wasn't perfect was a failure.
I held myself to a very high standard, much too high. It came to a head during my first practice walk. It was just with my partner, and when I stuffed up a little part of my introduction speech, I almost had a panic attack. I had to overcome a lot of self-doubt and really dial down the inner critic.
I did a lot of unlearning during my training: about perfectionism, achievement, success, what I can and can't do. I was able to reconnect with my inner child, and with my natural creativity. I found a way to let go, and embrace imperfection!
How did you handle your finances to make your shift possible?
I want to acknowledge that this change was made so much easier thanks to my privilege.
I don't have any dependents, which helps a lot. I don't have a huge mortgage, so I had some savings to fall back on as a safety net. My partner has filled a couple of financial gaps where needed.
It became apparent very early on that Nature Bathing was not going to pay all the bills; I'd have to supplement my income. I am co-authoring a book about work, and off the back of that, some freelance writing and editing work came my way. Word of mouth is a powerful thing!
I have significantly cut down my spending. I'm not super-frugal – I still want to enjoy life – but I'm not quite as hedonistic now. Cutting out takeaway food, cocktails, new clothes purchases and weekends away has worked wonders. I actually need so much less than I once thought. I'm probably earning 20% of what I used to, and I honestly couldn't tell you where a lot of that extra money used to go!
What was the most difficult thing about changing?
Getting out of my own way!
I was absolutely terrified of making the change, even though, at the same time, I really wanted to. I was worried about money, what people would think, what would happen to my identity. Most of all, I was scared to try and fail.
I found Tim Ferriss's 'Fear Setting' activity a really useful tool to work through the fears, and mitigate some of the risk. I kept coming back to one question: "What's the cost of doing nothing?"
For me, what I stood to gain always outweighed the risk that my fears might come true. It was always a better option than doing nothing.
What help did you get?
I had incredible support from my friends and family, who tirelessly listened to me talk in circles about this change before, during and after it happened. They always had my back, and knew exactly when I needed a little pep talk.
I found incredible mentors and peers in my ANFT training cohort and we continue to support one another on the other side of the course. The community of forest bathing guides spread across the world is small but mighty.
This will sound a bit woo woo, but my biggest help came from nature. It's my partner in my guiding practice, and it always had my back through my training. I developed a 'Sit Spot' practice, where I went to the same place in nature several times a week, just to 'be'. I became familiar with the nature beings in this place, and it with me. I took my questions and worries and doubts and dreams there, and talked it all over with two giant mango trees. They always gave me the answers I needed.
What resources would you recommend to others?
I recommend the ABC podcast 'This Working Life' – host Lisa Leong is a ray of sunshine, and there are several episodes on navigating career change that I found super-helpful.
Elsewhere in podcast land, I love Madeleine Grummet's 'Human Cogs', and 'Career Stewardship' with Michael Melcher.
Dorie Clark's books were simply amazing as well.
Mostly, I just found so much inspiration in soaking up the career stories of other people!
What have you learnt in the process?
I have learnt to chase my own dream, not somebody else's definition of success. I have learnt that meaning matters so much more to me than money.
I have learnt that when I feel a sense of purpose in my work, it makes me feel like more of who I am. It makes me feel greater.
I'm proud of myself for having the courage to push through the fear and doubt, and make this change even though I don't know what the future looks like. We are all capable of so much more than we think.
What would you advise others to do in the same situation?
Ask yourself, "What is the cost of doing nothing?"
Is it a price you can live with? Listen to your gut. You already know the answer.
Doing something can mean starting small – you don't have to make a giant leap all in one go. You can take baby steps, you will still get there.
Have courage. Trust that it will be okay. And know that if it really doesn't work out, there is almost always a way back.
To find out more about Monique's business, visit www.heartwoodnaturebathing.com
What lessons could you take from Monique's story to use in your own career change? Let us know in the comments below.