"I simply lost the passion over the last few years."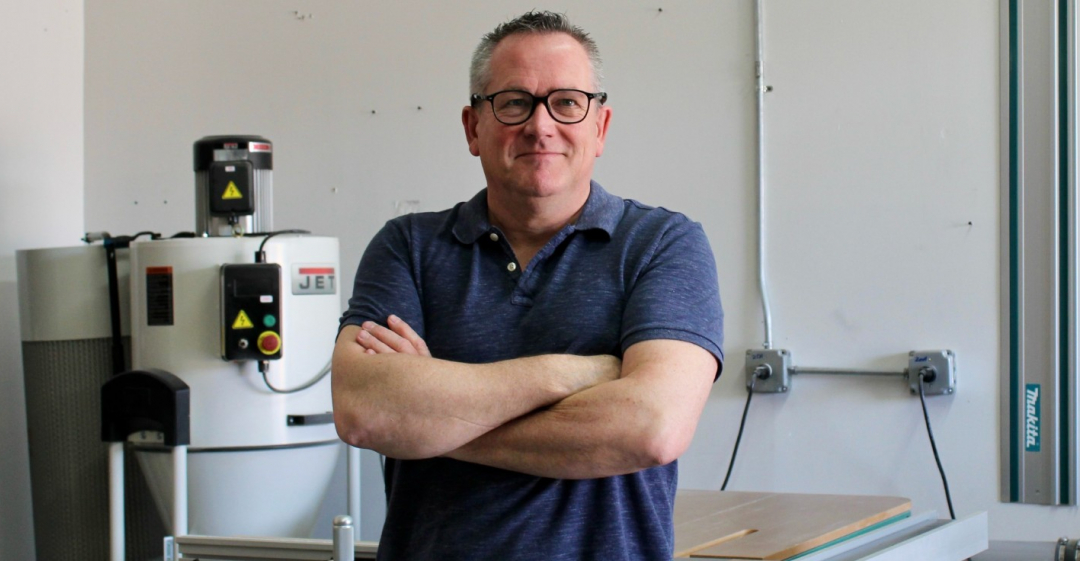 From Tech to Woodwork
What work were you doing previously?
I spent my entire career in software Product Management at large multi-national companies.
What are you doing now?
I now own Going Against the Grain, a woodworking business, designing and manufacturing custom storage products that are sold on Etsy.
Why did you change?
Although I enjoyed Product Management for the vast majority of my career, I simply lost the passion over the last few years.
I also knew that I wouldn't be competitive in this fast-moving industry later in my career.
When was the moment you decided to make the change?
My wife was about to change her role which required more travel.
Since my job also entailed extensive travel, it was a good time to work from home and have the flexibility to be available for our school-aged children.
I had a rough idea of what I might do, and spent much of the Christmas holiday brainstorming with family and putting a very crude business plan together.
I handed in my resignation on the first day back to work and never looked back.
Looking back, it all went very quickly.
How did you choose your new career?
I knew I wanted to leave the corporate world, and liked the idea of making wood products.
I'd done some volunteer work building sets at my son's youth theater group, and knew I enjoyed the creativity it involved.
Are you happy with the change?
Extremely.
I really enjoy the flexibility and freedom that comes with running my own business. The first couple of years were slow as I experimented with various products, but I eventually settled on one product line that has become very successful.
I don't ever see myself returning to the corporate world.
What do you miss and what don't you miss?
I used to travel extensively between Europe, the USA and Israel which I missed for the first year.
I always enjoyed working with colleagues across locations and cultures.
I don't miss the corporate politics and bureaucracy. I said to my boss when I left, "it's not you, it's me", but the management culture definitely contributed to my frustration over the years.
How did you go about making the shift?
When I gave my notice, I also offered to make myself available as a contractor for an additional few months.
This was very helpful since it gave me some income while having time to start up the new business.
I established a budget to purchase the necessary equipment and I had a fall back plan to go back to the corporate world if things failed. So, although there was uncertainty and risk, I knew the worst case scenario was also OK.
We had some space in my basement to build a small workshop, and now five years later I'm in a 1,600 square foot leased space.
How did you develop (or transfer) the skills you needed for your new role?
At the core of my business is a customer focus, which is also a critical function in Product Management.
This means listening to customers and making sure you are offering solutions that meet a clear need. I made a few products that customers simply didn't respond to, so I was able to recognize that and pivot away from them quite quickly.
Within the first year I'd identified a need for high-quality customized kitchen storage products that are in high demand, and that customers are willing to pay a premium for.
Although I had some basic woodworking skills, I was by no means a craftsman. I watched endless YouTube videos to understand various techniques, although most of it has been perfected through trial and error.
What didn't go well? What wrong turns did you take?
There were a few products I manufactured that didn't sell well, or weren't profitable enough.
I put my ego aside and stopped making them.
I was spending too much on raw materials and shipping when I started out. I worked with a few lumber mills, and eventually found one who has proven to be a great partner for me.
Taking some risk by buying supplies in bulk has really helped me develop good margins.
How did you handle your finances to make your shift possible?
Being available to my previous employer on a contract basis to supplement income was very helpful in the first few months.
I'd set up a small budget to purchase equipment for the workshop but only started with the essentials.
Looking back on it, we definitely took a modest financial risk, but I always had a fallback plan in case the business failed.
What was the most difficult thing about changing?
Nothing really stands out.
There was definitely a lot to learn and some uncertainty, but that's part of the joy for me.
I 've always been very adaptable to change and would even say I find it invigorating.
What help did you get?
Encouragement from my wife was really important.
Even though she isn't involved in the business, it's always comforting to know she has my back if things take a turn for the worse.
I spoke to friends who had set up online businesses. They were all quite pessimistic about it, but I found that helpful to anticipate the pitfalls.
What resources would you recommend to others?
Speaking to friends was really helpful.
Some had specific experience with online business (even failed ones), some had a shared passion with woodworking, and many just loved to hear about the idea and provided moral support.
Other than that, Google and YouTube were my biggest sources of information on every aspect of the business.
What have you learnt in the process?
Since I had spent all of my career in the software business, it was hard to visualize how I could earn a living outside of that.
Now that I have built a successful business, I love talking to other small business owners to learn about their journey.
I have a newfound appreciation for the variety of careers and businesses that are out there.
What do you wish you'd done differently?
Not much.
I probably could have saved some money along the way with some equipment purchases – but I also know I wouldn't be where I am today without experimentation.
What would you advise others to do in the same situation?
Don't get stuck thinking you can only pursue careers within your current domain.
There's an endless number of jobs, businesses, or careers you may find fulfilling. Work hard to look past your own perceived constraints.
It may sound obvious, but be willing to re-evaluate the wealth/happiness tradeoff. For years I'd reach a dead-end, thinking I had to find a job that created a certain income for my lifestyle.
That made it hard to even get started looking outside of my current career.
You can find out more about Chris' business at Going Against The Grain.