"I'd become more and more disillusioned."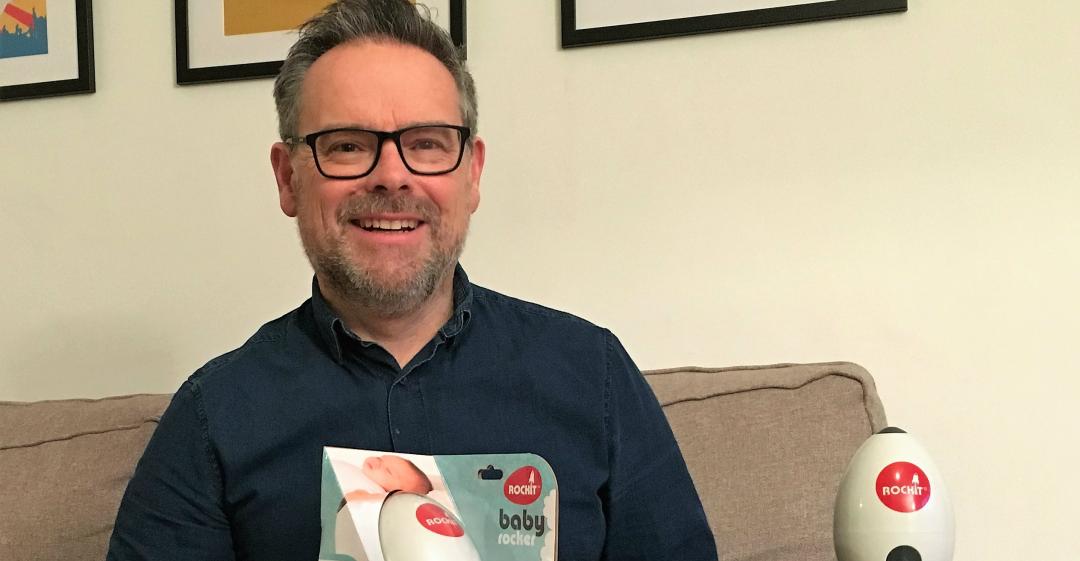 From Teaching to Start-up
What work were you doing previously?
Originally, I worked as an art director at Ogilvy and Mather advertising agency in London.
Many years ago I retrained as a Design Technology teacher and went on to work in secondary schools and colleges for 20 years.
What are you doing now?
About four years ago, I gave up teaching to develop a new product called Rockit – a portable baby rocker that fits to any pram or stroller and gently rocks to soothe babies to sleep.
My co-founders (Nick Webb and Matt Sparrow) and I launched Rockit two years ago. We're now selling in over 40 countries worldwide.
Why did you change?
I loved the actual teaching but had become more and more disillusioned with the ever-increasing admin that was required.
Also, I'd spent 20 years teaching; as much as I loved facilitating the design ideas of the young people I taught, I had lots of ideas myself that I wanted to explore.
When was the moment you decided to make the change?
That moment is very clear in my memory.
I was at a family Christmas party and my brother-in-law, Nick, took me aside to show me a basic prototype he'd been working on. His daughter always refused to sleep in her pram unless it was moving; in desperation he'd taken an old printer motor, soldered together a simple circuit, and developed a basic working prototype of Rockit.
As soon as I saw it working I knew he was on to something.
I realised that with my design and 3D printing experience I could help turn it into a marketable product. I literally gave my notice in at school as soon as the upcoming term started.
Are you happy with the change?
Yes, I've genuinely never been happier at work.
It was a massive step. Many of my colleagues at school thought I was crazy to give up a secure and relatively well-paid career in teaching. I remember overhearing my line manager saying, "He'll never be able to successfully launch a new product". That comment has really driven me on in the last few years.
Winning design awards, seeing Rockit on the shelves of top retailers like John Lewis, and hearing from satisfied customers all over the world has been a great way to silence the doubters.
What do you miss and what don't you miss?
For the first year or so, I worked from home and found that lonely at times.
I was used to being in the hustle and bustle of a classroom – that adjustment was difficult. To help with that, I took a part-time position lecturing in Product Design at a local college. That was great in terms of contact with the outside world and renewed camaraderie with staff and students.
I don't miss the marking or writing hundreds of reports every term.
How did you go about making the shift?
As soon as I made the shift, I started networking, both in Bristol and London.
I learnt so much from other entrepreneurs who'd recently started businesses. People were generous with their time, and by picking their brains I was able to avoid some of the pitfalls they'd encountered.
What didn't go well? What wrong turns did you take?
A year after quitting teaching I was working flat out on Rockit without pay, because we were pre-revenue.
My part-time college lecturing contract had ended and I began to worry about my lack of income. I started to do some 3D printing consultancy work but found it difficult to balance my time; I ended up working most weekends and into the nights. This was a stressful period, but I'm not sure how else I could've dealt with that.
How did you handle your finances to make your shift possible?
The lecturing and consultancy work helped alongside some savings that I'd built up.
My wife was incredibly supportive too. She never once complained about finances, or the amount of time I was having to put into the new business.
Once we had confirmed Rockit orders I was able to draw a basic salary from the business.
What was the most difficult thing about changing?
The uncertainty was the hardest thing to deal with.
We were launching a brand-new product with no previous experience. We had a sense that Rockit would do well, based on the reaction it had received from the trade, but until it was available to real mums and dads, we had to just hope.
What help did you get?
Whilst developing Rockit, we were fortunate to win a place on the prestigious Design Council Spark accelerator programme.
This gave us access to some amazing mentors from various business backgrounds. I got guidance on topics as diverse as finance, marketing, business strategy, branding and pitching skills.
What resources would you recommend to others?
I'd recommend building a network.
You can start doing this before you take the plunge. Local business meetups or joining your local Chamber of Commerce are a good starting point.
People are willing to help and advise, especially when you're a new start-up. Some of them may even be prepared to become more formal mentors.
What have you learnt in the process?
Probably the biggest lesson I've learnt is to make sure you don't put too much pressure on yourself.
I've found it difficult to switch off in the evenings and at weekends, and there's always a nagging urge to check emails. I'm working on this, but wish I was better at it.
What do you wish you'd done differently?
I genuinely wish I'd made the move earlier.
I'd been unhappy at work for a while, but didn't have the confidence or the finances to make the move.
What would you advise others to do in the same situation?
Most people are in work for well over 40 years of their life. If you're not happy and yearn for something different then take the plunge.
Changing career, particularly starting up a new business, is a leap of faith and hugely challenging; it's also incredibly rewarding.
To find out more about Matt's business, visit www.rockitrocker.com.
What lessons could you take from Matt's story to use in your own career change? Let us know in the comments below.