"I was crying every day before going to work."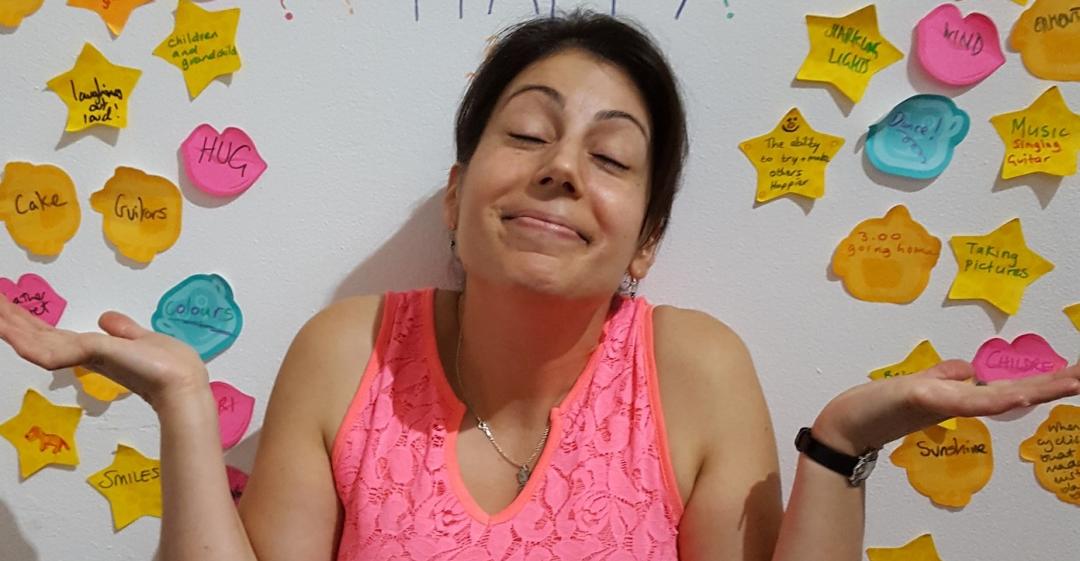 From Teaching to Portfolio Career
What work were you doing previously?
I was a support teacher for children and parents with English as a second language in a primary school.
What are you doing now?
Until recently I worked part-time for a charity called Light Up A Life. It was a winter volunteering project that supports charities who may lose their regular volunteers at Christmas. The other main purposes were to spread warmth and love to those who may not receive it during the festive period, as well as to pay forward gratitude for all our basic needs being met.
Last year I was Project Manager, responsible for recruiting 800 volunteers for approximately 30 charities during the Christmas period. Then I I chose to take a part-time position as Partnerships Manager, while working on my mental-well-being business while also studying for a degree part-time.

I now am focusing on my own business - I have started offering wellbeing workshops and am seeking wellbeing writing work to help sustain me while I build up my business.
Why did you change?
I worked in education for ten years, and loved working with the kids, as well as some amazing staff, but eventually I felt I could serve them better outside the classroom, without the limitations of the curriculum.
I found myself becoming increasingly frustrated that the children were having to learn about things like the Plague, when some of them struggled to write simple sentences. Others found it so hard to learn due to the way they were being taught, and others had low self-esteem and would disengage or 'play up'.
I did my best to incorporate a positive approach and confidence-building into my work but it wasn't enough; my soul said it was time to move on.
So, I took a leap of faith and took eight months out to self-care, heal, replenish my energy and decide on my new goals.
When was the moment you decided to make the change?
The clue came when I realised that I was crying every day before going to work.
I was just starting to get into meditation, so I was now connecting with myself at a deeper level. I started to ask myself what I wanted and needed.
The answer was clear – it was time to move on.
Are you happy with the change?
100%! I've gained so much learning and experience from my charity job, and I feel privileged to have had an impact on the charity itself too.
When I ran my sandwich-making club for the homeless, I used to strive to give people a more conscious volunteering experience, by bringing gratitude practice into the events, and I have helped grow this element in my charity job so that there is more education around the volunteering opportunities.
I will admit it has been a rough ride at times, but there's no growth without pain!
What do you miss and what don't you miss?
I really miss working with kids – watching as the little light bulbs go on in their heads and the smiles on their faces when they 'get' something they'd been struggling with.
Then again, I've had some great experiences watching adult light bulbs go on too.
I miss the certainty of a monthly salary, but I also now appreciate the fact that my income is no longer limited. It's possible for me to earn more than I did before. When I think about it, within the uncertainty I have now is a whole lot of open space waiting for things to grow and blossom into it.
How did you go about making the shift?
I'd been running Club Gratitude (a voluntary group that made 'Packages of Hope' for the homeless – the sandwich-making club I referred to earlier) for eight years.
Without me realising it, that had laid the foundation for my future path very clearly – the skills, experience, community and contacts I'd built up helped pave the way.
The charity job with Light Up A Life came at exactly the right time. They already knew about me and my ethos from working with me on Club Gratitude.
The mental well-being business was something I'd dreamed about for a while, I just didn't know what shape it would take. Then, I had the privilege of working as Community Co-ordinator at the Museum of Happiness over the summer, which helped me crystallise my ideas and gave me some amazing teaching experience (co-teaching a Stress Management & Self-kindness workshop being a highlight). It also made me realise that the workshops I want to run are really needed, especially in London, where the pace of life is fast and pressure is high.
What didn't go well? What wrong turns did you take?
Some people in my life were concerned about the fact that I wasn't working, so dealing with their fear was quite tough, especially as fear can be contagious!
But once I became confident in what I was doing, they became confident in me and were able to support me.
Working on my own too much has been challenging – it's isolating and can allow my inner critic plenty of space to over-analyse. I've discovered that the best way forward for me is to start using co-working spaces.
How did you handle your finances to make your shift possible?
Aside from making some basic lifestyle adjustments, I was incredibly fortunate to have had savings to fall back on.
For that I thank my dear late grandparents – I am sure they supported my decision.
What was the most difficult thing about changing?
Fear – the biggest barriers were in my own mind!
Sticking to my guns when people close to me were worried about me was tough.
And realising that my self-worth was caught up in external factors, like my teaching and how much money I was earning, was a huge challenge. Fortunately, I am much more self-aware now, so I was able to catch myself thinking things like "You're not bringing in any money, you're useless!" and "What are you doing with your life? You're not teaching anyone anything!". Mindfulness really helped with these thoughts.
What help did you get?
I immersed myself in eight months of healing practices which all helped me – these included Kundalini yoga, counselling, and meditation classes.
I also had support from family and friends, and from the Museum of Happiness community.
What resources would you recommend to others?
The Why Are You Here Cafe: a new way of finding meaning in your life and work, a book by John P. Strelecky.
Any courses or classes run by the Museum of Happiness (especially the Stress Management & Self-kindness one!).
The Mindful Self-Compassion course run by Kind Mind Academy.
Meditation classes run by Illa and Jeetu Khagram.
What have you learnt in the process?
I've learnt that if I take a leap of faith, the universe will support me.
If I'm confident in what I'm doing, my loved ones will support me even if they're worried for me.
And I've learnt how powerful it can be be to undertake voluntary work – it can really help you build skills and acquire invaluable experience.
What do you wish you'd done differently?
I wish I'd had more self-compassion at the start of my leap, because I would have allowed things to flow more and enjoyed the ride.
I experienced a lot of fear-based resistance in my mind, so it was stressful sometimes.
What would you advise others to do in the same situation?
Meditate – take time to check in with yourself.
Be kind to yourself – if something doesn't feel right, find out why and change it.
Try out different paths by volunteering or running your own projects – it's a safe way to test out what you enjoy doing without having to leave your job. This was how I did it – I loved it so much I realised I wanted to do it full-time.
Once you've figured out a direction that feels right, strive to drop down to part-time and start to phase out your work – not all employers can or will be able to accommodate this but most would probably rather have you part-time than not at all.
Be patient, it takes time to make a big change so celebrate the small steps.
Get support – network with positive people.
If you're struggling with a negative mindset, take multifaceted action, such as putting positive post-its up everywhere so your subconscious keeps receiving those messages (to counteract the negative ones).
Thank you to Charity Job for this story. To find out more about shifting into charity work, visit www.charityjob.co.uk.
To find out more about Sarit's work, visit www.poweroflifelearning.com.
What lessons could you take from Sarit's story to use in your own career change? Let us know in the comments below.