"I was never going to be happy working for someone else."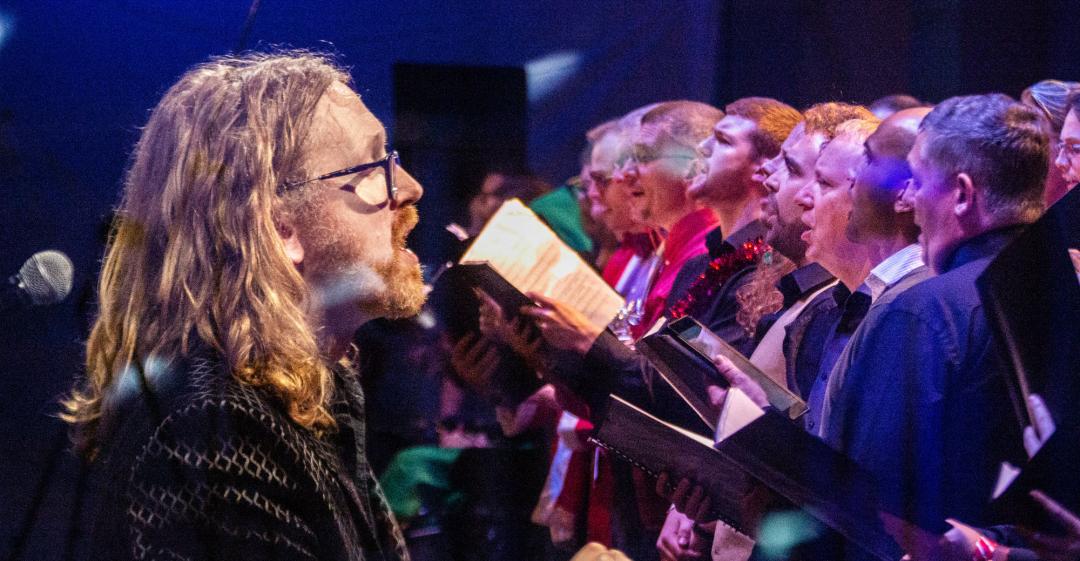 From Teacher to Entrepreneur
What work were you doing previously?
I was a secondary school music teacher.
What are you doing now?
I'm a choir director, entrepreneur, composer, and bandleader.
Why did you change?
I got tired of the bureaucracy.
I felt I couldn't be creative anymore within that system. I hated dealing with poor management, and having my teaching appraised by people who knew nothing about how to teach.
When was the moment you decided to make the change?
I was literally driving to work one morning and I realised that my stomach was tense in anticipation of the conflict-filled day ahead.
I'd changed school, ostensibly for a promotion, and had a constant mountain of paperwork sitting on my desk. Plus I couldn't stand the way the school was run.
It occurred to me that I was never going to be happy working for someone else, and handed my notice in that day.
Are you happy with the change?
Unquestionably.
I have none of the conflict, and earn about four times as much as I used to.
What do you miss and what don't you miss?
I don't actually miss anything.
I still get to teach people, but on my terms, with no disruption.
I don't miss the crazy paperwork, the staffroom politics, the disruptive kids, the lack of resources, the aggressive parents, the bell…!
How did you go about making the shift?
I simply resigned.
I'd already been playing with my own band, so I got some business cards printed and built a website myself.
I joined a networking organisation (Business Network International), which was great for teaching me how to work a room. I went to some wedding fairs and schmoozed with brides and their mums in the champagne bar. I got a load of gigs that way.
I had a fairly successful time until the credit crunch, when the bottom fell out of the economy. After a couple of years I could see I needed to get some more stable income. I met an old friend at a funeral and she asked me if I would come and direct her local choir for a term. I did that, and they asked me to become permanent. I then realised that I was much better at choir-directing than keyboard playing, so I thought I'd try to set up a choir in Central London.
I now have around 500 people attending London City Voices on a weekly basis, plus I have some other exciting projects which are in various states of development.
What didn't go well? What wrong turns did you take?
When I first set up London City Voices, I tried to be too flexible for people, so they'd attend.
Ironically, I actually made it too easy for them not to attend regularly – there were no financial penalties if they missed a session. For about a year, I would regularly run rehearsals with only around six people.
I also didn't realise the truth of the old saying, "a bird in the hand is worth two in the bush" – I now make it a lot cheaper for people to pay for a full term than to pay per session.
How did you handle your finances to make your shift possible?
Badly, at first.
I managed to time leaving my job to coincide with a divorce as well. At one point I was putting the rent on the credit card while I paid for a mortgage. Not advised. It took years to fix that mistake.
What was the most difficult thing about changing?
Actually, very little.
I knew it was the right choice. I guess explaining this to other people who thought I was mad was the toughest thing.
What help did you get?
Business Network International (BNI) was very helpful – through them I had a team of people who knew what it was like to set up your own business.
I also have some amazing friends (including one who lent me £12,000 ($15,000), which she thought she'd never see again!).
What resources would you recommend to others?
A combination of really hard work and books, mainly:
The Tipping Point: How Little Things Can Make A Big Difference and Blink: The Power of Thinking Without Thinking, both by Malcolm Gladwell
How To Fly A Horse: The Secret History of Creation, Invention, and Discovery, by Kevin Ashton
The $100 Startup: Fire Your Boss, Do What You Love and Work Better To Live More, by Chris Guillebeau
Tribes: We need you to lead us, by Seth Godin
Blue Ocean Strategy: How to Create Uncontested Market Space and Make the Competition Irrelevant, by W. Chan Kim and Renée A. Mauborgne.
And a networking organisation of some sort. BNI is great, as long as you keep it real and make it work for you. I've now created a networking group within my choir, as I fully believe in the power of networking to create a successful business.
What have you learnt in the process?
Too much to fit in here.
Business sense; marketing; how people think; how to lead; how to listen to others and gain from their experience; and that you can learn to think creatively / come up with lots of ideas.
One thing which I learnt in particular was to reframe problems. When I was having issues with attendance, I started looking at it in a different way, and thought "What is the real issue here…? I know I'm good at this and that people enjoy my sessions, so why aren't more people coming?" I came to the conclusion that not enough people knew about the choir, so I thought about ways to spread the word.
On the way to my early morning BNI meeting in the City one Friday, I got an idea from the man who stands on London Bridge, giving religious tracts to people and saying "Believe in Jesus!"
I had a pull-up banner made (which cost about £60 ($80)) and a load of leaflets, which were terrible (I designed them myself and swapped a singing lesson for a print job from a printer in the BNI). I then stood on London Bridge for a week at rush hour, when literally thousands of people would walk across towards me. I didn't thrust leaflets at people – I actually did the opposite. I shouted "Do you know anyone who likes to sing?" every few seconds, held my leaflets in front of me and waited for people to come to me. I got rid of hundreds that week, all to interested parties, and the very first session of the new term had 27 people (up from about 13).
I did that every so often, and would always gain a large number of new attendees that way. The banner paid for itself at the first rehearsal.
By December we had around 45 people, the following December we were 66, and the year after that we had over 160. We now run four evenings a week.
What do you wish you'd done differently?
It would've been good not to have started off in debt, but then if that had been the case, maybe I wouldn't have learnt the real value of money.
I can't tell you how great it is not to wake up in the night sweating about how I'm going to pay the rent this month.
What would you advise others to do in the same situation?
I'd cautiously say, follow your heart.
Meaning: you have to have a plan, and it has to be realistic.
I think you know if what you currently do for a living is destroying you, and it's worth considering whether you might be happier on a different track. Sometimes you don't realise that there is life on the other side.
I'm happier than I thought I could ever be, much richer, incredibly fulfilled, looking forward to even bigger and better things. However, it takes perseverance, hard work, determination, logic, problem-solving and self-belief.
You can find out more about Richard's business at www.londoncityvoices.co.uk.
Images copyright Matty Swan Photography.
What lessons could you take from Richard's story to use in your own career change? Let us know in the comments below.