"I wanted to do something that allowed me to excel at being 'me'."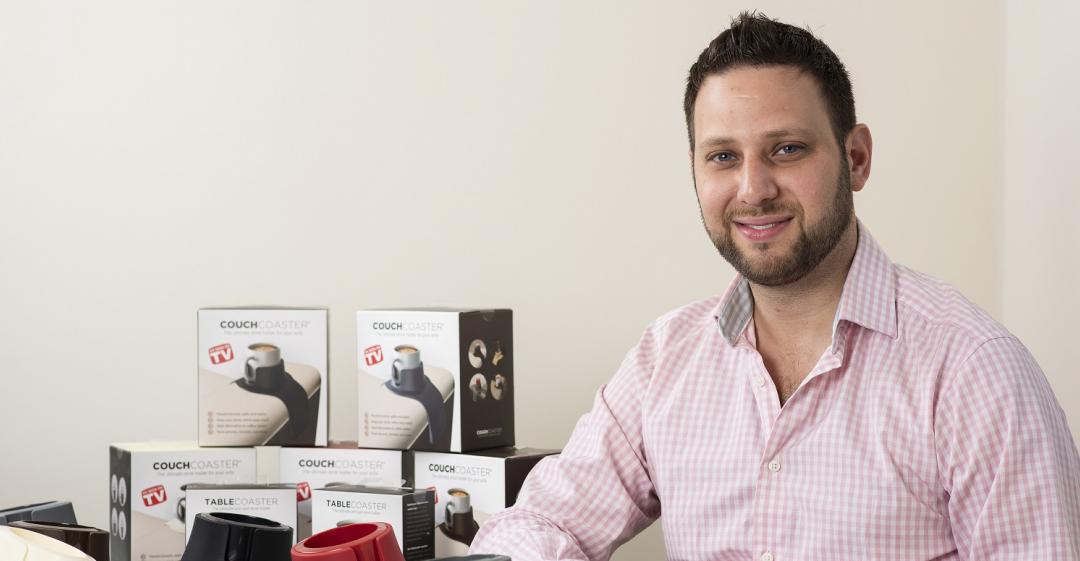 From Surveyor to Entrepreneur
What work were you doing previously?
I previously worked as Management Surveyor for a private property investor / developer.
What are you doing now?
I'm the owner of Hit Products Ltd.
We're a UK consumer products brand which is developing a range of unique solutions to solve some of life's universal and everyday problems.
My first two inventions centre on the problem of spilt drinks: CouchCoaster – the ultimate drink holder for your sofa, and TableCoaster – the ultimate anti-spill drink holder.
How did you feel in your work before you decided to make the change?
Ever since I started my property career, I felt like I was simply in the wrong profession.
I'd been passionate about design from a young age, yet somehow, after studying architecture at university, I ended up sidestepping into the world of chartered surveying.
Why did you change?
My colleagues always seemed much more content than me in being part of the 'corporate machine'.
I'd known for a long time that my career aspirations were bigger than that status quo. I wanted to take control of my own financial destiny by doing something which allowed me to excel at being 'me'.
When was the moment you decided to make the change?
I was made redundant from my last role, after ten years in the property industry.
This prompted a complete change of mindset about my future career.
I'd always been interested in design. Using my redundancy as a 'kick-starter' fund to develop and launch CouchCoaster was a fairly obvious choice, because whilst I had dreamt up several other product ideas in the past, it was this concept which I was confident stood the best chance of commercial success.
Are you happy with the change?
I've been working for myself for the last four years now and can categorically say that it has been the best decision of my life!
What do you miss?
There were some great perks to 'regular' employment, above all the comfort of a monthly pay cheque.
Now that I work from my 'spare bedroom come office' each day, I also miss the office banter I shared with my colleagues daily. I even miss my morning / evening commute with the paper (but not the crush of the Tube, I hasten to add!).
How did you go about making the shift?
I was fortunate enough to receive a redundancy settlement from my employer and this gave me the cushioning I needed to invest in my first product idea.
Fortunately, I made plenty of 'right' turns in launching, which I can put down to the foundations I'd laid before embarking on my new journey:
1) working in a commercial environment gave me the business acumen and experience to run a new business, and
2) carving out a new career path which I was 100% passionate about gave me the impetus to succeed in bringing my first product to market.
How did you handle your finances to make your shift possible?
Despite my redundancy payment, I still had to be very shrewd in how I funded CouchCoaster's development and launch phases.
I took the general approach that anything I could complete well enough to pass off as 'professional' should stay in-house (even if that meant working ungodly hours). Anything outside of my own skill set, and jobs preventing any sleep, were outsourced.
What was the most difficult thing about changing?
Moving into consumer product development from a background outside of product design and manufacturing has definitely been the most challenging part of my career change.
Whilst I've always had a strong interest in those subjects and the creative mind to conceptualise how to turn ideas into physical objects, it's felt like I've had to take a crash course in those subjects to stay on top!
What help did you get?
I generally relied upon my design partner, D2M, to guide me through the design and development challenges we faced when refining CouchCoaster.
I also appointed my own contract-manufacturing partners in the Far East after several site visits.
What resources would you recommend to others?
I can highly recommend the wealth of resources available at the Business and IP Centre at the British Library in London.
This is a treasure trove of research on just about every industry you might want to enter. For those in the field of design, it also provides access to Intellectual Property databases. Additionally, the Centre runs weekly free courses on a variety of business topics, and longer-term business mentoring programmes.
What have you learnt in the process?
Making a success of any new business takes time, energy and money.
Spending those resources on a business idea which has not been properly evaluated will only come back to bite you later.
What would you advise others to do in the same situation?
For anyone who is thinking of starting their own business, my overarching advice is to ensure you have properly market tested and validated your business idea.
You also need a clear and realistic marketing strategy. If you have a potentially winning idea, it's not enough to just have a great product or service, because there are thousands of other businesses out there, all competing for attention!
To find out more about Barry's business, visit www.couchcoaster.com.
Also, find out more about The British Library Business and IP Centre in our Retraining Directory.
What lessons could you take from Barry's story to use in your own career change? Let us know in the comments below.