"I felt safe keeping small, even though I was unhappy."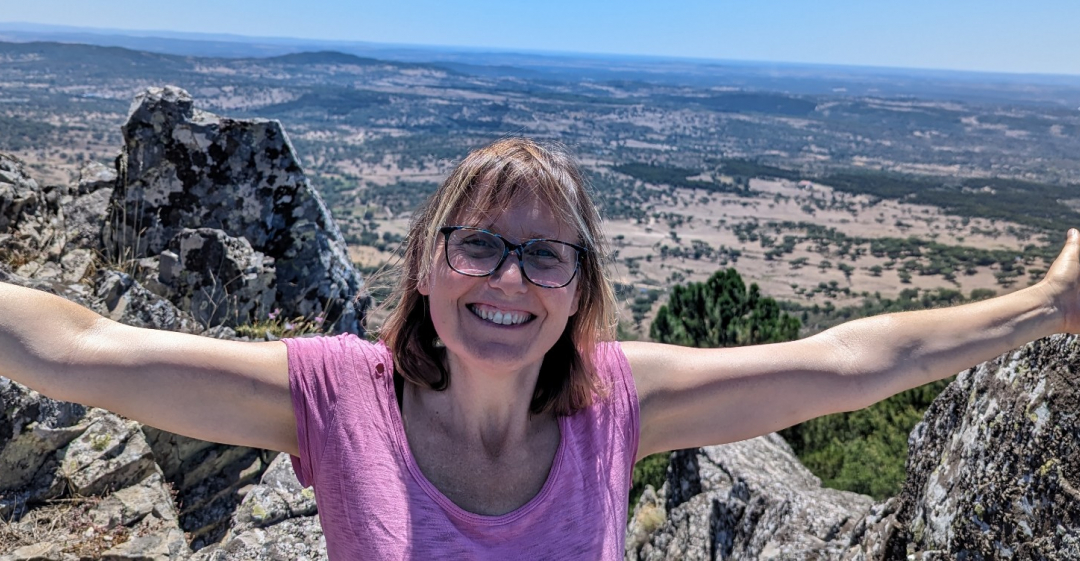 From Social Care to Portfolio Career
What work were you doing previously?
I was working for education and charities in a social care environment – people with disabilities, carers, young people and families.
Prior to that I had been a nurse, then midwife for the NHS.
I'd been doing some form of 'caring' role since I was 14, when I got my first job in a care home.
What are you doing now?
I'm a writer, designer and artist.
This includes the following:
Working as a freelance podcast manager for the Association for Coaching;
Creating an inspirational colouring book, writing a children's story and creating art work that I'll sell as prints and products;
Completing a self-help book for young people. A hybrid publisher has offered to publish it, but I'm in the process of looking at different options as I want it to reach as many as possible, with as low cost as possible.
Why did you change?
For a few reasons.
I had my fourth burnout a few years ago followed by cancer. It was a very large wakeup call that the way I was living wasn't working. The truth is that even though I've enjoyed parts of my work and I love people, I was a young carer at home from a very young age and my childhood was difficult.
So caring and people pleasing became my identity, and I don't think it was until I had that final burnout that I realised I didn't even know that I was allowed my own needs. I hadn't put on my own oxygen mask on and now I was gasping for air.
I started to question everything about myself and my life. Who was I underneath my assigned roles? Where had the little curious, creative, adventurous girl gone? Had she even ever been allowed a voice?
It was a pretty deep awakening.
When was the moment you decided to make the change?
The burnout, then the cancer.
When I was ill I had time to ponder a lot of things. One was to recognise that I had complex PTSD from my childhood, and the subsequent events my unhealed self had attracted as an adult.
So I knew I needed to work on this, to go deep into the wound to clean it out. And I also decided to get curious about who the real Maxine was.
How did you choose your new career?
The Career Change Launch Pad taught me I was allowed to experiment and play to find what I really wanted.
So that's what I did. I tried things out. I didn't have a lot of money so took up free courses and webinars until I finally pulled together the money to go to Australia for three months to spend some time with some spiritual teachers and do some environmental recovery work.
I received a lot of very helpful feedback during that time, but I also went on my own, travelled alone in the bush, faced a lot of fear, had my good girl façade confronted and came back even more curious about myself.
I started to join some dots around things I'd always been interested in – art, writing, storytelling, creativity, nature and inspiring people. I did coaching for a while, tried different ways including using creativity with it and over time I became clearer about what I wanted to do.
The pandemic hit and gave me more space to work things out, do some trauma work on myself (still ongoing), and started doing some freelance work. It wasn't the final endpoint but was what I call my transition work, and now I do part-time freelance work with the podcast and it's been great.
It's so different to what I previously did. I've learnt so much about myself, and the flexibility of freelancing has given me time to learn new skills.
I've had to learn everything from scratch: design software, business skills, art skills and a ton of other things, but after years of procrastinating with low confidence I'm now more kind with myself.
I'm new to this, but I absolutely love it.
Are you happy with the change?
Yes!
I feel like I'm coming home, reclaiming Maxine.
I love creating, and will create beautiful nature-inspired designs, journals and colouring books.
I'm also creating what I call Art Story work, pieces of art and poetry that about trauma and recovery, which I hope will inspire others to care enough about themselves to start this journey to find out who they are, and to express that in the world.
I've let go of needing an absolute clear picture of the future and will just keep taking steps forward, following my passions, taking actions, facing fears and challenging limiting beliefs.
I'm moving from surviving to thriving and that's very exciting!
What do you miss and what don't you miss?
I miss working with people, especially young people.
But I realise there are many ways to help people and inspire them that doesn't involve self-sacrifice. I can do many acts of kindness every day without it being a job, and also create art that inspires.
How did you go about making the shift?
As I mentioned, I did a lot of self-reflection.
I also had some therapy and coaching at different times, which helped me to have more compassion with myself and therefore patience in finding the answer to my career shift.
I continued my career change activities following the Launch Pad principles.
I talked to people. I tried out things, most of it for free. I visited places, read and watched things that inspired me.
I made a few mistakes and it's not been a linear journey, but the point is not to give up.
How did you develop (or transfer) the skills you needed for your new role?
My communication skills have come in very handy.
I'm a good listener and interested in people, despite social anxiety at times (I hid it well!).
I've also used creativity in mentoring and coaching others, so it's always been there. I've quietly been writing a blog for many years and other pieces. I have a box of ideas ready to be brought to life.
With the freelance work, some of it was background work for health and social care organisations. It helped me for a couple of years, and now I've stopped that to focus on my business.
I'm also learning SO many new things. I've got overwhelmed at times, but then tell myself I'm just learning, so be kind to myself.
What didn't go well? What wrong turns did you take?
My low confidence and lack of self-belief kept getting in my way.
I felt safe keeping small, even though I was unhappy. Stepping up is scary but it also brought up why I felt so bad about myself and I understand now why, but it hasn't been easy.
I went back to working with young people for a while, and whilst I loved it, it was extremely demanding work and very poorly paid. I started to become ill again but caught it earlier this time.
The fixer had to go fix herself.
How did you handle your finances to make your shift possible?
I've never done well-paid work, in fact I realise I lived in survival mode most of my life and accepted very little for myself.
So transitioning meant I was just staying in a lower income range. However, I started to up my standards and some of the freelance work I took was the best pay I'd had. The podcast work is okay but it's part-time, just enough to live off but very basically.
Part of this process for me has been looking at limiting beliefs around money. I've been gifted in other ways. An altruistic entrepreneur believed in me enough to buy me a new laptop when my old one died, and my new partner, Pierre, bought me an iPad with Procreate on for me to create with, something I've wanted for a long time.
I used to struggle receiving so something had shifted for me.
I think we need to be responsible when transitioning, to earn some money to provide for ourselves, but not stay in a job that is so painful just because of fear.
You may need to sacrifice some luxuries for a while to fulfil your dreams but have faith the money will come.
What was the most difficult thing about changing?
The lack of finances has been difficult, as you always need some investment to start a business or learn things.
But the most difficult thing for me has been emotional; a lack of self-belief, low self-worth, how the way I was treated as a child has impacted my choices in life. I had to grieve lost years for a while.
However, that truth is setting me free as I now reclaim myself back, with compassion and understanding.
What help did you get?
I had some great advice from different people.
The Launch Pad of course. Then an entrepreneur approached me after seeing my social media posts, listened to me for two hours, and gave me the most incredible feedback. I'd never felt so seen in my life. He was the one who purchased a laptop for me and put me in contact with a few people.
I've attended some amazing free webinars and had some coaching.
My coach training in 2018 was gifted to me (I trained at the MOE foundation).
Plus some lovely friends encouraging me to be me, to put myself out there and believe in myself. Pierre never stops encouraging me to be me – he has faith in me. I don't think I've had that in a relationship before where we really encourage each other that way.
And my Australian friends have taught me the most incredible things, deep spiritual truths that gave me hope back. I think my first experience of real, unconditional love. Very powerful.
I have faith again and that's incredible.
What resources would you recommend to others?
Use services like the National Careers service, who can put you in touch with organisations, companies etc. in the field you're interested in.
If money is an issue, look out for free courses. There are often free local courses or low-price options about.
Get the right coach if you're still stuck. It could be business-focussed coaching or another one.
Podcasts are a great free resource, there are lots of different industries (business, art, design, writing, tech etc).
YouTube (be discerning). I've learnt a lot from YT videos and been inspired by others.
Creative License by Danny Gregory, if you're a blocked creative.
There are lots of meetups out there. I joined a meetup group just for creative businesses. It's good for networking.
Reach out to people on LinkedIn or follow inspiring people on Instagram (but don't compare yourself to them).
What have you learnt in the process?
I've learnt that I'm worth giving time to.
I've learnt that it's okay to be me, and that it's okay to make mistakes and not have all the answers.
I've also learnt that fear is a liar. What it whispers in your ears is false. I'm learning it's better to feel your fear rather than live in it.
I've learnt so much about myself – what I'm not, and what I may be. It's a process of unlearning the old habits, lies and beliefs and learning new ones.
Be open and curious all the time and follow the trail. There are always clues to your true desire – experiment, take action and the answers will come.
What do you wish you'd done differently?
Believed in myself earlier.
What would you advise others to do in the same situation?
Don't worry about what others think, especially family.
Don't let others fears about you or for you stop you. Often, they are reflecting their own fears back at you because they may not have been brave enough to break free. Those who truly love you will want you to be yourself and do work you love.
Believe in yourself and your dreams. They matter, you matter and you're allowed to go after them.
Be kind, patient, curious and experimental. Take every step as an opportunity. Think of it as playtime, a discovery process. You may not find the answers quickly. It can take time. That's okay.
You can stop for a day or two, but get up and just take one step – one act of self-care, reach out to one person, practice you skills, whatever it takes. Don't give up. You may be surprised what turns up.
Maxine took part in our Career Change Launch Pad. If you're ready to join a group of bright, motivated career changers on a structured programme to help you find more fulfilling work, you can find out more here.
What lessons could you take from Maxine's story to use in your own career change? Let us know in the comments below.