"I was never unhappy at work, but everything was always just 'OK'. I wanted more 'wow'."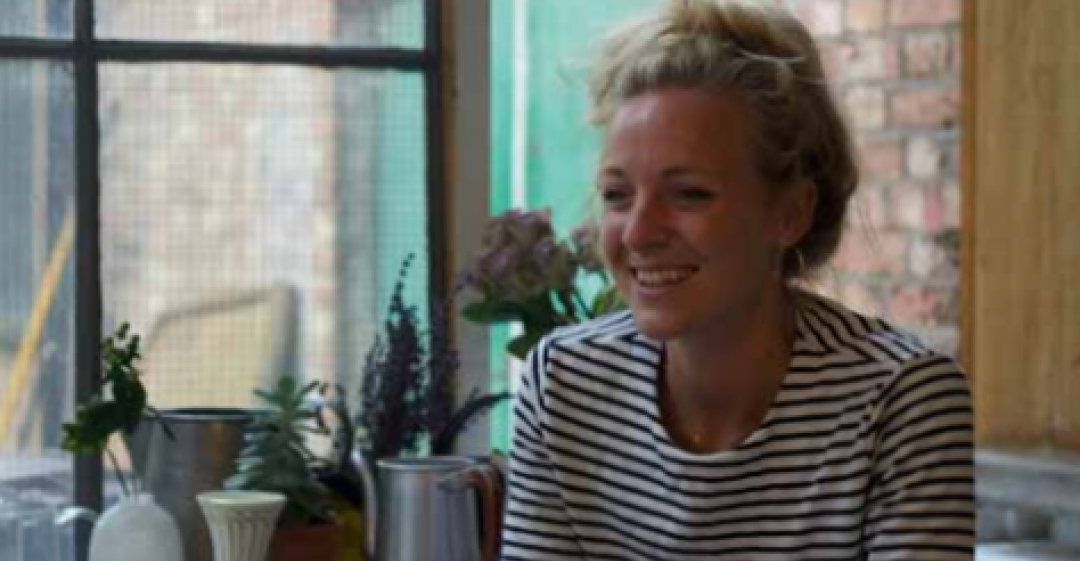 From Sales to Start-Up
What work were you doing previously?
All sorts!
I did my Architecture Part 1 degree, but when it came to my year in industry, there weren't any jobs and I met a lot of unhappy architects. So I started looking into other things. I worked in events and, more recently, sales. Every position I've had has been hugely helpful in what I do now.
What are you doing now?
I started a flower delivery company in London, delivering bouquets by bicycle since the summer of 2013.
Why did you change?
I didn't realise how much I wanted to start my own business until my husband started his own bicycle brand, Kennedy City Bicycles.
My job was fine, but leaving James at home pursuing his dream every morning made me want to find my own dream too, and I was pretty sure it wasn't in sales. So I started to think about what I could do.
When was the moment you decided to make the change?
When I realised that my business plan might actually work.
Are you happy with the change?
Blissfully.
What do you miss and what don't you miss?
I can't think of anything I miss that badly.
Apart from sleep, perhaps. I need to get up at 3.30 a.m. to go to the flower market.
I was never unhappy at work, but everything was always just 'OK'. I wanted more 'wow'. You spend the majority of your life at work – it should be amazing!
How did you go about making the shift?
I researched and plotted until I had an outline plan; then, when I'd saved up enough money, I handed in my notice.
How did you handle your finances to make your change possible?
As I worked in sales, I used to have my monthly salary and then any commission, too.
I saved up all my commission in a separate savings account; once I had enough to live off for three months, I handed in my notice. My set-up costs for Petalon were minimal. I figured that if it didn't work out, I could just find another job.
What was the most difficult thing about changing?
Fear of the unknown!
What didn't go well? What 'wrong turns' did you take?
I think that mistakes are incredibly important, even though they seem disastrous at the time.
It's how you learn, improve, and know how to avoid similar situations in the future. Petalon has been a steady improvement of small changes and adjustments when things haven't gone quite right, but there haven't been any major U-turns.
However, I probably should have saved up more money to begin with to give the business enough time to get on its feet without the financial pressures I faced so soon after starting out.
What help did you get?
My husband was a huge help.
We did everything ourselves, from websites and flower arranging through to building trailers, cycling, and finding the right packaging.
What have you learnt in the process?
More than I could have dreamt was possible in a year!
I've learnt flower arranging, flower knowledge, how to build a trailer, how to build a website, how to make an online payment system work with order submissions, bookkeeping, a bit of coding, how to write a press release, how to create a brand, and more.
What do you wish you'd done differently?
The mistakes are all part of the process: you need them to learn how to do something better.
Looking back, as well as saving more money to start out with, I wish I'd had more faith in the business (and myself, I guess) in the early days.
What would you advise others to do in the same situation?
Go for it!
The hardest part is finding the confidence to do it. Is the worst case scenario really that bad?
What resources would you recommend to others?
Do as much as you can for yourself: redecorate your own shop, build your own website, try designing your own logo.
You get so much more out of the process, and if anything goes wrong you have a better idea of how to fix it yourself.
You can find out more about Florence's business at www.petalon.co.uk
What lessons could you take from Florence's story to use in your own career change? Let us know in the comments below.