"I spent each week just looking forward to the weekend, or my next trip abroad."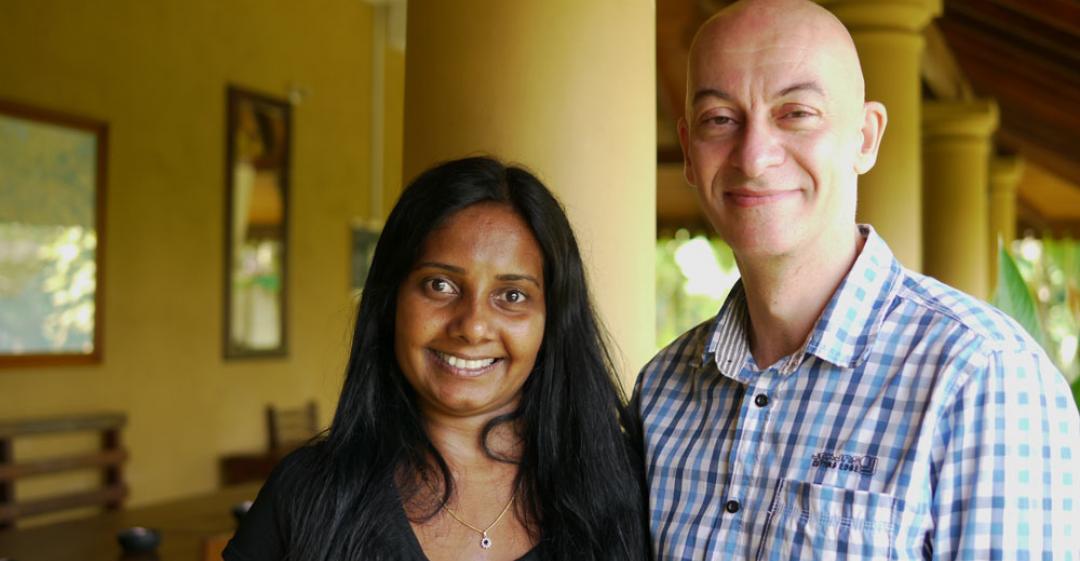 From Retail Manager to Guest House Owner
What work were you doing previously?
I worked for a supermarket distribution warehouse for ten years.
Before that I was a successful supermarket manager.
What are you doing now?
I now own and manage The Spice House, a guest house, with my Sri Lankan wife, Wathsala.
It's in Mirissa, on the beautiful south coast of Sri Lanka.
Why did you change?
I'd always loved travel, which is the main reason why I left my managerial position at the supermarket.
I realised that if I didn't leave soon, I'd be trapped on the retail career ladder that I was steadily climbing. So, I left to go travelling for a year and loved every minute of it.
When I returned to the UK, I got myself a job in the distribution side of supermarkets, which allowed me to continue my passion for travel. During the ten years that I was there, I was lucky enough to visit over 40 countries. It got to the point where I just knew that starting and running a guest house was something that I could do, and, more importantly, make a success of.
When was the moment you decided to make the change?
In 2004, I travelled to Sri Lanka and fell in love with everything about this magical island – the culture, its people, its beautiful, unspoilt beaches.
Soon after I left, the Boxing Day tsunami hit the island, leaving a trail of devastation. Seeing this on television, I felt a real need to return, to catch up with some of the people that I'd met.
Are you happy with the change?
Of course, living next to a tropical beach with a beautiful house, swimming pool, and lovely wife, I'm very happy with the changes that I've made!
But there are still daily challenges and frustrations to be dealt with.
What do you miss and what don't you miss?
To be honest, there isn't much that I miss about my old job.
Like lots of my colleagues, I tended to live week by week, just looking forward to the weekend, or, in my case, my next trip abroad!
How did you go about making the shift?
Deciding to move abroad can be a big decision, but it was never a big deal for me.
I'd always felt more at home travelling around developing countries than I did, say, in London. When I returned to Sri Lanka after the tsunami, something just clicked in my head; I made the decision very quickly that I wanted to buy some land and build my own guest house.
I made a few more trips there over the course of a year to find the perfect spot. I settled on Mirissa, a sleepy beach resort on the south of the island,. Then, I used the British Embassy website to find a very reliable lawyer and purchased an acre of land, just one minute from the beach.
To finance the purchase, I sold my house in the UK and moved back in with my parents. I continued working whilst I went about designing my dream home. I got myself a good architect and builders; things went pretty smoothly from day one.
I was fortunate in that I managed to buy my piece of paradise at just the right time. In 2006, the war was still going on, so tourism was very low key and consequently land prices were lower. Just as we opened the guest house, thankfully, the war came to an end; suddenly, Sri Lanka was the hottest new travel destination. Numbers of tourists continue to rise, year after year.
Sometimes you need a bit of luck in life; I appreciate and am thankful for mine.
What didn't go well? What 'wrong turns' did you take?
To be honest, everything went pretty smoothly.
As with anywhere in the world, there were building delays and a lot of red tape. But in a way this worked to my advantage, as it gave me time to plan and re-plan everything about the design of the house. I was able to alter minor design mistakes without it costing me too much money.
How did you handle your finances to make your change possible?
Once I'd sold my house in the UK, I was lucky enough to be able to move back in with my parents, so that I could save on rent and send most of my earnings out to Sri Lanka to finance the build.
Without their help, I wouldn't have been able to achieve what I have, so I really do appreciate everything that they've done for me.
Once the guest house was finally open and earning money, we were able to reinvest the income; this, coupled with my UK earnings, enabled us to make improvements and increase the number of rooms and facilities that we could offer guests.
I had met and then married my Sri Lankan wife in 2008. She and her family were running the guest house while I was still working in the UK. Once they'd started earning more than me, I thought that the time was right to join them! So I made the permanent move in 2012.
What was the most difficult thing about changing?
Everyone told me that the hardest thing about moving abroad would be missing my friends and family; it's so true.
However, Skype does make it easier to stay in touch, and being able to have guests from home stay with us is great.
What help did you get?
There is always help, no matter what career field you want to pursue; it's just knowing where to find it that can be more difficult.
In my case, finding a good lawyer, architect, builders and Wathsala, my fantastic wife, has made everything so much easier.
What have you learnt in the process?
You learn a lot about yourself when you make such a complete career change.
Making a success of my dream has given me so much more belief and confidence in myself. As is the case for so many people in my old situation, there was always something holding me back from pursuing what I really wanted to do; I just needed that initial push.
What do you wish you'd done differently?
I just wish I'd taken the plunge a few years earlier.
What would you advise others to do in the same situation?
Follow your heart.
There is nothing better than working for yourself. It can be challenging, but have belief in yourself and go for it!
But, saying that, take your time and plan everything that you can, too. Ask advice from people who've already made the change; that's why the Careershifters website is so good! Everyone needs some help and inspiration from others to take that first step.
What resources would you recommend to others?
Tap into experience.
Don't be afraid to ask advice from people who've already made the shift that you're considering. Trust me, most people will be only too happy to offer it.
To find out more about Phil's business, visit www.thespicehousemirissa.com.
What lessons could you take from Phil's story to use in your own career change? Let us know in the comments below.