"I thought about how I wanted big businesses to behave differently, and knew I had to be part of making that change happen."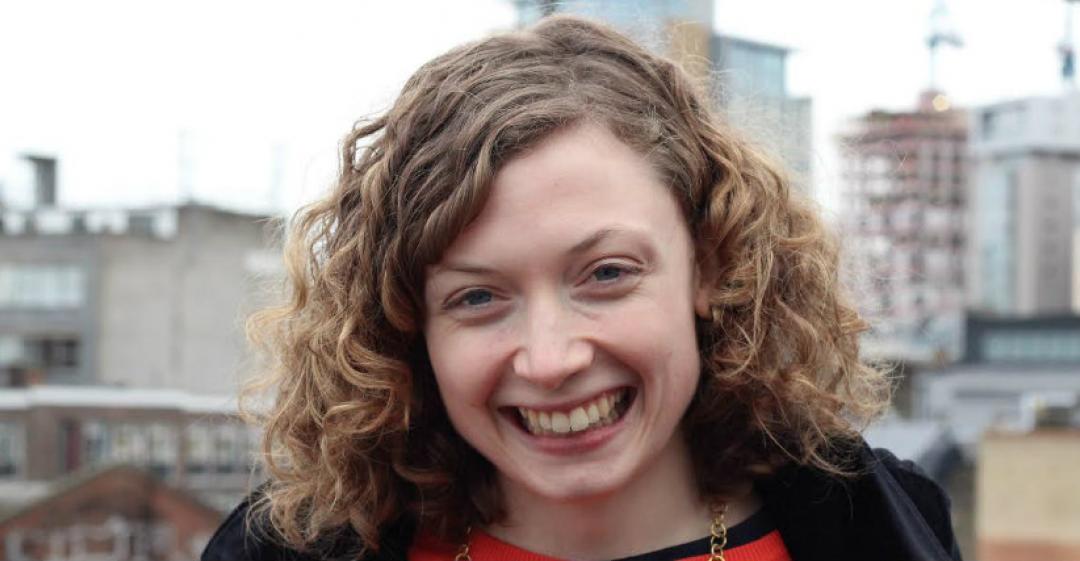 From Publishing to Social Impact
What work were you doing previously?
I worked in publishing.
Most recently, I was Commercial Executive for Faber and Faber. I worked alongside the Financial Director, managing the reporting and communication of the profitability of key lists across the business.
What are you doing now?
Now I have two different jobs.
Four days a week I work for COOK – a brilliant, family-run food company based in Kent. They make delicious, high-end, frozen ready meals you don't feel bad about eating! I'm their 'Social Impact Manager'.
It's a funny title, but it basically means I look at all the ways the business can have an 'impact' – on the community it works in, the people it employs, the environment, the suppliers it works with, and the customers it feeds.
It's a brilliant role and there's a lot of scope for exciting projects: from facilitating the move towards paying the Living Wage across the business, to launching innovative community schemes in all our 84 shops, and redesigning our packaging to reduce resource use.
One day a week I also work for B Lab UK, a small start-up not-for-profit that coordinates the brand new UK B Corp community – an amazing gang of British companies committed to using their businesses as a force for good.
Why did you change?
Because working for a wonderful independent publishing house that I totally believed in, and seeing how uneven the playing field was for them, made me want to change things.
Faber is one of the last great independent British publishing houses, with an amazing history. It's doing brilliant work, both celebrating phenomenal authors (from Plath and Eliot to Heaney and Lorrie Moore) and supporting extraordinary new writing. Even though it was doing a brilliant job, I felt like it could have done so much more if it weren't for the really sad dynamics of big business.
The invention of online bookselling has offered a whole new adventure, but the dominance of big retailers with disproportionate control, who are held to little account, seems to me to be doing a lot of harm to an industry (and a small company) that is trying to help bring the best writing to readers by publishing intelligently, beautifully and thoughtfully.
So, I thought about how I wanted big businesses to behave differently, and knew I had to be part of making that change happen.
When was the moment you decided to make the change?
There was a day when a few things happened.
I heard the news that a particularly lovely edition of a new book had had its price slashed online (with there being very little that we could do about it).
I also discovered a smaller platform, Better World Books, that was shaking up the market by using online book purchases to fund global literacy. It woke me up to how frustrated I was with 'business as usual' and reminded me that business could be seriously powerful when put to the right ends.
Are you happy with the change?
YES.
In an office where I recently worked, there was a lovely print hanging on the wall: one red fish swimming against the tide of a swarm of blue fish. Sometimes I feel like that. But it's nice to be attempting to go the way I want to, and I'm in no way a lone fish. Every day I meet phenomenal people with staggering commitment, creativity and conviction, and that feels like a huge privilege.
What do you miss and what don't you miss?
I miss working for a publishing house I adore, meeting their authors and hearing first about amazing new writers.
I also miss learning heaps from an awesome female Finance Director in an industry where C-suite roles are often disproportionately male!
I don't miss having to watch the unstoppable machine of big business having a destructive effect on creativity and independence.
How did you go about making the shift?
I talked to people about what I thought I wanted to do before I was really sure exactly what that was.
I think it was important to start doing this before I was ready, or perhaps I never would have got going. I kept reading, thinking and discussing until I worked it out some more.
At the same time, I tried things out.
I did things that made me feel like me: I took Spanish lessons, volunteered for some amazing organisations tackling homelessness and social isolation in sustainable and ingenious ways. I re-engaged with what I enjoyed and cared most about: learning, meeting new people, and challenging myself.
I also went to events that seemed like they could be useful. Some were, some weren't. I let friends suggest people who might be helpful and I sent what felt likely slightly awkward emails to them asking to meet for coffees.
One evening my housemate saw a post an old friend of hers had written about OnPurpose. She mentioned it to me and I found out more.
I was very lucky indeed – getting a place on the OnPurpose programme opened more doors than I knew or ever could have imagined existed.
What didn't go well? What 'wrong turns' did you take?
Lots of events and conversations didn't lead to lightbulb moments.
I made cold applications that got me nowhere and I did some soul searching that sometimes left me thinking the changes I wanted were impossible.
How did you handle your finances to make your change possible?
The world of publishing is full of poorly paid creatives (partly as a result of the lack of trickle down from the big agents operating at the top), so I was used to quite a lean lifestyle.
I took up cycling and tried to use my bike wherever I felt the journey was safe, which is tricky in London! And I went in for a lot of frugal packed lunches.
Happily, the world of social enterprise is not one of financial excess. I coped pretty well with lots of simple socialising in cheap pubs, and friends' houses. Meanwhile, I tried to put spending on hold and accepted that I wouldn't be able to save for a while.
What was the most difficult thing about changing?
Taking a risk and believing in myself before I had the support networks I do now.
Asking for help in the first place.
Accepting uncertainty.
Sticking at it when it seemed unlikely (and not beating myself up when it wasn't smooth sailing).
What help did you get?
The OnPurpose network is out of this world.
The small but powerful core team who runs it couldn't have been more supportive. The mentors and coaching that the programme gives you access to were phenomenal and the network of OnPurpose Fellows (the alumni of the programme) are among the most generous people I've ever known.
It was like being given access to a special club of people who seemed to think they owed you a lot of favours and wanted to bend over backwards to help you immediately.
What have you learnt in the process?
That the change you want to see won't always come quickly.
It is possible to stick at it, fail at it, and stick at it some more, but when the progress comes (and you might have to look hard to see it), it's a joy to observe.
What do you wish you'd done differently?
Sometimes I wish I hadn't been in such a rush, or felt the need to 'fix' things so fast.
I could have been less hard on myself and gone at a steadier pace. But I'm also really happy to be where I am now so I'm trying to just enjoy that.
What resources would you recommend to others?
The DO Lectures are excellent and free to watch online.
I also love a book called Do Purpose by David Hieatt, and a podcast called The Boiling Point.
The Happy Startup School is also a stunning network of awesome, switched-on business people (not just start-ups) who are astoundingly generous with their time and energy.
Escape the City and Amazing If are also brilliant projects – definitely worth exploring.
What would you advise others to do in the same situation?
Find out about OnPurpose.
Or, do anything you can to find your 'tribe' – people who 'get' you / inspire you / nudge you to do what you care about.
Buy (from independent retailers!) the books they write, read their blogs, watch their TED talks, meet them at events.
Seek help and ask for it. Take a risk.
Find out more about OnPurpose here.
What lessons could you take from Charlotte's story to use in your own career change? Let us know in the comments below.