"It had really become quite apparent to people who cared about me that things were not right."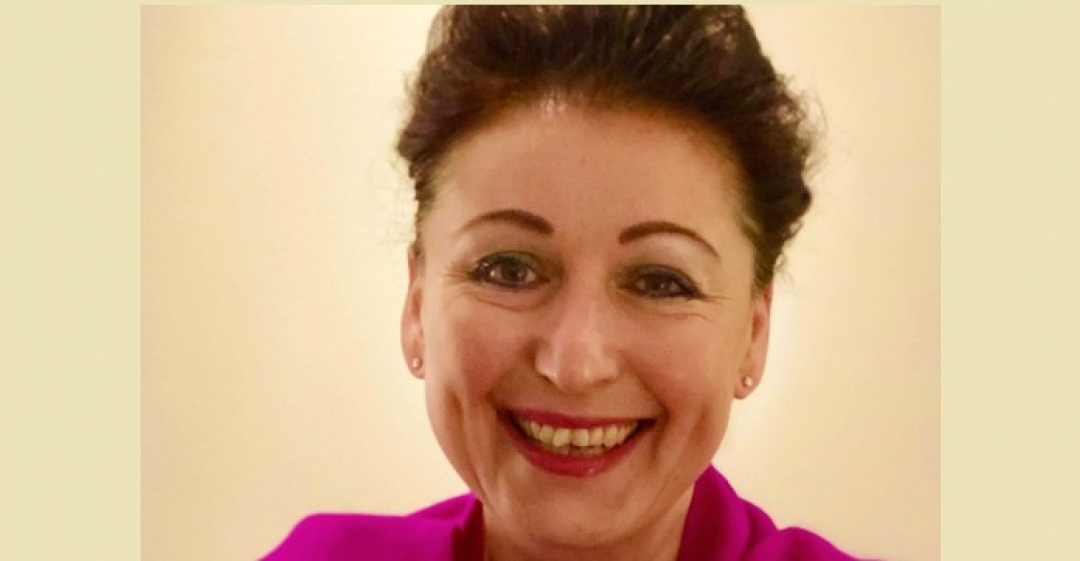 From Public Services to Portfolio Career
What work were you doing previously?
I was a fellow in evaluation.
I'd review public services (health and social care), write big long reports I'm not sure anybody ever read, and lead lots of projects.
What are you doing now?
Now I have my own company, and I have a portfolio career.
I retained the best bits from my former role, and instead of throwing out the baby with the bathwater I now work for myself.
I deliver masterclasses and commissioned programmes with people I choose to work with, doing lovely projects in a way in which I like to work: short term interim, impact-focused pieces.
I'm also now an arts guide and arts consultant.
Prior to the shift I'd hang out in galleries to get away and escape from my job, and I'd find myself fantasising about being a gallery guide during the day. But never once did I dream that you could get paid to do that.
Now I get to show people around, having fun and enjoying interacting with other people, and also I can find lovely pieces for people that they take home and treasure. So I do this as a little bit of my portfolio as well.
How did you feel in your work before you decided to make the change?
I felt trapped.
Increasingly, I was feeling anxious about work, like I wasn't very good at it anymore.
So, in a low place. Stuck.
From the outside, people were really positive about what I did and recognised its value. There was some expertise or status associated with that.
I had strong feelings about it but it was like it was some kind of secret. I didn't tell other people that this supposedly shiny great thing from the outside was really bringing me down, and I didn't know what to do about it.
I was struggling to show up physically, and also struggling emotionally from the work. I felt ashamed and guilty about that.
When was the moment you decided to make the change?
A friend had taken part in a Careershifters workshop and quite discreetly said 'I wonder if you're struggling and finding it a bit difficult at the moment?'.
I think that really burst my bubble. I thought nobody else knew about how I was feeling. But it had really become quite apparent to people who cared about me that things were not right.
So I jumped in with both feet.
I attended a Launch Pad introductory call, and felt the warmth and energy coming from the team. I felt reassured that I didn't need to come thinking I had all or even any of the answers (because that was a big concern).
And I thought at that point, I've nothing to lose. Anything that happens has to be an improvement on how I'm feeling now.
How did you choose your new career?
It happened pretty quickly – within weeks.
I explored a couple of themes for my new career and tested them out before jumping in.
I briefly explored interior design, but I needed something more academic for my own satisfaction.
I seriously considered another Masters degree, in the Art Business. I imagined I'd need that to get credibility and expertise, and that felt important to me. But it would have been a huge waste of money and time.
Connecting with dealers and auction houses (which I'd never have dreamed I'd be brave enough to do!) showed me that lots of the art world's values didn't match mine and it wasn't a world I wanted to join as an insider.
And I realised my knowledge was already sound and I could develop for free and in ways that were more personal and fun.
But I also learned I wouldn't make enough to live on by just guiding and finding art for people.
The Launch Pad was helping me rebuild my confidence, and I could see that I had gifts from my career in evaluation and regulation that were really rare and valuable.
I had some pretty niche expertise, and I loved understanding evidence, translating complex ideas to others, and making high-impact recommendations.
But I knew I had to be brave and find a different way to use it. No more endless projects, no more silent, horrible offices, and lots more variety and developing other people.
I landed some freelancing work and it lit me up immediately. So a portfolio career was born!
Are you happy with the change?
The hugest change and the most wonderful feeling is that there are days when it doesn't feel like work.
It feels fantastic. I love the flow of it and the balance of it.
The work dread used to start on Sundays, then I'd dread it from Saturday, and then I'd dread it from Friday etc.
Now I work hours that make sense, that suit me and the people I'm working with. That's liberating.
It's as much about the way in which I work as the content of what I do.
How did you go about making the shift?
I took redundancy (which was a relief) and signed up with an agency for interim policy roles while I did the Launch Pad.
It was more junior work than I'd been doing, but great to give me some headspace. I had such energy from the programme, and was buzzing with new ideas, and people saw it.
The organisations I worked for asked about my plans and I was honest with them. They offered me a series of short term contracts which I worked alongside my first freelance gigs guiding and delivering evaluation masterclasses.
I negotiated part time contracts as my freelancing grew, so I had flexibility and a known income.
It confirmed that freelancing and having a portfolio could work for me.
How did you handle your finances to make your shift possible?
I had a little redundancy money, and the interim contracts supported my basic expenses while I grew my freelance work.
What was the most difficult thing about changing?
The mindset side of things.
Before I took action on my shift, I felt so blank and locked up, with no ideas.
It was all a confusion. I had no clarity.
I was 49 when I decided to make the change and join the Launch Pad. I felt that I was coming at this with so much baggage. I'd spent over twenty years doing what I did. How could I do a potentially complete one-eighty shift with all of this history behind me and no experience really in any other fields?
What help did you get?
For me it was the Launch Pad community – people who were sharing the experience and rooting for me, providing living examples of how this stuff can work.
It was also a group of people that I could share my newfound energy with, and get feedback from after feeling so secretive and ashamed about it all.
I was in a community of people who just got it. It felt like I'd found my tribe, after the longest time – I'd not had that at work for years.
What have you learnt in the process?
I now feel in control of my work life, and how to make a shift.
I have the power, the knowledge and the tools to be able to make change happen.
And never never again, will I be stuck feeling that trapped. Looking back I just can't believe how I got into that situation. I like to think I'm a smart woman. But of course as smart people often do, I tried to think my way out of it.
What do you wish you'd done differently?
I kind of kick myself for not doing something sooner (although things worked out really positively in the end).
It doesn't feel great knowing that I allowed myself to be in that position for the longest time.
What would you advise others to do in the same situation?
Do it.
Don't wait. Invest in yourself. I hadn't done that for the longest time partly because I'd lost confidence, and partly because I was so locked down even thinking about careers and jobs that it just made me switch off and retreat a bit.
What lessons could you take from Karen's story to use in your own career change? Let us know in the comments below.
Karen took part in our Career Change Launch Pad. If you're ready to join a group of bright, motivated career changers on a structured programme to help you find more fulfilling work, you can find out more here.