"I knew that if I made it a success, it would allow me to do things in life I've always wanted to do."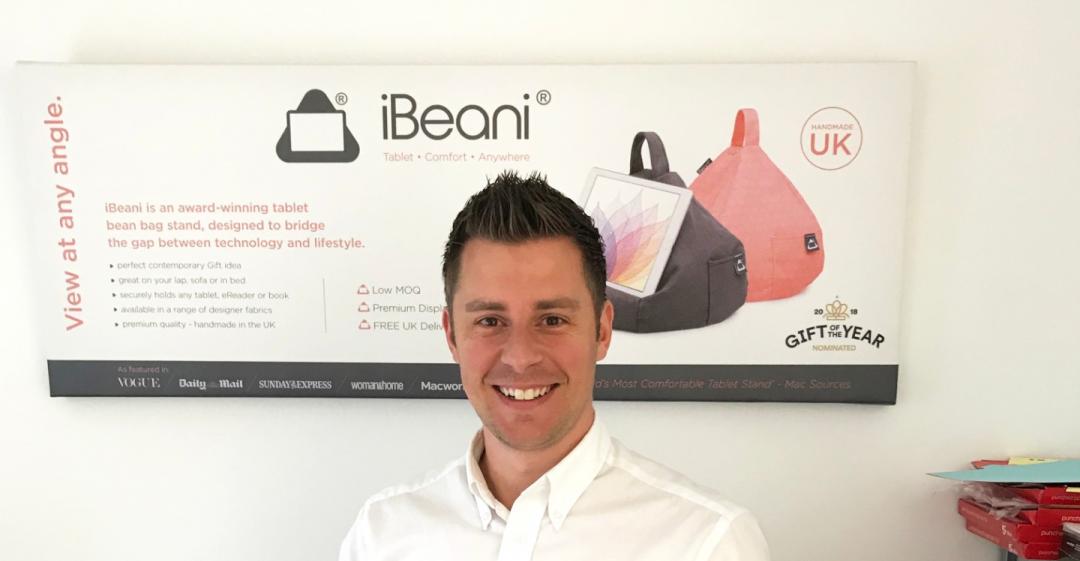 From Private Investment to Own Business
What work were you doing previously?
I was working for a private investment company, knowing the ultimate aim was to run my own business at some point.
Before that I worked in policing.
What are you doing now?
I'm Joint Managing Director of an award-winning consumer brand, iBeani.
We design, manufacture and distribute tablet accessory / lifestyle products, for customers and businesses globally.
I'm passionate about building the brand as well as the actual products. We're doing every aspect of the business ourselves: marketing, admin, finances, networking, packing, etc. Although, we do now have a member of staff in the warehouse.
How did you feel in your work before you decided to make the change?
I was happy and earned a decent salary.
But ultimately I wanted to run my own business.
Why did you change?
I've always been passionate about business and wanted to create a brand.
My 9–5 job in the private investment company (unlike the long and unsociable shift work in the police!) gave me time in the evenings to start researching ideas, along with my business partner. When the idea came and I believed it would be a success, I handed my notice in and took the jump.
I knew that if I made it a success, it would allow me to do things in life I've always wanted to do, and provide a great life for my family.
When was the moment you decided to make the change?
Whilst working the day job, I was also working all hours in the evenings, at weekends and on days off on the business.
We launched the product on our own website, on Amazon, and we did a consumer show – The Gadget Show Live. We started getting great feedback about the product and a little bit of money started to come in. We always dreamed of having our product stocked by retailers, so we tried and eventually managed to win a few deals via a trade show.
When I could see a few sales coming in, creating cash flow that would allow me to take at least a small wage at some point to keep a roof over my family's heads, I handed my notice in. Then, I began working full-time on the business, from a very small office in the village where I live.
How did you choose your new career?
My business partner (whom I met working in policing) and I would often sit together on Monday evenings, coming up with ideas, trying this and that.
Eventually we spotted a problem whilst using our iPads during a meeting. iPads in the standard cases had to be held; they didn't balance on our laps. We felt this problem must occur for others too – most people use their devices while relaxing, for watching films, etc.
We set about researching manufacturing and supply, and also how to build websites. iBeani was born.
Are you happy with the change?
Yes.
It was very lonely to start with as Nigel, my business partner, was tied to a career that didn't make sense for him to leave until a particular time, so he couldn't join full-time when I did.
I also felt a lot of pressure to 'deliver', as this was now my career and income source. Some months were tough, but it's all working out now.
I have some flexibility in life, a good salary and I've been able to do things I've always wanted to do, such as learning to fly helicopters and holidaying in places I never thought I would go.
What do you miss and what don't you miss?
At first I missed working with people, as I was on my own, but I eventually got neighbours in the office who've turned out to be good friends now.
Once I started building relationships with suppliers, manufacturers, and retailers, it got a little better.
At the beginning I missed the guarantee of a wage at the end of the month, and being able to leave work at work. Business comes home with you and takes over your life a little, especially in the very early days.
How did you go about making the shift?
I had to hand my notice in to my employer.
They were really good about it, to be fair; actually, my first office was one they owned, and it was a good, low-rental deal. It kind of all happened within a couple of weeks of having the thought that I wanted to work on the business full-time.
What didn't go well? What wrong turns did you take?
Dealing with every aspect of a business is tough.
You have to put trust in other people who provide a service or goods; being a little naive and trusting the wrong people can be a source of wrong turns. I made a bad distribution decision recently that turned out to be a wrong turn. Unfortunately, it's impossible to know that at the time, otherwise you wouldn't make those decisions; it's only afterwards that you find out.
I don't see mistakes or wrong turns as a bad thing, though. Running a business is a very big learning curve and providing you learn from 'mistakes', which I do, then it's training!
How did you handle your finances to make your shift possible?
The first few months' wages were on the credit card, and our first bills from suppliers often went on credit cards between us after tossing a coin as to whose it would go on. We've also used a £2,000 ($2400) overdraft from the bank.
Now, five years on, we have a multi-award-winning product that's stocked by many retailers around the UK, Europe and as far afield as Hong Kong. Doubling our business year on year, we're now projecting a seven-figure turnover for the next financial year, along with launching new products and services into the brand.
The future looks very bright.
What was the most difficult thing about changing?
Finances, and leaving a good, well-paid job.
There were also the slight nerves about whether it would work, but I was passionate and firmly believed it would.
Entering a new world of business was tough. Negotiation, supply chain, manufacturing and logistics, marketing, etc. – these were all things I had little experience in, so they all felt like a bit of a minefield.
What help did you get?
The only fully supportive person was my wife, as she believed in me; a few close friends were also supportive.
I had all the usual from most friends and family – "Don't leave a well-paid job", "It may not work out, why don't you go back to the police," "Who will buy that?", etc.
In the early days a friend decided to invest a little money into the business to help keep it moving, which turned out to be a decent investment.
I had the opportunity to meet lots of very helpful people along the way, and also some very arrogant, ruthless people that didn't do more than try to take us for a ride. It's trying to spot the difference between these people that's been hard. Going with your gut is the best advice I could give on this.
Now, five years on and doing well, we're looking to merge with a very large, global consumer-focused organisation to help us get to the next level in business with backing, infrastructure, distribution, contacts and advice.
What resources would you recommend to others?
Feedback from real customers or potential customers is vital; it will give a good indication as to whether your product or service is required and, if so, how good it really is.
Joining associations relevant to your business is a great way of getting help and advice and to network with like-minded people. One of the best things we did was join the Giftware Association.
Google is obviously great, but don't just read any website you find and take it as gospel.
Get a good local accountant – they know so much about everything, not just numbers. They work with lots of businesses in lots of different environments and can offer advice about all sorts.
What have you learnt in the process?
Everything there is to know about business, from marketing to supply chain and logistics, to negotiating sales and accounting, and everything in between.
And not to take anything for granted.
What would you advise others to do in the same situation?
If you firmly believe in what you're doing then go for it – go with your gut. If you get it right, you'll never look back.
Don't think it will be easy, because it isn't. You get challenged in every way you can think of, physically and emotionally.
Learn from 'mistakes'.
Work from an office if you can, not from home, unless you're very disciplined. I chose to start from an office to get into the mindset of getting up and going out to work.
To find out more about Ashley's business, visit www.ibeani.co.uk.
What lessons could you take from Ashley's story to use in your own career change? Let us know in the comments below.