"I didn't have a sense of who I was anymore."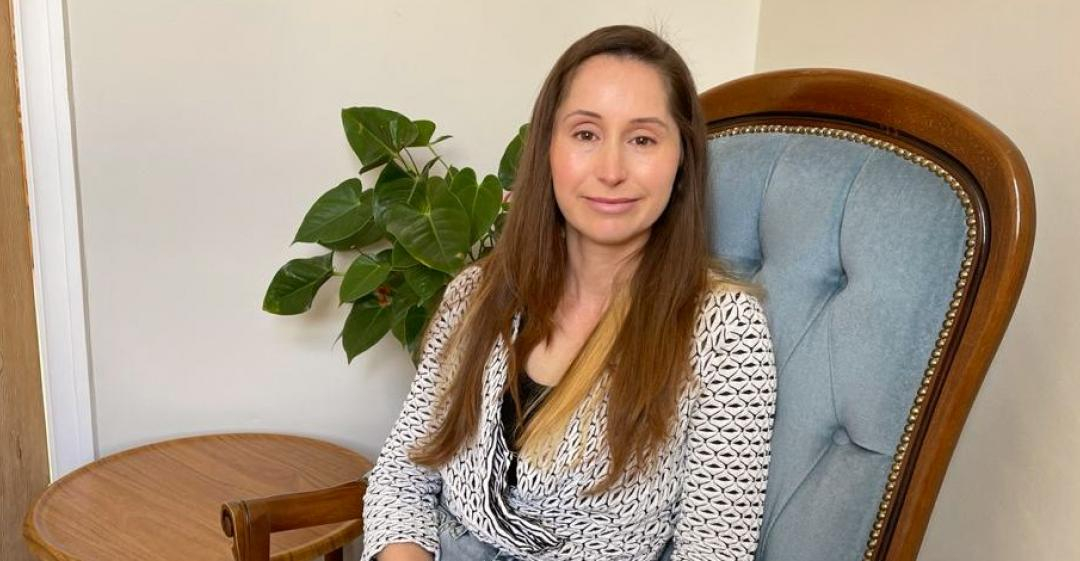 From PR to Mental Health
What work were you doing previously?
I was head of campaigning at a PR agency.
What are you doing now?
I'm an integrative counsellor and mental health journalist.
I use talking therapy and the body's powerful signals to explore and facilitate healing. Alongside my client work, I write blogs and articles to reach as far as I can with the potential of words to connect and support.
A few years ago, I co-founded the Nurture Hub with Chanelle Thornton, a psychologist and hypnobirthing teacher.
During my counselling training, I taught classes in mum and baby and postnatal yoga. I became acutely aware that many women experience intense emotional pressures and anxieties related to fertility, pregnancy, childbirth and postnatal wellbeing – much of which goes unrecognised and unsupported. The Nurture Hub was developed in response to this crucial gap in care for women at vulnerable stages of their lives. The aim is to provide women with pre- and post-natal support at a practical, physical and psychological level.
Why did you change?
For years I experienced cycles of depression and anxiety that I ignored to the point of breaking, which I would then temporarily alleviate with short-term fixes like holidays, retail 'therapy' and parties.
Monday-morning blues were becoming Sunday dreads, which bled into Saturday until it became everyday adrenal fatigue.
Over a decade into my career, I'd lost touch with the idealistic, wide-eyed twenty-something who'd dreamed of improving people's lives through communication. I was on a career ladder that felt more like a hamster wheel and had gone from being a stressed-out young person to leading teams of stressed-out young people.
I'd witnessed too much cynical spin in my line of work to have any sense of connection to my initial motivation to work in communications. I said what clients and the media wanted to hear; to the point that I didn't have a sense of who I was anymore. I was simply a people pleaser.
I knew I needed change, but had no idea how to make that happen.
When was the moment you decided to make the change?
I had made another career move that I hoped would fix my unrest.
It looked outwardly impressive, but inwardly it felt like the stranglehold on my soul had become another notch tighter. I realised that promotions and sideways career moves were never going to make me happy. I could either work towards my pension and look back with regret at never taking a risk, or I could feel the fear and do it anyway.
I needed to be doing something that felt fulfilling, something that came closer to expressing who I am and what I care about.
How did you choose your new career?
I'd often thought about what it would be like to work in mental health in some way.
I'm interested in others and fascinated by the mind. I had wondered about becoming a psychologist or a psychotherapist, but much of what I thought I knew was drawn from TV and I didn't really know the difference between the two, to be honest.
I researched mental health social work, mental health nursing, clinical psychology, coaching and psychotherapy. Through friends of friends, I spoke to people who worked in those fields to get a picture of what it would take and what it was really like.
I knew I wanted to have autonomy over the direction of my work, and control over where and when I worked, which helped steer me more towards psychotherapy.
Are you happy with the change?
I'm grateful and happy to have made the change.
My old life feels foreign to me now. At the same time, I wouldn't change the journey completely. I formed deep friendships and met some great people. It gifted me both the practical skills to make my business work and an understanding of the physiological and psychological impact of feeling like a round peg in a square hole.
I tend to think of myself as an introvert masquerading as an extrovert. In my old job I used to hate networking with a passion; now, I love meeting people and getting the chance to connect over the purpose of my work with like-minded others.
What do you miss and what don't you miss?
I miss the camaraderie of working in a team and the casual, yet valuable social interactions you take for granted when you work in an office (never underestimate the mood-lifting effect of those morning cups of tea while you talk about Bake Off!)
Counselling can be singular work and I like to be my own boss, but I've realised the importance of time with my tribe too.
I don't miss the presenteeism, unnecessary pressure and the discomfort of feeling inauthentic within myself every day. I hadn't realised before how much I thrive under my own steam, rather than working to others' agendas.
How did you go about making the shift?
My first significant stepping stone was to take a job using my skills, working with the team at Careershifters to promote their aims to help people find fulfilling work.
Being part of a team of people who passionately lived their values helped me to see that it was possible to do an about-turn in your career without upending everything; that it's very possible to create a career that reflects what's important to you – and also enjoy it!
I got to watch as the coaches at Careershifters encouraged career-changers to begin by reconnecting to things they enjoyed – and that was my first step, too. I gave myself permission to rediscover the things I used to do purely for the joy of them and to explore what I liked now.
I used to love teaching aerobics and pilates before I moved to London and got a 'serious' career, so I signed up to a yoga teacher training course. At the time, I didn't have any real plan for using the qualification. The course helped me to rediscover the freedom and therapy that I find in movement. It helped me to find a new way of tapping into my wellbeing, which I would then explore further with my therapist.
I started off doing a certificate in humanistic counselling at the Gestalt Centre in London, with an open mind about where it would lead me. The course was a deep dive into my vulnerabilities in a way that I hadn't anticipated.
I left the training with a new-found peace and certainty about who I am and what I want from life.
I volunteered at a counselling service during and after my training, which helped me to understand the demands and considerations needed to run a private practice.
What didn't go well? What wrong turns did you take?
My real mistake was being afraid to make mistakes in the first place.
That fear had me paralysed for a while. Careershifters refer to a Theodore Roosevelt quotation, "In any moment of decision, the best thing you can do is the right thing, the next best thing is the wrong thing, and the worst thing you can do is nothing." That sort of mindset was a revelation to me. It set me free and it still comes to mind when I work with clients who feel stuck. Ultimately, avenues that weren't right for me led me to better things.
How did you handle your finances to make the shift possible?
I worked part-time during my psychotherapy training, using my existing skills to work on causes.
Working with purpose on my own terms actually reignited a joy of my old career that I had lost, and it brought me back to writing.
What was the most difficult thing about changing?
The hardest part of changing career was overcoming the barriers I had put up in my mind.
Have you ever heard of the sunk-cost fallacy? It's a financial term used to describe continuing to invest in a failing venture because of the time, money or effort already put in. That is exactly what I was doing with my career.
I had made a choice and it felt almost unthinkable to change my mind. My parents were of the generation that got a job and kept it their whole lives. How could I tell them I wanted to change? I had built up a career that looked great on the outside. People would think I was nuts. Would I be of any value without the status of my job title? Where would I even begin?
What help did you get?
Two people coming into my life at the right time helped me to see that the walls of my self-made prison did in fact have windows and even doors.
My boyfriend, now husband, loved me. Feeling unconditional love is very freeing. I started to think, if he likes me as I am, maybe other people can accept me as I am now and understand my motivations for change.
An eccentric, plain-speaking therapist helped me see physical symptoms (feeling choked up, anxious, lethargic) as a friend who wouldn't let me off the hook until I paid her attention. Not far beneath the surface of the nagging symptoms were the answers – I needed to reconnect with what mattered to me.
A big part of that was my job, a vocation.
What resources would you recommend to others?
A couple of friends who'd been made redundant recommended the book Screw Work, Let's Play, by John Williams. It helped me to loosen up and get out of my head.
Above all else, the best resources were my existing networks. Getting over my fear of talking to people about what I wanted and, heaven forbid, asking for help, made all the difference.
I feel grateful and humbled when I think about all of the people who went out of their way to help me.
What have you learned in the process?
I have learned that I can be resourceful, resilient and brave.
You frequently hear the saying, "hurt people, hurt people" and that may sometimes be the case. However, I also believe that hurt people heal people too. With the right training, those of us who have had setbacks and mental health issues can use the insight and empathy that comes with experience to help people facing their own demons.
What do you wish you'd done differently?
I could have talked more openly about my career misgivings and my confidence wobbles along the way.
In hindsight, I would have helped myself and others by being more open. In traditional therapy, it's not the done thing to reveal too much about yourself, but now I am open with anyone who is curious about my counselling career path and perinatal specialism. It's helpful to see in front of you that it's possible to get unstuck and change your path.
What would you advise others to do in the same situation?
When you've fallen out of love with your work, it can be easy to overlook your existing skills and to believe you would have to start from scratch to change career. Looked at with fresh eyes, your current skills could be the stepping stones to something new.
Talk about your ambitions even if they feel vague and don't be afraid to ask for help. You don't have to have it all figured out before you start making changes. The picture will emerge as you slot the pieces into place – have faith!
To find out more about Miriam's work, visit www.MiriamChristie.com.
Photo Credit: Millie Turner
What lessons could you take from Miriam's story to use in your own career change? Let us know in the comments below.