"I wanted to market something that was tangible, something that I was passionate about, something I had created."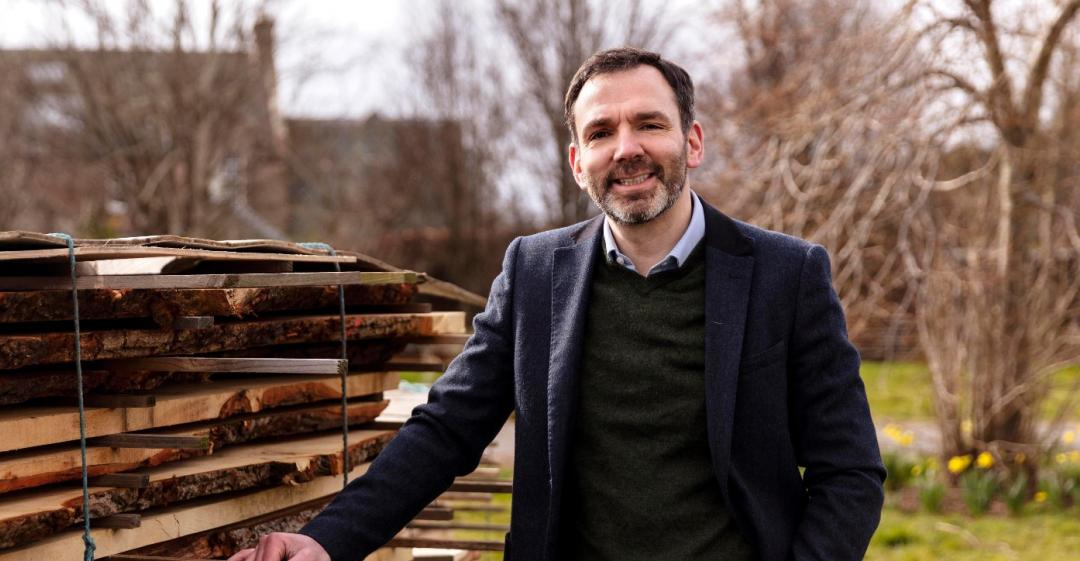 From PR & Marketing to Furniture (Plus Post-Shift Update)
What work were you doing previously?
I had an 18-year career in PR and marketing, largely within financial services.
What are you doing now?
I've set up my own company, Glencairn Furniture, and I'm now a full-time designer and maker of handmade bespoke furniture.
How did you feel in your work before you decided to make the change?
Overall, I really enjoyed my previous career.
Working in the financial markets was intellectually challenging and financially rewarding.
But as the years passed I gradually realised it wasn't what I wanted to do for the rest of my working life.
Why did you change?
I wanted to set up and run my own company.
But I didn't want it to be about providing PR and marketing services for other companies and brands. Financial services and its related products are quite intangible things to promote. I wanted to market something that was tangible, something that I was passionate about, and something I had created.
Initially, though, I didn't know what that thing was!
When was the moment you decided to make the change?
It's difficult to pinpoint a precise moment, but I was reaching the natural end of the role I was currently in.
As I pondered my next move, I soon realised similar roles in PR and marketing (in-house and with other corporates) no longer got me excited.
I knew then that I had to make a bold leap.
How did you choose your new career?
Once I worked out that I wanted to market something I made and was passionate about, I had to find out what that was!
I'd be lying if I said I've always wanted to be a furniture maker. In fact, even after I did a five-day taster course in furniture making a few years ago, I still wasn't sure. But it clearly got under my skin.
As the weeks and months passed, my obsession grew and I knew I had to do the year long professional course – if nothing else, just to satisfy my curiosity.
Are you happy with the change?
So far, so good.
I'm six months into building my own business and I think it's going reasonably well – global pandemic aside! It's an incredibly hard sector to succeed in, and the failure rate is disconcertingly high. But my mind is racing with the possibilities of what I can achieve, which is exhilarating.
A friend once said to me: there are two types of jobs in this world – the ones that give you energy, and the ones that drain you of energy. My job is certainly the former.
Don't get me wrong, on days where everything seems to be a struggle I think 'What am I doing?'
But I've never regretted making the change, whatever happens in the long run.
What do you miss and what don't you miss?
I miss the financial security – a regular salary, holiday and sick pay, pension, etc.
But if you're in a job or a career where you're no longer fully engaged, the financial side can become little more than compensation.
I certainly miss some of the people I've worked with, and the office camaraderie.
But I don't miss meetings, office politics or the nagging doubt that I should be doing something different.
How did you go about making the shift?
I did a five-day introductory course in furniture making a few years before embarking on the year-long professional course at the Chippendale International School of Furniture.
In between, I spent a lot of time working out exactly what I wanted to do, and exactly what I didn't want to do.
Importantly, I also stripped out all unnecessary costs from my life. This obviously helped me save more, but perhaps most importantly it made me realise just how much (or how little) I needed to live on.
What didn't go well? What wrong turns did you take?
It's still quite early days.
The first six months or so of building the business is going reasonably well, considering the current unprecedented pandemic.
How did you handle your finances to make your shift possible?
I have savings that are providing funding for the transition, and for the early months and years of building the business.
It also provides psychological comfort. I'm not sure I would have been brave (or reckless) enough to take the plunge without that cushion. The full-time course was expensive and the cost of doing business as a furniture maker (workshop, equipment, materials, etc.) is high.
What was the most difficult thing about changing?
Believing that change is possible.
Once I took the first step, change began to gather a momentum of its own.
It's getting going that's the hardest.
What help did you get?
Support from friends and family has helped a lot.
Also, encouragement from the Chippendale International School of Furniture during and after the course. It's difficult to succeed as a full-time furniture maker, but there are examples of success. That's kept me going.
What resources would you recommend to others?
Subscribe to the Careershifters newsletter.
Having regular emails coming into your inbox will keep your career change front of mind. The success stories and the advice available on the website is invaluable.
I'd also recommend The Idea in You: How to Find It, Build It, and Change Your Life, by Martin Amor and Alex Pellew – a really practical and inspiring book on how to change your career.
What have you learnt in the process?
If you really want something in life, you can achieve it.
The first step is the hardest. After that, hard work and hunger should get you through.
What would you advise others to do in the same situation?
Realise that you are not what you earn. I'm quite surprised about how little the significant drop in salary has affected my quality of life and how I view myself.
I've gone from a career where I was trying to earn enough money so I could stop what I was doing, to trying to earn enough money to keep what I'm doing. It's quite a shift! And it's one I'm relishing.
We caught up with Richard recently to see how his shift was working out, roughly two years on. Here's what he's been up to, and the biggest lessons he's learned.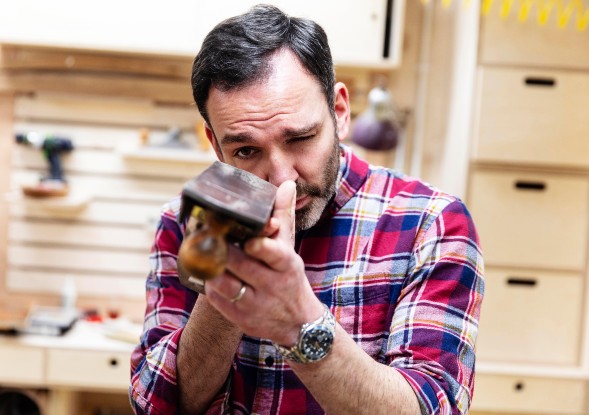 What's changed for you in your career since we first published your story?
In recent months I've launched a furniture restoration and repair service.
This is in addition to my core business focus, designing and making handcrafted bespoke freestanding furniture.
This has helped diversify my source of revenue, and it also fits well into my commission work. Restoration can be done alongside and at the same time as larger commissions, which can often have lots of downtime due to glue ups and the drying of oil finishes, etc.
Restorations and repairs work also strengthens my design and making skills, learning from the past successes and failures of others.
Overall, despite the reverberations of a global pandemic, a European war and a cost-of-living crisis, I'm still in the fortunate position where I'm getting a steady stream of commissions, both private and commercial.
How do you feel about your work now?
I know a bit more about what I'm doing!
In the beginning it was constantly stressful, because despite an intensive year-long course you can't learn everything, and there really is no substitute for experience.
Now I feel a bit more comfortable and in control of what I'm doing. I even have the odd day where it could be said I'm in a state of 'flow' and everything is going really smoothly.
That said, there is a delicate balance between not knowing what you're doing and the stress that comes with that, and being comfortable but bored.
What challenges have you come up against since making your shift, and how exactly have you dealt with them?
I think the biggest challenge for me was and is learning to deal with uncertainty.
Working full time for a corporate brings with it a lot of certainty. You know what you'll have coming in at the end of each month and apart from the risk of, say, redundancy, it's relatively secure.
Moving from that type of environment to one that is based on one-off, ad hoc commissions is a difficult transition.
I don't think my situation is any more certain than it was when I launched Glencairn Furniture, but my mindset has adjusted to better deal with that uncertainty.
How is the financial side of things panning out, and is this what you'd expected?
I've had a rough financial plan from the outset.
And sitting here now, I'm pretty much on track. So, yes, financially things are developing pretty much as I hoped and expected.
What have you learned, since making your shift?
Radical change can happen.
The key, I think, is not being overwhelmed by the immensity of it. Break it down into a series of tiny steps. Take each step at a time. And don't get ahead of yourself.
I think it was Robin Sharma who said: "All change is hard at first, messy in the middle and so gorgeous at the end."
To find out more about Richard's business, visit www.glencairnfurniture.co.uk
What lessons could you take from Richard's story to use in your own career change? Let us know in the comments below.