"The office environment I was in felt highly stressful and I had a lot of health issues."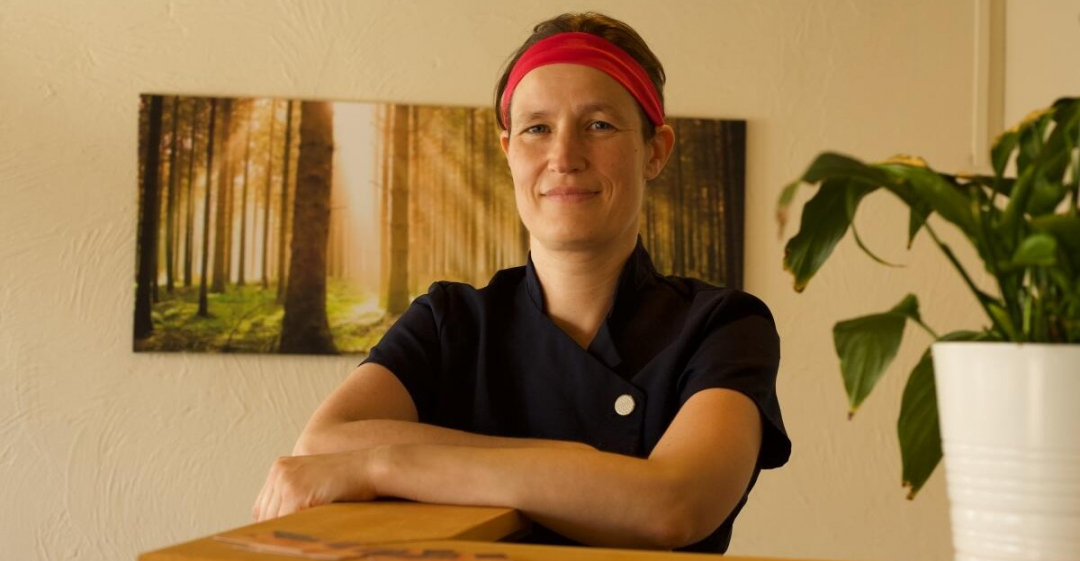 From Marketing to Massage
What work were you doing previously?
I was a marketing manager.
What are you doing now?
I'm a massage therapist and massage tutor.
Why did you change?
I spent my twenties going through cycles of burn out.
The marketing work was enjoyable, but the environment I was in (city offices) felt highly stressful and I had a lot of health issues.
This led to me investigating meditation, holistic healing and spirituality. After a few years of exploring these methods, some of which were about connecting with spirit beyond the body, I realised I needed to do something to help ground me in my body, and felt massage would help.
I'd also done some massage with friends and wanted to know more about what I was doing.
At the time a local course was recommended to me that had a strong spiritual and meditative element, so I knew it was the right choice for me.
I learnt massage to help me, then was so inspired by what I learnt I decided to do it professionally.
When was the moment you decided to make the change?
While doing the course, and learning about the stress response and the nervous system.
I realised how endemic stress is to our lives and how we live with it as normal. I wanted to share what I'd learnt with as many people as possible to help them relax and let go of stress, as I was starting to.
How did you choose your new career?
I did something that I knew I needed to do for myself, then it just unfolded from there.
Are you happy with the change?
Yes!
I love getting to choose my own hours and being my own boss.
And now I'm starting to teach, I feel that this was what it was all about for me from the start – to show others how to be themselves through massage and running their own business.
It's what I was meant to do.
What do you miss and what don't you miss?
I sometimes miss the money and the certainty, but that's more about self-employed life rather than massage specifically.
I don't miss anything about the work, maybe partly because I do get to do a lot of marketing for my own business, so still practice what I learnt over those sixteen years.
I don't miss office work or the 9-5 at all!
How did you go about making the shift?
I completed a ten-month professional massage training course, then built up a practice part-time until I was ready to go full-time.
How did you develop (or transfer) the skills you needed for your new role?
I learnt the massage and therapeutic skills during the professional training.
The business and marketing skills needed for self-employment I learnt as a freelance marketing manager, and through a creativity business mentoring programme that I've been in for four years.
What didn't go well? What wrong turns did you take?
I had a lot of false starts and times where I needed part-time jobs to keep me going.
It took me a long time to a) feel confident that I was a good enough massage therapist to go full-time and be able to help enough people without it causing me physical or emotional difficulty, and b) believe I could be full-time self-employed.
I suffered from a chronic lack of self-belief for a long time, and it took a few years to build up the capacity to work with clients therapeutically, so I didn't feel wrecked by the work.
I had many moments were I felt I just didn't have it in me to do this type of work successfully.
Curiously enough, it was Covid that gave me the final push forward. In the first lockdown I really checked in with myself, 'is this really what I want to do?'. And if it is, then I need to go for it, no holding back, no letting fear get in the way.
The restart grant gave me the money to set up my own practice as I'd always dreamt of, and I've been full time for one year now.
How did you handle your finances to make your shift possible?
I went through a long transition of having part-time marketing jobs while I built up my practice.
I was also lucky enough to get Covid grants, and over the years my parents have supported me. They bought me my first professional massage table.
I also got a start-up loan from the British Business Bank last year to help me set up my training school.
What was the most difficult thing about changing?
Having the confidence and self-belief to fly!
Many times I took a leap and it didn't work out. Through doing a creativity mentoring programme, I learnt how to build my work consistently over time.
I've never been afraid of hard work, but it took me years to understand how to bring in work most effectively, rather than scattering effort all over the place and getting exhausted.
This was an inner shift that happened, of learning how to be myself in the world, and allowing the creative process to unfold. To be able to live with uncertainty, rather than forcing and efforting, which is exhausting.
We are told we need to be working 24/7 to get results, but rest is an essential part of the creative process. As hard as it can be when you work for yourself and you feel you have to be doing something all the time, taking rest is a necessity.
And whenever I let myself deeply rest, more work comes in, so I have learnt to trust the process!
What help did you get?
Lots of help from my massage community.
I'm part of an organisation called the Massage Training Institute (MTI) and they have supported me over the years with training, information and advice. I also worked for them part-time with marketing while I got my practice up and running.
I attended supervision with my course tutors for many years and also had massages with them that taught me a lot and helped me to relax! Fellow MTI students and graduate therapists have been a great help, supporting me with intelligent and helpful reflection.
The school I trained with, the Bristol College of Massage and Bodywork, supported me with CPD courses, occasional freelance work, and was another source of advice and support.
My parents have supported me financially and emotionally throughout my journey, and always backed my choices.
My friends Emma and Lisa have guided and supported me through many meltdowns, and reassured me that I have the capability to do this. They've also reflected helpful marketing and business advice and helped me paint my office!
Lisa also runs the creativity mentoring programme that has given me the capacity to create a business, and just watching her run her own successful business has shown me so much.
What resources would you recommend to others?
Lisa Lochhead (creativity courses and mentoring).
The Massage Training Institute.
The Bristol College of Massage and Bodywork.
The British Business Bank's website (for startup loans).
What have you learnt in the process?
So, so much.
It was amazing to learn these massage skills and put them into practice, to learn about how the nervous system works and what stress is.
But the deeper journey has been the inner one that has taken me from a place of not knowing how to be myself in the world, to doing what I love, being able to believe in my ability to work for myself (which was always my dream), and running a successful business.
What do you wish you'd done differently?
Nothing, it's all been an amazing learning.
What would you advise others to do in the same situation?
Follow your heart.
If there's something you know you need to do for yourself, do it and see what unfolds.
There haven't been many times in my life that I've been absolutely sure of what I needed to do but doing the massage course was one. I knew it was right for me and it was the right time, even though it was a huge financial stretch.
I had no idea it would lead me to where I am, but it's been the most profound journey.
To find out more about Jenny's business, visit www.jennyhamptonmassage.com