"I decided then that I must do something or I would live the rest of my life as a fraud."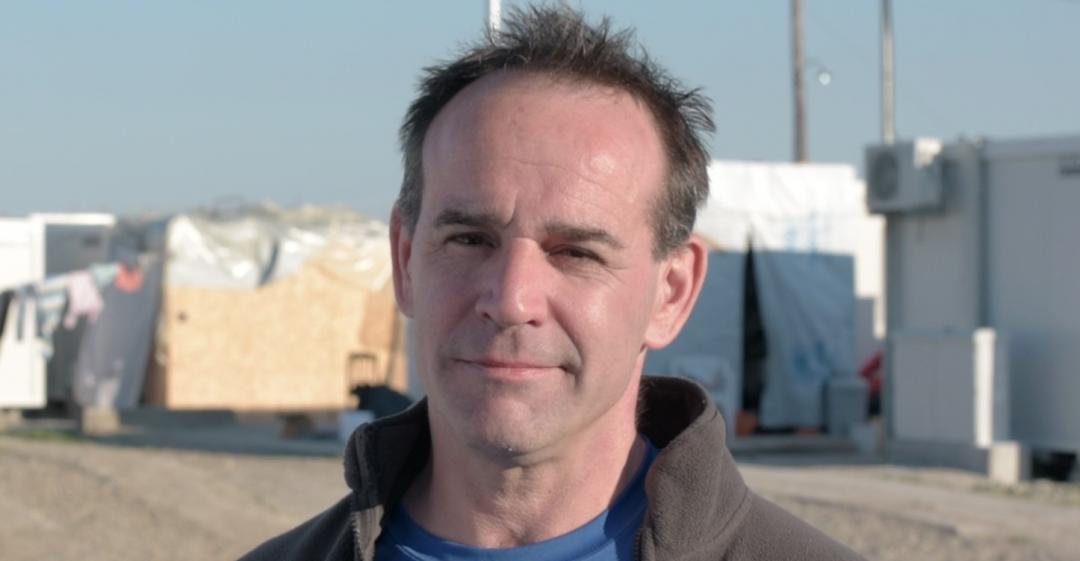 From Market Research to Refugee Support
What work were you doing previously?
I ran a market research consultancy working for big technology companies.
I spent a lot of time listening to people talk about mobile phones, IT services and digital publishing, then I fed back the findings to marketing and product development teams.
What are you doing now?
Now, I run a volunteer-based charity supporting refugees.
We've worked in Greece, Mexico and Bangladesh. Currently we're working in Cyprus.
How did you feel in your work before you decided to make the change?
Ambivalent.
There was much that I enjoyed. Diving deeply into a subject and becoming an expert on it was very satisfying. I was good at project management and dealing with the problems. It was quite well paid, I was in charge and I could work part-time.
But analysing piles of interviews was boring, and trying to condense it all down into a usable report was really hard work. Fundamentally, the main purpose was to consolidate the power of large companies – that didn't seem to be solving any of the big problems in the world.
Why did you change?
Opportunity.
I was self-employed doing project work so could take the time to do something different. I had money in the bank so could take a hit on the earnings. My kids were older and more self-sufficient, and I had a supportive wife.
In 2015, there were large numbers of people seeking refuge in Europe and governments weren't doing enough. I remember being scared of doing something different, but that fear was outweighed by a concern that I would live with regret if I didn't act. I didn't want to get to 70 and wish I'd done something.
Ultimately, I wanted to do what I believed in.
When was the moment you decided to make the change?
I was furious and dismayed at the treatment of refugees.
Like many others I know, I was disgusted at the sight of three-year-old Alan Kurdi washed up and face down on a beach in Turkey. That event happened at a stage in my life when I had an opportunity to help.
I decided then that I must do something or I would live the rest of my life as a fraud.
How did you choose your new career?
I started small.
Thousands of people were living in appalling conditions in Calais and social media was full of pleas for help, so I went for a weekend. It just grew from there.
Are you happy with the change?
There are happy moments, but I would say that I'm relieved that I made the right decision to change.
What do you miss and what don't you miss?
I miss the time when the world was a less horrific place to me.
Once the door to a new world is opened there's no closing it. I've heard chilling stories and witnessed terrible atrocities. That is unsettling and hard to live with.
I don't miss tedious reports and banal recommendations on how to sell rubbish.
How did you go about making the shift?
I went to the heart of the problem and got stuck in volunteering, just intending to do a few days.
It became clear that the market research and business skills I had were in short supply in the volunteer sector, so I filled a need to run an organisation.
After six months of on-off help in Calais, my co-founder John Sloan found a refugee camp in Greece with 800 people and very little support, so I decided that I'd take a year's unpaid sabbatical to help do what we could. That was nearly four years ago.
What didn't go well? What wrong turns did you take?
Burn out: it got very emotional and it took me a while to figure out how to take breaks.
Doing too much: getting more focused meant that we did one thing well rather than lots of things poorly.
Managing volunteers: they come with a lot of enthusiasm but need really clear direction or they go off the edge.
Picking the wrong partners: that needs to be done carefully.
How did you handle your finances to make your shift possible?
I had the money in the business to continue my salary for a year.
I worked unpaid for about 15 months then had to raise funds so that the charity could pay me a salary.
What was the most difficult thing about changing?
Breaking out of comfort zones, fear of failure, the emotional burden of never being able to do enough for people who are marginalised, and the need to take big risks in the hope that things will work out.
What help did you get?
My co-founder is a very different character to me.
While he's a risk taker, I'm cautious. Where he's instinctive, I'm analytical. He's big picture and I'm detail. We would never have been able to do what we've done without each other and he's been a huge help.
When we first started in Greece I thought I would spend a year with John giving out things that people needed, but when we asked for help, lots of people responded.
What resources would you recommend to others?
Facebook has been invaluable to us for information, people and money.
But the main resources are the ones you have inside you. The key thing is to have a clear purpose, tell everyone you can about it, and some of them will give you what you need.
What have you learnt in the process?
That the world can be unjust and cruel, but there are some amazing people out there.
Our volunteers are the best of humanity and it's inspirational to work with them. I learnt that the world is full of people who are similarly driven and want to join in with what we are doing.
I've also learnt that anyone could be a refugee. They're just like you and me, but some lunatics killed their families or tried to kill them and they did what anyone would do in their place.
What would you advise others to do in the same situation?
You need to follow your heart. You'll need to make some changes but things will work out.
To find out more about Paul's charity, visit www.refugeesupport.eu.
Thanks to our friends at Indigo Volunteers for this story.
What lessons could you take from Paul's story to use in your own career change? Let us know in the comments below.