"Doing the same thing every day really got to me – it wasn't what I wanted to do with my life."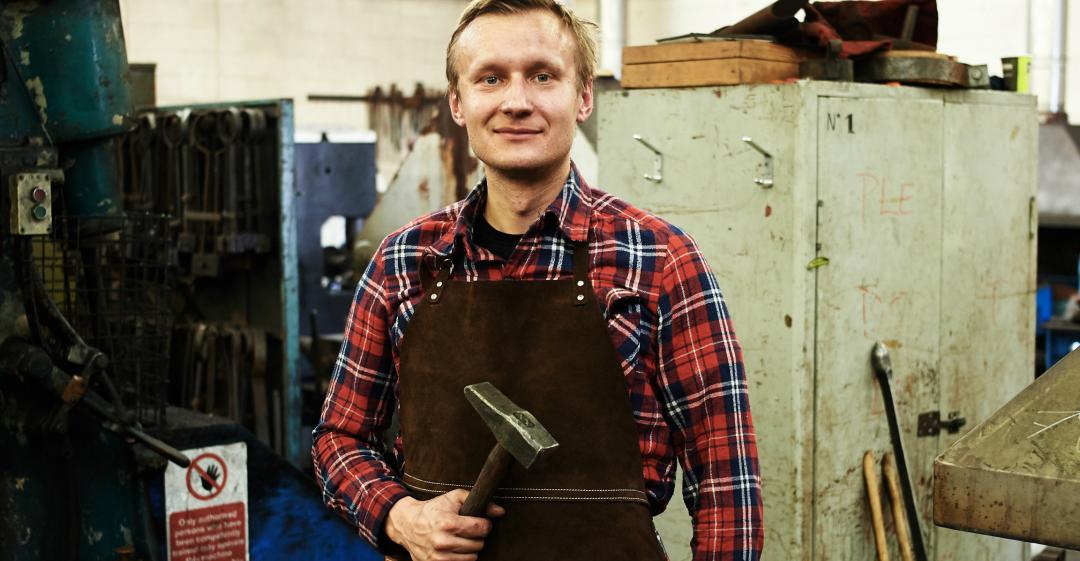 From Manager to Blacksmith
What work were you doing previously?
I was a manager in the retail sector.
What are you doing now?
I'm an Artisan Blacksmith, forging hot steel into my own designs.
How did you feel in your work before you decided to make the change?
Even though I was content with the pay and had opportunities to advance, working in retail, especially in London with long hours of work, simply made me feel miserable.
Doing the same thing every day really got to me – it wasn't what I wanted to do with my life. I knew a couple of managers that sincerely enjoyed their work, but it was simply not for me.
Why did you change?
It was a mix of exhaustion and feeling down.
This is where I need to thank my family, who saw through my mask of 'everything is fine' and gently pushed me to change careers.
When I told them that I going to be a blacksmith, they supported my decision. The only thing they wanted to know was how I was going to make it work.
When was the moment you decided to make the change?
Five years ago, after I went to the Hereford and Ludlow College open day and had a first go at being a blacksmith.
This was the moment I forged a piece of steel for the first time and actually made something with my hands. I was hooked.
How did you choose your new career?
I was looking for a place where I could learn how to make something that would last.
I went on open days to a couple of engineers' colleges, but nowadays this line of work involves more design on a computer than actual making.
Then I stumbled across the blacksmithing course at Hereford. I went on the open day and that was it.
Are you happy with the change?
Absolutely.
It wasn't an easy task; my mindset had to change a lot.
I was a bit of a mess when I started college. I had very little confidence and lots of insecurities, but as I got better this started to change.
I think my 'final' transformation was when my first piece, 'Shell Tools', was exhibited in Ypres, Belgium. That was the first time I was finally happy with my work and with my choices; I could see that people were moved by my work and wanted to see more.
What do you miss and what don't you miss?
To be honest, I don't miss much.
Maybe the stable monthly pay cheque, but that's it.
How did you go about making the shift?
It was almost like ripping off a bandage after I got accepted to Hereford.
I gave my notice and asked my boss if he could ask if they were any part-time positions in the Hereford branch. I'm extremely grateful to him because when I moved out there, I had a job waiting for me.
What didn't go well? What wrong turns did you take?
I think I was a bit too lazy in my first year at school – I got a feeling I could have done more.
The real challenge started when I graduated last year and then began my own company seven months ago.
It was scary going full-time as a blacksmith. The money flow was bad at the beginning as I had to invest in equipment.
It was a steep learning curve, but I'm seeing an improvement now in how I manage my time and money.
How did you handle your finances to make your shift possible?
I had some savings and made sure that I had a part-time job while I was studying.
So, when I finally started working as a blacksmith, I had money to buy equipment and even some left for a safety cushion in case I didn't make enough money.
What was the most difficult thing about changing?
Asking people for help.
I'm a bad case of an introvert who wants to do everything himself.
What help did you get?
Most of all, I appreciate my amazing teachers, especially Peter Smith, Adrian Legge, and Delyth Dole who runs the blacksmithing course.
Delyth's passion for the craft and teaching has opened me and other students up to a lot of opportunities.
I also had lots of help and encouragement from my family, and am grateful to my manager who found me the part-time job in Hereford.
What have you learnt in the process?
I definitely learned to enjoy what I do, and gained a lot of confidence in myself and my abilities.
Also I'm not afraid to ask for help when I need it – most people will help you if they see that you're genuinely trying to change, or to achieve a goal that you've set for yourself.
Most important of all was developing confidence that my work was good. Thanks to that I've been able to stick to my craft and ask for an appropriate amount of money for my work.
What would you advise others to do in the same situation?
If you've got some savings, it will help a lot.
Also, don't disregard the skills that you learned in your previous career – they might be surprisingly useful.
Have a plan for at least the next five years and try to stick to it. It won't work exactly but it will give you a clear idea of where you want to get to.
If your work makes you feel down, don't be afraid to change it. Look for something that will inspire you to push yourself and do it. Overthinking things is your greatest enemy.
To find out more about Leszek's work, visit www.lsikonblacksmith.com.
What lessons could you take from Leszek's story to use in your own career change? Let us know in the comments below.