"I felt that I had done all I wanted to do and achieved all that I could."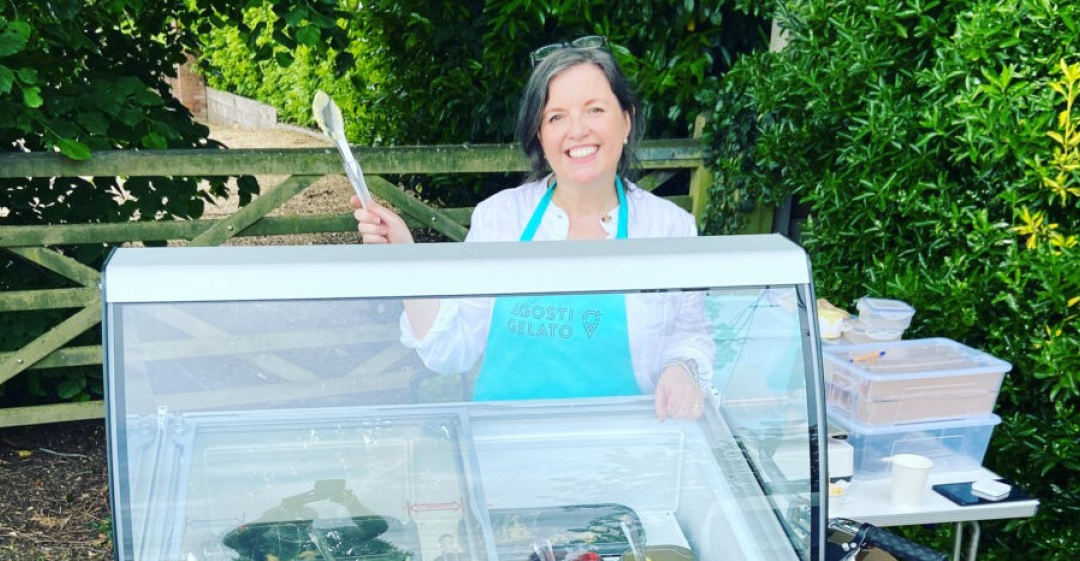 From Law to Gelato
What work were you doing previously?
I worked as a solicitor for 25 years.
I trained and qualified into a City law firm as an Intellectual Property (IP) lawyer, and later moved to be the IP lawyer at M&S where I ended up as Head of the Brand & Retail Legal team.
I also sat for several years on the Plan A Committee, advising on the company's eco and ethical ways of working.
What are you doing now?
I make and sell small batches of gelato and sorbet through our business Agosti Gelato, in seasonal flavours using local ingredients wherever possible.
How did you feel in your work before you decided to make the change?
Being a lawyer was always "just" a job to me, not a vocation.
I had some great experiences and was given good opportunities to develop skills, other than my legal ones, during my time at M&S.
I worked three days a week (officially) once the first of our three sons were born, but due to the nature and seniority of the role I had, was on the phone/email almost every day (including weekends).
I wasn't prepared to work full-time, due to family and other non-work related commitments, and I was looking for a new challenge.
Why did you change?
I felt that I had done all I wanted to do and achieved all that I could at M&S.
At the same time, I had some health issues of my own, my mother died leaving my increasingly forgetful and frail 87 year old father alone in Scotland, and our teenage sons seemed to need more support and encouragement (and nagging!) than ever before.
M&S was changing too, and at that time I just felt that all the above issues, combined with the future I could see at M&S, made it the ideal time for me to leave.
How did you choose your new career?
Setting up Agosti Gelato was a joint decision, made with my husband.
We both knew his support would be key to being able to start any business, so it had to be something that we both wanted to embark on, even though he continues to work full time at his own job.
My husband's maternal family are Italian (they are the "Agostis" from Lake Maggiore, hence the name!) and, although they don't live there now, we have spent a LOT of time in Italy on holiday over the years.
When we go to Italy we eat gelato and sorbet, and always comment about how it tastes so different to anything you can get in the UK. The flavours are intense, and actually taste like the flavour the label says it is meant to be! We often said that it would be great if you could buy something similar in the UK, especially making the most of some of the other amazing local ingredients that we have around us in our part of the country.
There was a clear gap in the local market. The more we looked into the business (and creative!) opportunities that a gelato business offered us, the more compelling it became.
We also wanted any business we started to have strong environmental and community credentials – supporting as many other local businesses as we can, only using plastic free packaging (amongst many other environmentally responsible steps we have taken), and always focussing our business decisions on the eco and social impact they will have, as well as the financial impact to the business.
Are you happy with the change?
Yes!
Though it is the hardest I've had to work in my entire life, and I sometimes wonder why I waited until I was 53 to start this, especially when some friends are already winding down their careers and getting ready to retire!
As a tiny startup with big set-up costs (gelato machines are very expensive!), rent/utilities to pay, and the highest quality ingredients to buy, I can't afford to pay anyone else at the moment. This means I am often still working at midnight and then up again early the next morning for school runs and a dog walk before gelato work – or early markets at the weekend!
What do you miss and what don't you miss?
I sometimes miss the face to face company of office colleagues when I spend hours in the lab on my own each week, though I have Spotify, BBC Sounds and Netflix in my ear when I feel the need to listen to something other than the gelato machines!
I also miss having weekends free. I am at markets every Friday, 3 Saturdays and 1 Sunday each month, and also have events, personal and wholesale orders to fulfill.
Due to the nature of gelato, I'm also missing the prospect of a lovely summer holiday, as our business is at its busiest then.
However, I don't miss the commute to London. Now I can walk to work in five minutes down a beautiful country lane!
How did you go about making the shift?
Once we decided on gelato, we travelled to Rimini in January 2020 to the World's most eminent gelato exhibition and that confirmed to us the huge opportunities that there were.
During lockdown, I studied hard! Not only learning all the science behind gelato making and how to run my own business, but also how to build a website, pass my qualifications in Food Safety in Manufacturing, set up business pages on social media etc.
I spent days designing our branding, building the website, sourcing suppliers for our ingredients and packaging that fitted our quality and "eco" specifications, sorting out the legals of company, trade mark and domain name registration, and experimenting with seasonal flavours using a small home gelato machine, as we prepared for launch.
How did you develop (or transfer) the skills you needed for your new role?
I have used aspects of my legal knowledge, and all the commercial knowledge and other skills I gained at M&S.
Knowledge of food product and packaging design and development, sustainability best practices and branding and marketing skills, are all things I acquired working closely with my business colleagues at M&S.
I was meant to go to Bologna in April 2020 to study at the renowned Carpigiani's Gelato University, but sadly the pandemic stopped that. So instead I studied with them online for most of 2020, to learn how to make gelato and sorbet and, importantly, the science behind making it taste delicious!
What didn't go well? What wrong turns did you take?
As a family of five we have all managed to have Covid at separate times since start up.
This meant that during three of the hottest weeks of last year, as well as over the Christmas period, I was in isolation and unable to make or sell anything.
I spent money on equipment before I started production that cost a lot in my first year of trading (still ongoing!) that I really didn't need till this summer and also some which I simply don't have time to use at all at the moment! They won't go to waste, but I could have spread the cost better.
How did you handle your finances to make your shift possible?
We were very fortunate as many years ago, we had bought a rental property which we sold to help fund the start up.
I also found a suitable unit to rent a five minute walk from my home (a stable block on a local farm, that was an office which I have converted into a small commercial kitchen). It was the smallest unit that came up in all the time I was looking, which made it more affordable for us.
What was the most difficult thing about changing?
Starting up and running the business whilst trying to minimise the impact on our family (and my own social) life has been the toughest thing.
It is really exhausting!
Also, as the sole manufacturer/trader for the business, when you're thrown a curveball (as I was 2 months ago when my 93 old father collapsed with Covid and needed extra care for a week), sales fall by the wayside completely.
I had been used to being part of a much bigger team in my previous career who could pick things up when I wasn't around. Not having someone else trained as a backup who can make/sell the product during these increasingly busy weeks (and during the Covid times last year!) is probably the most difficult thing.
What help did you get?
Virgin StartUp is a great place to start when formulating your first business plan and has lots of useful webinars and events (not just for Food startups).
I googled for lots of free online advice and also acquired a huge amount of useful info and contacts from various Facebook foodie groups I joined.
I have had huge support and encouragement from other local small food businesses, many of whom I have met at the markets I attend or through a local women's online networking group.
What resources would you recommend to others?
The Virgin StartUp website is a great resource to have a look at.
There is also a HUGE amount of free advice for food startups on the Food.gov.uk website and various groups on Facebook (I recommend The Food Hub one, linked to the Bread and Jam Festivals).
What have you learnt in the process?
Adaptability and resilience are key to being successful!
Our original business plan involved opening a gelateria in our village. Fortunately, we didn't get the rental of the property we were looking at, as we had been planning to launch it in May 2020, which would have been a disaster for us during lockdown.
We adapted the business plan to focus instead on manufacturing and not retail to start with. That has now evolved into private sales, local markets, local wholesale opportunities and small and large events. It's a plan that we can grow with at our own pace.
The focus on manufacturing rather than running a gelateria/cafe is much more flexible in terms of times that I need to be in the lab making product, so is easier to fit round our busy family life and also much less of a financial commitment as we start up and expand.
What would you advise others to do in the same situation?
Do a full and comprehensive business plan before you completely fall in love with your business idea.
Everything seems to cost more and take longer than you'd imagine, so it's best to have it all (and more!) mapped out on paper before you commit.
Don't let age be a barrier to trying something new! I have 13 more years till I'm at official retirement age – that's still a lot of years to fill. I'm glad to be filling them with something I enjoy, where I can support other local businesses, where all the big decisions about where we take the company next are made by our family, and where the fruits of my labour belong entirely to the family and not a big corporate company.
To find out more about Heather's business, visit www.agostigelato.com