"The work I was producing felt pointless and, to some extent, self-indulgent."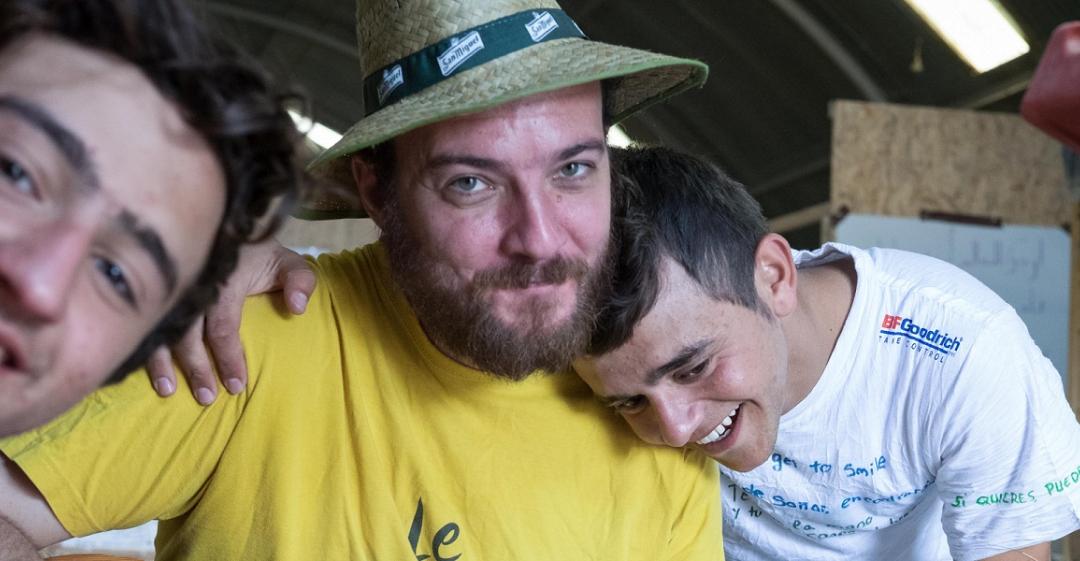 From Journalist to Not-for-profit Founder
What work were you doing previously?
I've done a lot of different types of work.
Most recently, I was a journalist, and I've also worked in a political think tank, and as a research assistant for several university professors.
What are you doing now?
I'm one of the founders of Second Tree, a not-for-profit organisation that works with refugee camps in Greece.
Why did you change?
While the work I was doing was interesting and absorbing for me personally, the actual work I was producing felt pointless and, to some extent, self-indulgent.
I felt there was a disconnection between the work I liked and found interesting, and work that would make a positive impact on the wider world.
When was the moment you decided to make the change?
Ironically, I didn't realise at the time.
I wanted to discover the Holy Grail: work that I liked, was good at, and that was also meaningful.
Not finding it contributed to a period of unhappiness. But it turned out to be instrumental: I needed a change, and decided to try something I'd wanted to do for a long time.
I had no idea it was a career change at the time, it felt much more like a break.
How did you choose your new career?
I spent many years frequently changing my mind about what kind of work would be best for me.
The result was that I did a lot of job-hopping!
At university, I studied romance philology, Middle Age linguistics and literature. Studying and researching was something I enjoyed a lot. People in the department thought I would pursue an academic career, and frankly I did as well.
The more time I spent delving into that one topic, the more I realised I wouldn't be happy doing that for my whole life. I started to worry that I would reach my grandparents' age, and realise my contribution to the world wouldn't have been as meaningful as I wanted it to be. Yet, I didn't know how to find a job that was not only meaningful, but that I was good at and liked doing.
I started a personal blog, which turned into a job writing for a few national newspapers, magazines and outlets. I also wanted to understand more about what meaningful work was, which led to some volunteer placements I undertook around the world.
To do that volunteer work better I went back to university, this time studying International Relations. But after I got my degree, instead of going back into the humanitarian field, I went back to journalism, politics and different sorts of intellectual work.
From a superficial point of view, some of it was high profile, like writing a couple of minor speeches for the Prime Minister; some of it wasn't at all, like translating stuff or writing for sports magazines.
I knew what I didn't want to do, but not what I did want to do. Volunteering my time to good causes felt like a practical solution while I figured it all out.
What I was gaining along the way was an awareness of the importance of fulfilment, which, I realised, was more important to me than money, or prestige, or even liking what I did.
In practical terms, making the shift was quite simple: I saw the pictures of what was at the time the worst refugee camp in Greece. One month later, I filled my car with much needed aid for the camp, and drove there.
I reckoned I would work there for only three or four months. Four years have passed now, and I'm still here.
It took me a week to understand that this was a life-changing experience. It's taken much longer than that to understand – and maybe I still haven't understood it fully – how much of a life-changing experience it's been.
Are you happy with the change?
I'm exhausted. And happy.
What started as a group of independent volunteers trying to organise activities in a deserted refugee camp, has gradually progressed into starting a small organisation that provides extra help and support to different camps throughout Greece. This itself has progressed into creating and applying a new model of community engagement and dealing with vulnerable groups for grassroots NGOs. We call it the Second Tree model, and it's something that we continue to develop, discuss, challenge and try to improve.
I'm proud of what Second Tree has achieved, and the real differences we have made to so many people's lives.
We've gone a long way from how we started, just a group of committed people trying to make the life of the 1300 people living in that horrible refugee camp a little better.
We've been here for four years now, and it's the longest I've ever stayed in a role – that fact alone definitely tells me something!
How did you handle your finances to make your shift possible?
I used my personal blog to tell my story and set up a crowdfunding campaign.
It generated so much support that I decided to thank everyone and close it down! Within two weeks, it had raised 6,000 euros (£5,000 / $6,500).
I'm lucky to have been able to source funding for the organisation so far, not just through the campaign, but also from meetings with people who want to offer help, whether in the form of money, skills, time, or ideas.
From a personal point of view, while I'm not particularly well-off, I know that I'm privileged in lots of ways. For example, I haven't got a family to worry about, which means I can take more financial risks.
What was the most difficult thing about changing?
I worried at first that I might change my mind again, then find it hard to get back into journalism and politics, or any other field, if I wanted to.
I can't see that happening now, but even if it did, I'm much more laid-back about the idea of 'going back'. If I ever decided to, I know I could make it happen.
What help did you get?
When I started setting up my organisation, I was surprised by how much people wanted to help. All I needed to do was ask.
Reaching out to ask my network for advice – not to mention financial support for the crowdfunding campaign! – felt daunting at first.
But I was grateful (and, stupidly, a little surprised) that many people fell over themselves to help with whatever I asked for.
What have you learnt in the process?
I've learnt that what you like to do, what you are good at, and what is good for the world are three different things.
It's so difficult to find work that fits all three of those requirements – real life is not like the movies!
I realised that finding my 'ideal' work was all about making a choice. I had to decide which of those three things was the most important. For me, this was work that is good for the world.
What do you wish you'd done differently?
I wish I hadn't stressed so much about finding my 'dream' job.
I thought that if I couldn't enjoy and feel completely fulfilled by my work every single day, I had failed in some way.
If I had learned to compromise earlier on, it might not have taken me so long to get to where I am now.
What would you advise others to do in the same situation?
'Follow your instincts' is a popular piece of career change advice.
But I think that can be dangerous, because your instincts can stop you from taking risks you need to take.
Don't hold out for work that fulfils every single need you have, because you'll only end up disappointed. Instead, try to discover what aspects of a career are the most important to you, then look for work that speaks to them.
If that means taking some 'wasted' time out to reflect, try not to feel guilty! That time could be exactly what you need to clarify the direction you need to take with your career.
To find out more about Giovanni's work, visit secondtree.org
What lessons could you take from Giovanni's story to use in your own career change? Let us know in the comments below.