"Spending the rest of my days working on something that didn't mean anything to me started to feel like a dreary prospect."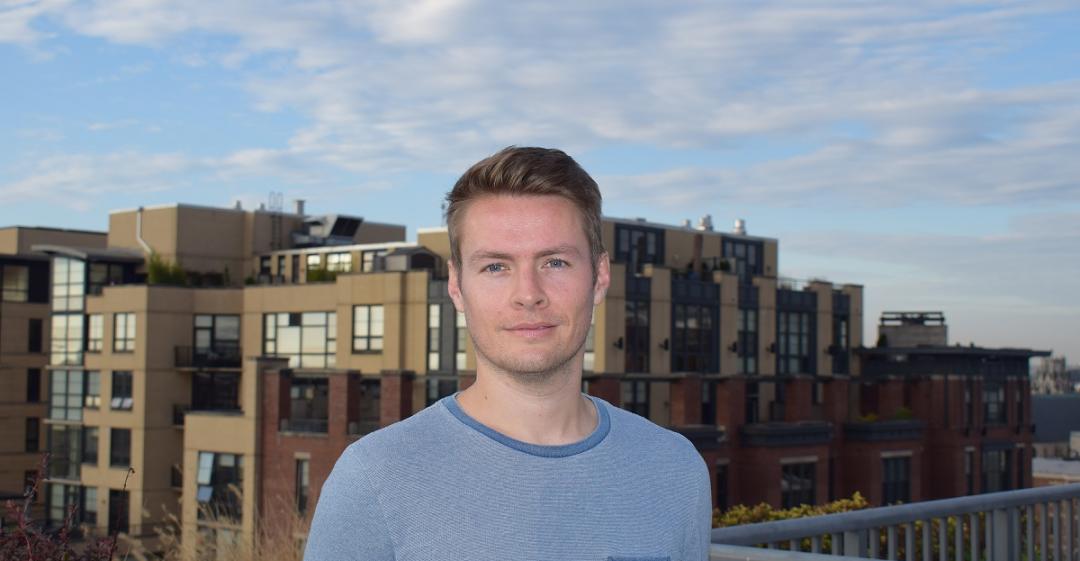 From IT to Travel
What work were you doing previously?
I spent the last 12 years working in and around London within IT and Telecoms, starting out in more technical roles and then progressing into project and programme management.
My most recent position was as Programme Manager on a multi-million pound business transformation programme.
What are you doing now?
I've recently launched an adventure travel company called Other Way Round.
We take small groups of travellers on authentic and immersive trips to Colombia (where my wife is from).
How did you feel in your work before you decided to make the change?
I was severely lacking in motivation, which made an already tough job a bit of a struggle.
Why did you change?
In a word – 'purpose', or more accurately the lack of it.
My career until this point was carved more out of practicality than passion. I had a solid job, had progressed well, was making great money and my life in London was very comfortable.
I was never particularly interested in my industry, but in my 20s that didn't really seem to matter. I was so massively driven – by proving myself, by achieving promotions, by getting pay increases – that I think I would have done well at whatever I did. And besides what else would I do? My only genuine interests were around things like sports and travel and those didn't seem like realistic career options.
Moving into my early 30s, I started to feel a shift. I started to think more about life: what I wanted out of it and, more importantly, what I didn't. And the thought of spending the rest of my days working on something that didn't mean anything to me started to feel like a dreary prospect.
When was the moment you decided to make the change?
There wasn't a single moment as such; it was very gradual.
For a while I was finding it difficult to motivate myself, which was a bit of a red flag as I'm normally a very self-driven person. I knew I had to get out of my current role but had no clear idea what it was I wanted to do as an alternative.
And I definitely didn't want to make the mistake of moving to a similar role at a different company as past experience had told me that wasn't the answer.
I felt like I'd hit a wall, so after months of pondering I decided to take a step back, change my environment and have some time off. I headed to Medellin, Colombia for five months with the objective of doing something totally different. I spent my time there volunteering at a kids foundation and studying Spanish.
How did you choose your new career?
There was a lot of soul-searching as I wanted to get very clear on what it was I enjoyed doing, what I was good at, and what I really cared about.
These seemed to me like the key ingredients for moving forward.
I've always been an avid traveller and especially love the less-touristy trips – typically, the trips I've done through work or visiting friends where I get to experience their country in its natural setting. And nowhere has touched me quite as much as Colombia where I've been visiting frequently over the last decade along with my wife.
Therefore, I decided to take the leap and turn this passion into a business.
Are you happy with the change?
Yes, I couldn't be happier.
What do you miss and what don't you miss?
Over the last few months I've spent most of my time building the website and doing online marketing, which has meant a lot of time working from home behind a computer screen.
During that period I've definitely missed the social contact you tend to get from seeing your colleagues on a daily basis.
However, I don't miss so much the office politics or working on projects with the sole goal of making rich companies richer. It feels great to be working on something worthwhile and where I'm the master of my own destiny.
How did you go about making the shift?
The hardest part for me was actually making the decision to change and then coming up with the business idea.
After that it got a lot easier as there are lots of great resources out there.
What didn't go well? What 'wrong turns' did you take?
My biggest challenge so far has been time – it has taken me a lot longer to get to this point than I would've liked.
On a daily basis there are so many ideas I want to implement but just don't have the capacity. Prioritisation has become key.
How did you handle your finances to make your shift possible?
I've been very lucky in this respect.
I had some savings from my previous job, which provided the initial capital for my business, and my wife is currently covering both our living expenses.
What was the most difficult thing about changing?
The most difficult thing for me was figuring out what I actually wanted to do and then committing to it 100%.
I spent a lot of time on 'what-ifs' and thinking about what I was giving up, but when I finally let all that go and stepped over the line it felt great.
What help did you get?
I researched quite a bit online, went to the Careershifters London Evening Workshop, went to a few start-up events and also some MBA open days (which was another path I was exploring).
I also discussed it a lot with my wife who was a great support.
What resources would you recommend to others?
Tim Ferris's Podcast – there are some amazing interviews here which I think would provide great inspiration for anyone thinking of a career change. I can't get enough of these.
Careershifters – I found the evening workshop massively helpful for giving me practical advice on taking proactive steps towards a career change (rather than just thinking about it).
Enterprise Nation – they run awesome seminars on how to start a business. You will leave feeling inspired.
Headspace – this app is great for meditation and it's a bit of a game-changer in terms of stepping back and getting perspective.
Books – there are various self-help books on the topic of happiness / purpose, which are really great for getting you thinking about what's important to you in life.
What have you learnt in the process?
It's difficult, doing a change like this doesn't come easy so get ready to work hard at it.
There are no guarantees it's going to be a success, so you have to get comfortable with uncertainty.
It will likely take much longer than you think. I started out by saying "OK, I'll try this for three months and if it doesn't work out I'll go back to my old career." Then six months. Then 12 months. It's become clear along the way that it's probably going to take years before I'll even know whether or not the change has been a success.
But all of that's worth it to be working on something that I'm genuinely passionate about.
What would you advise others to do in the same situation?
Get very clear on why you want to make the change and what it is you want out of life.
Write it down. There will be so many "What am I doing?" moments along the way where it becomes critical to remind yourself of the bigger picture.
Let go of the money if you're on a high salary and that's what's stopping you. When I finally managed to do this everything became easier.
Don't limit yourself – there's always a way to make something happen if you want it enough. I'd been thinking of this business idea for years but always passed it off as unrealistic, yet, here I am doing it.
Reading up on your change is great up until a point, but don't over do it. At some point you need to get out there and start making things happen. Go to seminars, speak to people, reach out to people in the areas you're interested in – these are way more effective than reading yet another blog post.
If you're anything like me you'll totally overthink everything, to the point where you can no longer make a rational decision. Here's what I've learned about what to do when it gets to that point:
Go with your gut – it's almost always right
Change your environment / focus for a week or two and this normally brings perspective
Get advice from someone who knows you well
Don't get obsessed with making the perfect decision – get comfortable with the fact that your change may not work out.
Get clear on your finances and how you're going to support yourself during the transition. If you're starting a business it's probably going to take a lot longer than you think to start making money.
Do it! When you look back on your life what would be a bigger regret – trying to do something different and failing, or never trying at all? Ultimately, this single question is what pushed me to make the change.
To find out more about Steven's business, visit www.otherwayround.travel.
What lessons could you take from Steven's story to use in your own career change? Let us know in the comments below.