"It made me feel depressed, like I was selling my soul."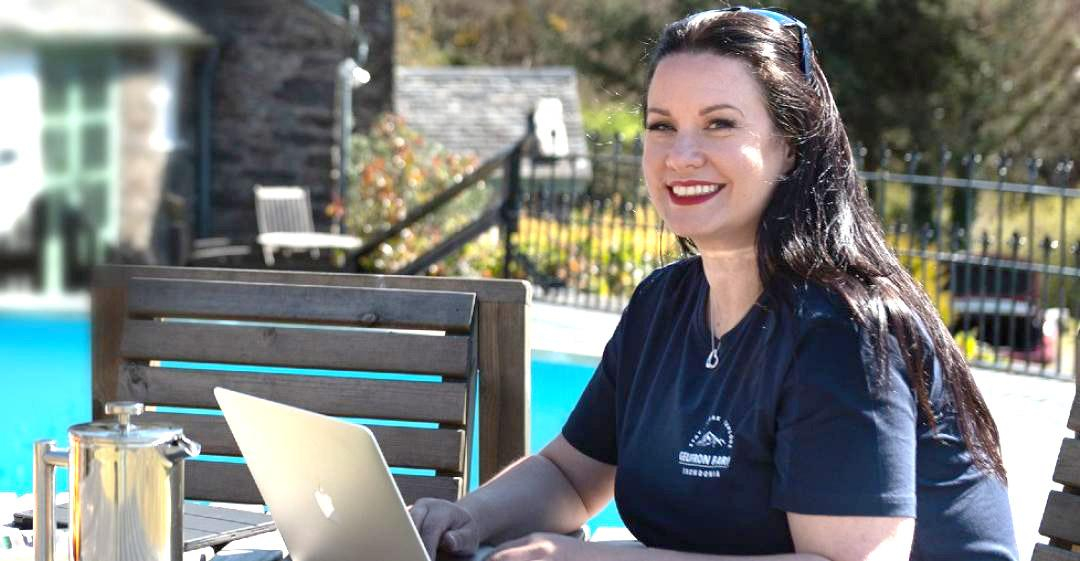 From Financial Services to Farm Stays
What work were you doing previously?
I was stuck in a long-term financial services career.
What are you doing now?
I've just left financial services for good (after taking part-time jobs on my terms to fund my transition), to begin running our family farm-stay business full-time.
Think Escape to the Chateau, but on a farm, and in Wales!
My husband and I bought the farm just five weeks before the pandemic hit. Timing, huh?!
Why did you change?
I felt trapped in my job, and the industry, and it was making me seriously unwell.
I knew I needed to draw some clear lines around what I would and wouldn't do for work anymore.
When was the moment you decided to make the change?
I'd just been offered a big director role in Manchester, which is a commutable distance, with a big salary and all the rest.
But it felt all wrong. It made me feel even more depressed, like I was selling my soul.
One of my new 'clear lines' was travel. I spent so much time away, traveling to London, and my husband had done the same as well.
So, I decided to say no to that job.
How did you choose your new career?
I hired out my VW camper to make a bit of extra cash, and volunteered at big trail running events, which led to the bigger idea of creating farm-stay accommodations and retreats with like-minded outdoorsy folks.
This was quietly instrumental. While I was just getting on and paying the bills, this set me off in a new direction (learning by doing), and I was able to hold it pretty lightly.
On one level it was just camper van rental, but on another it was quietly honing in on how and where I wanted to work, and what sort of people I wanted to work with.
It was a mini-Shift-Project that actually became a huge illuminator.
Are you happy with the change?
Yes! I am ready, excited and I know we've tested the main pieces.
Plus, I'm in the place and with the people I always hoped I'd find.
What do you miss and what don't you miss?
Working with so many interesting people in finance was a real highlight.
But I don't miss commuting to London every week, or late nights in the office.
How did you go about making the shift?
I had the Careershifters Career Change Launch Pad course on my radar, and I went to a Careershifters informational evening.
That, and a 'What have you got to lose?' conversation with my husband moved me on.
I knew emotionally that I needed structure to support me in the search. I enjoyed the course, but it still took a while for all the pieces of it to really connect up for me.
So many of the things I learned in the Launch Pad course have been 'germinating' for me within these last four 'shifting' years.
How did you develop (or transfer) the skills you needed for your new role?
By renting the VW camper van, just to see what it might do, I quickly learned on the job a huge amount about running bookings efficiently with something that I already had.
Doing that allowed me to work out who I wanted to 'be' in our business too. When the van came back and I was the one cleaning it week on week, I realised that I needed an amazing housekeeping team, because there was no way I could do that as well as running everything else in any bigger future business. When I was busy scrubbing the floor, I didn't know that that was what I was learning; I was just getting on with it!
It's been a process of test and learn; I've had to be mindful that it's an ongoing process, and always evolving.
What was the most difficult thing about changing?
I was so hard on myself.
I wanted to get to an answer about 'What next?' so badly, instead of settling in and just enjoying the journey itself.
We have this idea that 'change' is big and scary, but actually it's more about how we approach the process of change within ourselves.
How did you handle your finances to make your shift possible?
I took short term, part-time financial services contracts.
What help did you get?
I did the Launch Pad course; over time, I realised that this had taught me the whole process I needed.
Becoming bold; asking for what I want, as opposed to what I think I could have; testing pilot projects, like I did with the campervan.
I talked to loads and loads of people. Even if I'd met them at a conference just once, I would make a point of following up with them on LinkedIn. We'd stay in touch, and now they're booking with us, encouraging us – we're forming a community.
What resources would you recommend to others?
Reach out.
Informational interviews were absolutely invaluable; the knowledge others have helps inspire you. It reassures you and ties together lots of unconscious threads.
It's something that I continue to do, and I offer them to others as well.
What have you learnt in the process?
Business karma!
A good mentor friend of mine (one who actually became a friend as a result of my nervously asking for an informational interview) said something once that has really stuck with me.
At the end of that first chat I said how appreciative I was that he'd sat down with me, and asked why he'd agreed to it.
He said: "I'm not very spiritual or anything, but I do believe that what you put out there, you get back. Every time I've said 'Yes I'll help you with some information', I end up getting something out of that conversation too."
Remembering this has helped me to build my network and given me the confidence to keep reaching out.
I've also learnt to see my skills from a new perspective, something that was tricky at the start of my shift. Who would have thought, moving from financial services to Snowdonia holiday homes and farm-stays, that I would have so many transferable skills?
And I've learnt to hold my shift lightly; to trust in the process.
What would you advise others to do in the same situation?
Test, test, test!
Use what you have already.
We're not really taught how to set clear work boundaries. Draw your own lines – even if on the back of a post-it note! – and stick to them. I had to relearn that for myself.
Try to hold your career change lightly, or at least lighter. Be easy on yourself as you go through this process. That's how you get to a state of 'flow', which you want to be in as much of the time as possible.
To find out more about Hannah's business, visit www.geufronfarm.com.
Hannah took part in our Career Change Launch Pad. If you're ready to join a group of bright, motivated career changers on a structured programme to help you find more fulfilling work, you can find out more here.
What lessons could you take from Hannah's story to use in your own career change? Let us know in the comments below.
Photo credit – Simon Ranshaw.