"I always felt like something was missing and I couldn't quite put my finger on what that was."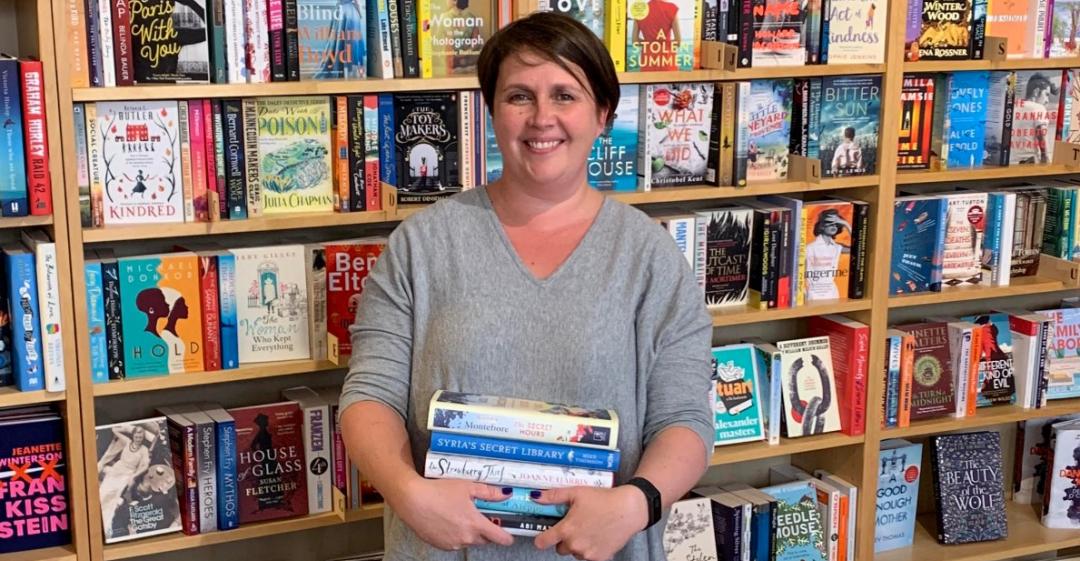 From Finance to Books (Plus Post-shift Update)
What work were you doing previously?
I was working as a project manager in the Risk Control team of an investment bank.
I'd been at the bank for over 12 years and had done a number of roles across Logistics and Risk Control.
What are you doing now?
I own and manage a gorgeous, award-winning independent bookshop in Abingdon, Oxfordshire.
How did you feel in your work before you decided to make the change?
I was lucky that I had a job with a good company and had some great opportunities, but I always had a sense of being unfulfilled in my working life.
It was intellectually challenging, I worked with some wonderful people, had the opportunity to travel and progressed quickly up the ladder, but I always felt like something was missing and I couldn't quite put my finger on what that was.
I reached a point, eight years into my time with the company, when I approached my manager and told him that I was feeling unfulfilled. As a result, I was offered the opportunity to move to New York to set up a new team. I happily made the move and quickly settled into life in the States, but it soon became clear that, although I was in a different (and amazing!) city, the work itself hadn't really changed.
I applied for a new role internally and was given the job. Things started to improve as the work was more varied, but it still wasn't ideal.
Why did you change?
My Dad was diagnosed with Pancreatic Cancer and his diagnosis had a profound effect on me.
I returned to the UK for a few weeks after we were told about his illness and, after returning to the States, I realised that I just needed to be at home with my family.
The company that I worked for gave me two and a half months off to spend at home, taking Dad to his appointments and supporting Mum.
Dad survived a year after his diagnosis. I returned to work a few weeks after we lost him and knew that I needed to make a change.
When was the moment you decided to make the change?
I knew as soon as I returned to New York that I couldn't keep doing what I was doing, but it took a year to put my plan into action.
Over the course of 12 months, I threw myself into my job and, at the same, time started to think about what I wanted to do instead.
I resigned from my job, put all of my things into storage and booked myself onto a flight to South America. I spent the next ten and a half months travelling around South America and South East Asia.
How did you choose your new career?
When I set off on my travels, I knew that I wanted to do something different but had no idea what it was.
I'd spent so long working in the same environment, for the same organisation, that I couldn't possibly think about doing anything different. I'd spent some time earlier that year working with a career coach who'd tried to help me think about different options, but I was so institutionalised that I just couldn't envisage life outside the world of finance.
I quickly settled into the life of a backpacker and spent the time really focusing on what made me happy. I used a technique I'd learnt at work called funnelling to help narrow down my options. By eliminating things that I knew I wouldn't enjoy, I gradually started to get a better idea of what would work for me, careerwise.
I kept coming back to the idea of working with people, not sitting behind a desk all day, and making a difference in some way.
At some point, a few months into my travels, the idea of running a bookshop sprung into my head. I have always loved books and the idea of having my own business really appealed.
I remember having a conversation with a lovely Scottish couple whilst on an island off the coast of Chile. They told me about a bookshop in their town that had opened a few years earlier and was doing a roaring trade. Hearing about this really inspired me to start researching the book trade to see whether it was something that I could do.
I spent the rest of my trip researching bookshops and the world of publishing.
Are you happy with the change?
I am so happy with the change!
I feel extremely lucky that I now have a job that I absolutely love and feel passionate about.
What do you miss and what don't you miss?
The money I was making was good and it was lovely not to have to make decisions on the basis of whether I could afford it.
These days I have to be a lot more careful with money, which isn't always fun!
Occasionally I miss the lifestyle that I had in New York and I also miss the friends that I made during my time in finance. I met a lot of very talented, intelligent people who were fun to be around. But I've managed to stay in touch with a lot of them, so it's just a case of seeing them less than I used to.
I don't miss anything else. I used to regularly work 12-hour days in a high stress environment and, a lot of the time, I couldn't see how what I was doing was impacting the bigger picture. I was constantly frustrated with company politics and the fact that things didn't progress as quickly as I would have liked.
How did you go about making the shift?
When I returned from my travels, I came back to the UK and immediately started working for two retail outlets – the bookshop chain Waterstones, and for Cotswold Outdoor. The former gave me an insight into the world of bookselling and the latter was just another experience of the retail sector.
I was a bit concerned that my dreams of owning a shop were based on a romantic notion that wouldn't be the reality. However, it quickly became clear that I loved working in retail. The daily customer interaction was brilliant and working with books just cemented my thoughts about the book trade.
At the same time, I'd spent a lot of money during my time off and it became pretty clear that I needed to rebuild my savings if I was going to be able to set up my own business. I met up with a couple of former colleagues who were still working in the city and, whilst I wasn't looking for work, both of them told me that they had a job for me if I wanted it. I really debated whether I wanted to go back into the world of finance and even had a call with my career coach to talk it through.
During our discussion, I told her that my ideal situation would be to find a part-time job in the world of finance that would enable me to earn some money whilst I worked on a business plan to set up my own shop. However, jobs like that were few and far between, but I distinctly remember my coach saying to me 'Sarah, knowing you, I don't think that the minor detail of the job not existing will stop you from getting it'. I remember coming off the call being really confused - I didn't understand how I could get a job that didn't exist - it didn't make sense.
I decided to take one of the jobs on offer and negotiated that I could work four days a week in the office and one day a week at home. Within six months, I dropped my hours to a four day week and, suddenly, the prediction from my career coach had come true!
I started to research locations. During that time I made an effort to visit bookshops wherever I went and, purely by chance during one of those visits, I started chatting to the owner of a shop who told me that she was planning to sell up.
Things moved quite swiftly at that point. I put together a business plan to ensure that my finances were all in order and agreed a price with the owner. I decided to move the location of the shop, found a new premises, but this didn't work out in the end.
Very quickly afterwards, my Mum heard about another shop up for sale close to where I had just moved to. I went to see the shop, which turned out to be Mostly Books, and the rest is history.
What didn't go well? What wrong turns did you take?
I found out that another bookseller was planning to set up shop in the same town as the shop I was initially in the process of buying.
It was a small town and I wasn't convinced that two bookshops would survive.
Given how experienced the other bookseller was, I made the difficult decision to pull out of the sale. It was all quite upsetting.
How did you handle your finances to make your shift possible?
Whilst travelling I became used to living on a budget and, when I started contracting in finance, I made sure that I only paid myself the equivalent salary to what I knew was realistic in the book trade. All other money went straight into a savings account.
I worked really hard to ensure that all of my committed monthly outgoings were affordable on the lower salary and made conscious decisions around my lifestyle (e.g. eating out, shopping, etc.) to ensure that I kept within my monthly budget.
What was the most difficult thing about changing?
The emotional aspect was very hard, and also trying to work out what I actually wanted to do.
However, once I'd decided the direction I wanted to move into, the rest came quite easily.
What help did you get?
When I was at my lowest point, after losing Dad, I discovered Careershifters.
I could relate to everything on the website and it was so great to know that I wasn't alone! I used Careershifters to link up with my career coach whose input was so invaluable.
Once I'd made the decision that bookselling was for me, I started to attend trade shows and meet up with publisher representatives before I'd even found a shop. Getting to know people in the trade as early as possible really helped me to understand what I needed to do.
I also attended a course on bookselling run by The Bookseller's Association which was packed full of useful information.
Finally, I leant on my friends and family a lot, talking through my thoughts and getting ideas from them.
What resources would you recommend to others?
The internet is full of good advice on changing your career but, personally, I found that talking to someone was the best thing for me.
By having regular meetings with a career coach, it made me really face up to some difficult decisions and also pushed me in ways that I hadn't considered previously. It was absolutely invaluable.
What have you learnt in the process?
I've learnt the importance of doing something you love with good people around you.
I have also learnt a huge amount about the book trade and the world of publishing.
What would you advise others to do in the same situation?
Do everything in your power to make the change happen.
Life is simply too short to be spending each day doing something that you don't enjoy and don't believe in.
My only regret is that I didn't make the change sooner.
We caught up with Sarah recently to see how her shift was working out, roughly two years on. Here's what she's been up to, and the biggest lessons she's learned.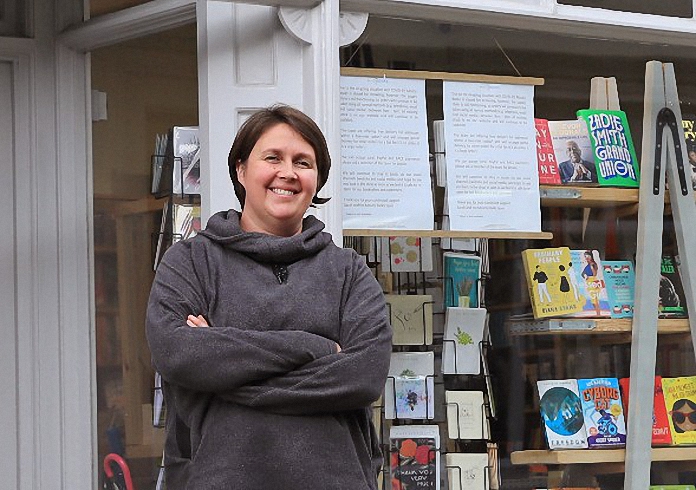 What's changed for you in your career since we first published your story?
During the pandemic we had to completely pivot our business model.
We had a website, but it was non-transactional (i.e. you couldn't buy books from it), so within three days of lockdown happening we set up our website so that it could start accepting online orders.
We were in the shop six days a week as we would be normally, but this time processing online orders. We had two people in the shop managing that, and one person making deliveries on their bike in the local area.
But everything was really challenging because our supply chain froze. Our two wholesalers had limited capacity; we were getting single books at a time rather than boxes of books as we usually would have. It was really difficult because we wanted to provide a service to our customers, but we didn't have the tools to do it.
That said, the customer base were just amazing and completely rallied around and supported us. And the silver lining is that now we have a fully transactional website, which we're still getting orders from every day, so it's opened our business up to a new range of customers.
How do you feel about your work now?
I'm just really happy with it all.
I love the variety of this job. There's always so much to do, almost too much to do! And along with getting to deal with people and customers, there's lots of behind the scenes stuff that perhaps you don't think about when it comes to running a shop.
What challenges have you come up against since making your shift?
When I first came on board to the industry I was a complete newbie to the world of publishing and books.
Getting to grips with how the industry works and understanding whom I needed to work with in order to get the results I wanted took me a bit of time.
How is the financial side of things panning out, and is this what you'd expected?
It would of course be nice to have the finances I had working at an investment bank, but the offset in terms of loving my work - there's no comparison.
Earning less now than I did back then doesn't matter. I manage fine and it's not a problem.
What have you learned, since making your shift?
I think I really underestimated how much as a small business owner you have to do a bit of everything.
When you work in a large corporation and something goes wrong with your computer, you phone someone up internally and they come to fix it. Whereas when you run your own business you have to fix it and that can completely knock your day out.
Is there anything else you'd like to share?
Earlier this year, I bought a second book shop – the Borzoi book shop in Stow-on-the-Wold.
It's absolutely gorgeous. And I'm really lucky, as the team at Abingdon (where my first shop is) are strong and competent, so I can leave them for some time to run it while I run this new one.
The shop I'm taking on has been there for over 40 years and I've known the owner from the beginning of my bookselling career. We just started talking during lockdown and it became clear that she wanted to step back and for someone else to take it on.
It's going really well, but there's loads to learn again as it's a different market. The books that sell in Stow-on-the-Wold don't necessarily sell in Abingdon and vice versa, so I'm enjoying having a new challenge again.
To find out more about Sarah's business, visit www.mostly-books.co.uk.
What lessons could you take from Sarah's story to use in your own career change? Let us know in the comments below.