"I was spending a lot of time in pointless meetings and tied up in bureaucracy."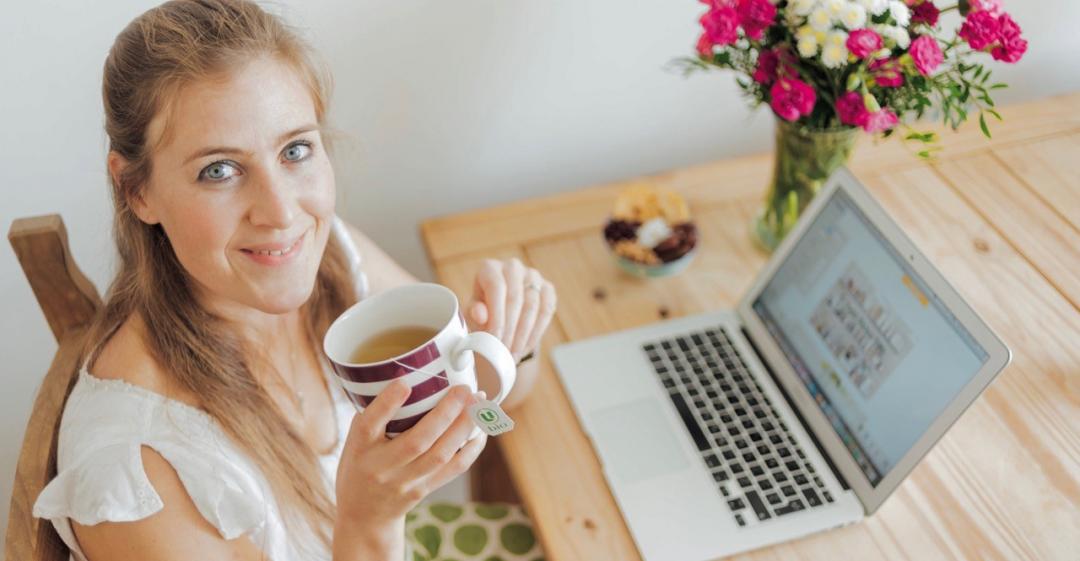 From Employee to Entrepreneur
What work were you doing previously?
I was working in a university writing legal policies, making use of my law degree.
I also worked for the health service managing medical research.
What are you doing now?
Now, I'm running a health website.
I offer coaching and different products (including my book, The Alkaline 5 Diet, eight-week coaching programmes, group coaching and one-to-one coaching) that help people get slim, healed and energised naturally.
I also do website design, marketing, and consultation for other businesses. I speak at health and business events, and hold my own events. I've also just started hosting a podcast on iTunes, called Eternal Health.
How did you feel in your work before you decided to make a change?
I enjoyed some of the work but I felt frustrated that I wasn't able to make a difference in a positive way like I wanted to.
I found I was spending a lot of time in pointless meetings and tied up in bureaucracy.
And also, with regards to working in the health service, I wanted to make a positive difference to people's health rather than focusing on disease. I wasn't able to spread my message of positivity in that setting.
Why did you change?
I changed to be able to make a difference in the world, without being inhibited by a system that was stifling.
Also, to be able to reach more people and to use my creativity to write books, hold events and make podcasts, which I wasn't able to do in an employed job.
When was the moment you decided to make the change?
I'd been to a particularly long-winded, unproductive, and boring meeting.
I realised I wasn't going to be able to share my talents, skills and knowledge in the way I wanted in the job that I was in.
How did you choose your new career?
I was already really interested in health, so I knew I wanted to set up a health website.
I went to a lot of free business training courses in London and that really helped. At one event, I saw a young guy talking about selling books and how successful he was; that inspired me and made me see that I could write a book using my own knowledge.
Are you happy with the change?
Yes I am, very happy!
At times it can be tough: there's a lot of responsibility, there can be pressure and when you're your own boss you never know how things are going to pan out.
From writing my book to getting published took three years – so after I had the book idea it took that long before getting any money, fruition, or recognition. There's been a lot of uncertainty but also success.
Overall, I'm really happy with the change. I'm free to share the message I have of great health and being able to work for myself and run a business online, helping thousands of people all over the world.
What do you miss?
Sometimes I miss the structure of working in an office with someone else.
I work from home now and I do have a team but they work remotely. I've learnt in the past ten years to give myself structure – I used to pick any hours, but now I work 9–5. I have systems of working – things that will prompt me. I check emails at a certain time and I'm quite disciplined in how I structure my day, which has helped me with not working in that office-structured environment.
How did you go about making the shift?
Quite simply, I handed in my notice to my boss.
I'd just been offered a promotion, so my boss was quite surprised. I set about teaching myself web design and going to every online seminar and course I could. I did continue working part-time, so I had a base income while I continued building my business.
I had a number of mentors who helped me avoid a lot of the mistakes that small-business owners make. I networked a lot and found people at business events I attended – I'd hear them speaking, find the people that were doing what I wanted to do and just approach them. At any one time I'd have two or three different mentors and coaches.
What didn't go well? What 'wrong turns' did you take?
Day to day, there are always wrong turns – for example setting out to do a particular thing in the morning and then not getting it done that day.
But that's par for the course for any small business owner.
I haven't had any major wrong turns. There are things that I would do differently, but I see those things now as part of my learning curve.
To cut down on wrong turns, the best thing you can do is find a mentor that can offer advice and guidance from their own experience. I've had some great mentors, which is why I've agreed to be a mentor for ViewVo – a job shadowing website that helps people looking to change career by enabling them to shadow a mentor in their chosen field.
This means that people interested in starting a business similar to mine can job shadow me, and I can share the insights I've gained over the years.
How did you handle your finances to make your change possible?
I kept a part-time job.
There's a strong message, especially in online business, of "Quit your job and follow your dream", but I don't think that's good advice. There's no shame in keeping your job while you're building your business on the side.
I don't think it's wise to just jump ship when you don't have experience or a clear plan. If you've got savings, obviously those can be helpful for investing in your new business. A part-time job is sensible – not necessarily long term, but until you start earning some money at least.
What was the most difficult thing about changing?
It was difficult not having a structured income and a regular, consistent pay cheque.
Also, it's hard not having feedback from people above you about whether you've done a good job, or whether something needs to change. When I was sitting down to write my book, day after day, I didn't know whether it was any good. There was no feedback.
You need mental resilience and a belief in what you're doing.
What help did you get?
Business mentors and coaches.
At any one time, I'd have about three different ones who would help me in areas such as marketing, mindset and specific things like hiring people or accounting.
What resources would you recommend to others?
A brilliant book by Sally Hogshead – How The World Sees You.
It really gets into your personality type, your differentiator in the marketplace, and how you can use your skills.
Also, as I've mentioned, I'd really recommend mentors!
What would you advise others to do in the same situation?
Don't make any rash decisions; think through what you're doing and speak to other business owners about what's involved.
Don't jump ship without a clear plan. Stay in your employed job, maybe cut your hours so you've got time to do your research.
Have a strategy and a vision – there are lots of free resources out there that can help. Research is key.
And get a mentor! Mentors will tell you about things that you're not even aware you need to research – things not on your radar. That really helps.
Also make sure that the quality is really good in terms of your web design. It's easy to be a bit slap dash, especially if you're a one-man band. Try to keep things high quality and people will naturally want to recommend you.
To learn more about shadowing opportunities with ViewVo, visit www.viewvo.com.
To find out more about Laura's business, visit www.laurarimmer.com.
What lessons could you take from Laura's story to use in your own career change? Let us know in the comments below.