"I felt a constant sense of imposter syndrome."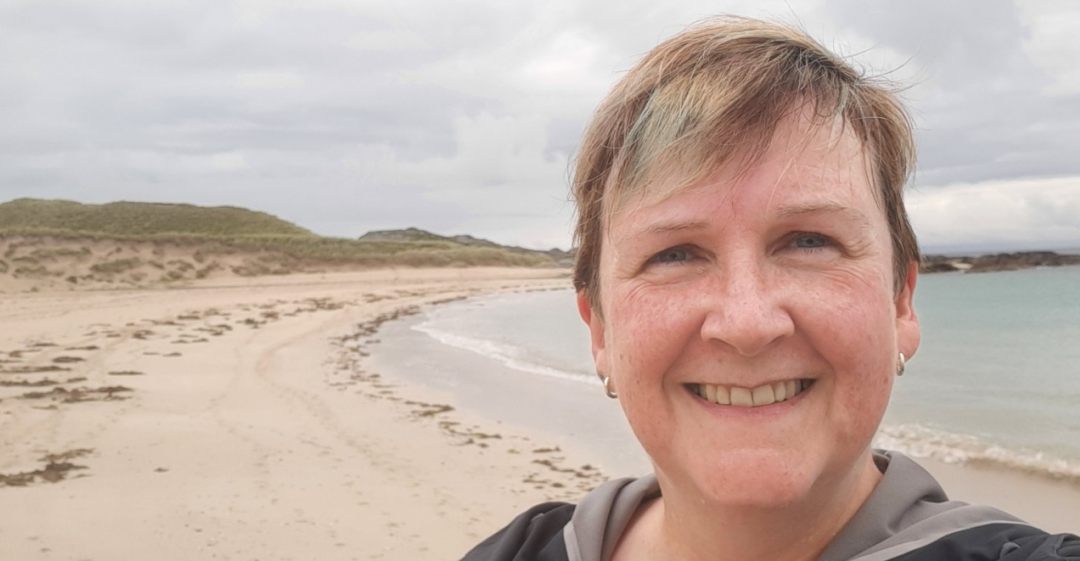 From Education to Animal Welfare
What work were you doing previously?
I was working as a Senior Administrator at a local University in the European Languages section, before moving to the role of Year Abroad Officer, managing study abroad schemes.
All our languages students spent the third year of their degree in the country/countries of the language/languages they were studying in.
Brexit, then Covid, then leaving the Erasmus study abroad scheme made equal access for all students to work/study abroad very challenging. Putin invading Ukraine really narrowed our Russian studies abroad options, too.
What are you doing now?
I work part-time as an animal care assistant at a cat rescue.
It's a charity that looks after up to 150 cats at any one time, and the work is very manual. I clean, feed and administer medication to the cats. I've also started helping show possible adopters the cats, and going out on trapping and recovery trips.
I volunteer with the Scotland's Gardens Scheme, a charity that opens private gardens up to the public for a day or two in aid of other charities.
I do the administration for their quarterly board meetings and AGM, so not a huge commitment, but I originally studied horticulture so it's good to be back among the plant people.
I also volunteer at my local community garden, who do a lot of great work with a garden, café, bicycle and wood workshops, and seasonal events.
How did you feel in your work before you decided to make the change?
Trapped and drained.
I felt a constant sense of imposter syndrome and everything unraveling out of control. My colleagues were lovely, lovely people and so supportive, but I increasingly felt like I had to pretend to be okay when I really wasn't.
It was reassuring that after I left, they had to hire two people to replace me, so I finally realised the workload was unmanageable.
It wasn't me, it was the job.
Why did you change?
I had a breakdown and had to take six weeks off, after I ended up just sitting crying at my computer.
This has happened to me in previous roles before, but I never took time off, I just resigned. Then I'd lurch into another career at ground zero and end up a few years later in a position of responsibility I didn't want but felt expected to take. Then crash and start again.
When was the moment you decided to make the change?
When I returned from sick leave, I had a phased return and looked at what changes I could make to enable me to carry on with the job without wrecking myself in the process.
I came to see that it wasn't me, it was the job. Over the Christmas break I realised there was nothing I enjoyed about it.
The only thing that gave me joy was the thought of not having to return to the job, even though I had no idea what I'd do next instead.
How did you choose your new career?
I took part in the Career Change Launch Pad.
The exercises in the course helped remind me that I liked to work outside, with or near nature, and that I enjoy helping people.
I wasn't ready to go back into a customer service role, but I love cats so when I saw the job advert it was as if it had been designed specifically for me.
Part-time work also has never been on my radar, but my mental health meant that it's a viable option and there's no "obligation" to work full-time for big bucks.
Are you happy with the change?
I am.
I know I'll need to challenge myself to branch out into either more work in the same area or something else to manage financially in the long term.
The work is also physical, so I've had to manage my fitness and do physio for my back.
But I love the cats and instead of being embarrassed about my job, I pro-actively tell people about it.
It gives me joy.
What do you miss and what don't you miss?
I miss the folk I worked with directly as we really gelled, but I still see them socially.
I don't miss the 100 emails a day about a million tiny catastrophes that I can't solve, or the constant feeling that nothing is ever getting finished or done properly.
How did you go about making the shift?
I gave myself plenty of time to just enjoy being me.
I had some informational interviews that really shone a light on what I did and didn't want to do next.
When I saw the job advertised, I had some reservations about applying for it but realised that I did want it.
It took them about a month for them to get back to me, and in that time I thought "that's that, I haven't been selected for interview". That made me realise that I'd really wanted it.
So I was delighted to be invited in for an interview, and I started that same week.
How did you handle your finances to make your shift possible?
This is still a work in progress.
I'm very fortunate to have a partner who's willing and able to subsidise the home economy. I couldn't survive financially without his help and using my savings.
I reasoned that this is exactly the rainy day that my savings were for, and had banked on living off them for about 6 months, which has been eased by getting some income from the job.
I'll still need to get some further income.
What was the most difficult thing about changing?
Letting go of the financial security and the professional identity that I had associated with the University job.
Without any clear idea of what I'd do next, it was a bit like that bit in Indiana Jones and The Last Crusade where he steps out into the abyss with only his faith to rely on. That faith had to be in me now.
What help did you get?
My close friend had taken a year out starting about six months before me, so we provided mutual support.
I got counselling for my mental health issues and my family has been very supportive and challenge any negativity I bring to the party.
The Careershifters community has been very supportive, and I'm still in contact with a couple of other Career Change Launch Pad alumni.
What resources would you recommend to others?
The Career Change Launch Pad covers pretty much all of it, but I'd say if you feel that there is some mental block holding you back do not be afraid to get counselling.
What have you learnt in the process?
To listen to what I actually want, and to believe that my thoughts are important.
I'm slowly coming to terms with the fact that I can't actually see around every corner or into the future!
And I'm trying to focus on enjoying the now rather than trying to race to the end.
What would you advise others to do in the same situation?
Listen carefully to what your heart desires and then having heard it, do not dismiss it as unimportant.
Fiona took part in our Career Change Launch Pad. If you're ready to join a group of bright, motivated career changers on a structured programme to help you find more fulfilling work, you can find out more here.
What lessons could you take from Fiona's story to use in your own career change? Let us know in the comments below.