"I normally have a lot of motivation, but it was steadily diminishing being sat at the same desk every day."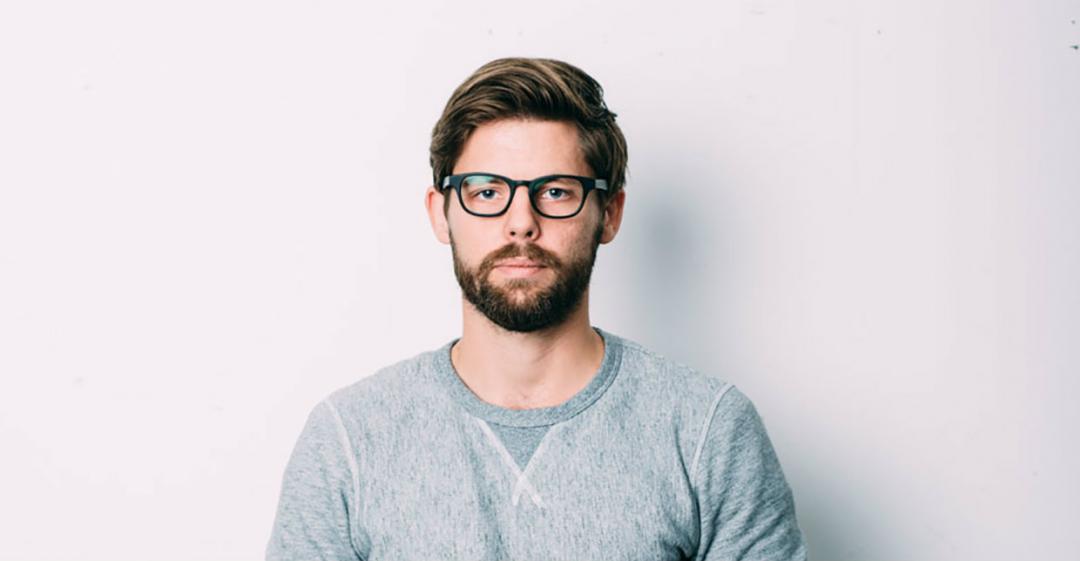 From Desk-bound to Free-range
What work were you doing previously?
I previously worked in editorial graphic design for magazines such as Elle Decoration and Esquire.
What are you doing now?
I now do portrait and documentary photography.
I've run my own company for the last four years.
How did you feel about your work before you decided to make a change?
Frustrated.
I normally have a lot of motivation but it was steadily diminishing being sat at the same desk every day. I had a fantastic Art Director, but being in a creative field I craved the flexibility to produce ideas away from this imaginary box I was in for ten hours a day.
Why did you change?
On paper my career was heading in a great direction but two things were on my mind due to being frustrated and feeling stagnant.
I wanted to run my own company, and I wanted to pursue my love for photography.
When was the moment you decided to make the change?
There wasn't a particular moment for me.
It was more of a gradual and steady build-up of feelings, thoughts and plans that led to the final decision.
Are you happy with the change?
I haven't really looked back.
In general, I'm much happier. I couldn't be more positive and I feel assured that it was the correct decision.
It goes without saying that the process and change has its challenges and ups and downs, but there's an endless list of positives compared to my previous situation.
What do you miss and what don't you miss?
I miss being around people mostly.
Working by myself a lot can be very demanding on my mental well-being, so over time I've found ways to help that. I miss bouncing ideas around with the creative people I sat next to, plus the social benefits that being in a permanent team brings. But I've found I've been able to create that for myself over time by building a network of people in my current situation.
I don't miss being confined to a few square feet to produce creative content; that used to drive me mad! I'm very self-motivated, so to manage where and when I work (when not shooting on location) is perfect.
In my line of work no day is ever the same and to photograph a variety of people in a variety of locations is right up my street (not literally!). Although not always glamorous I love being able to say yes to travel for work now.
How did you go about making the shift? And how specifically did you choose your new career?
Choosing my new career was easy as I knew I wanted to do photography.
Looking back I was pretty lucky to have had that as a clear end goal. I'm good as breaking challenges down into steps, so from there it was a case of mapping a route to that final destination. By no means was this easy, but it was definitely essential.
I found I needed three key elements to succeed in my transition. The first was obvious: a visual portfolio. After all, who'd hire a photographer who didn't have any photographs to show?!
Naturally I had a back catalogue of images, but to really shine I needed more of a refined style and a quality body of work. Therefore, I worked many evenings and weekends for a year or so, borrowing friends, family, and models paid in time-for-print, to photograph. During this stage I also furthered my photography skills, using as many resources as possible to learn and learn and learn.
Meanwhile, as I was coming from a graphic design background I used those skills to put together a website and 'brand image' to pull everything together.
The second element was, to put it bluntly, money. Again, I resorted to using my existing skills to support the career change, working hard to pick up freelance work and clients (again working evenings and weekends), from old contacts for example. When I did make 'the move', having these clients already on my books proved essential as it was these 'gigs' that came to life when I left my permanent job, and I had the means to take on as much freelance work as possible.
On a basic level, the freelance graphic design jobs allowed me to just about afford rent, and the photography jobs then grew to be a bigger and bigger proportion of my work as my presence grew. Slowly but surely the photography took over as the main money-maker until I could completely stop the graphic design.
Photography gear is very expensive, but I was careful about my purchases, buying only the essentials to begin with. I'd also had photography as a hobby for many years so I had a usable kitbag by the time I went freelance.
The third factor in achieving my end goal – and, looking back, the most important – was people. It was all very well having a great portfolio, but without advice, without people actually seeing my portfolio, and without feedback, it was useless.
I contacted hundreds of people (and that's no exaggeration) to gain as much of a head start as possible.
I got in touch with photographers for advice on how to get clients, technical aspects of photography and how to survive, in return for coffee (or something stronger). Picture editors and creative directors were next on the list for meetings and feedback, and to try to establish some sort of presence in front of the people who could hire me. I also used social media to let it be known that I was going to run my own photography company (this was ultimately a factor that got me my first 'big' photography client). I needed to be forcibly reminded of this last part, but I also looked to family and friends for support. Without them I would have gone crazy.
In essence, people helped create my path to my photography career.
What didn't go well? What 'wrong turns' did you take?
During the process I felt as if I was winging the whole thing a lot.
But actually, looking back, I did things pretty methodically, and if I hadn't just dived in and worked really hard I wouldn't be here doing what I'm doing now. Therefore, my main wrong turn was in not taking a break, assessing the situation from a fresher perspective and telling myself "You're doing OK. Keep going". Mentally, I wasn't in a good place, mainly because I was working too hard to do everything quickly and in a pressurised way.
Other than that, the whole process was full of wrong turns; I think it's how you get to a perfect destination. I went into my career change with too little money and had to dig myself out of a hole countless times; I rushed the process and put too much pressure on the situation. But in all honesty, it's all been worth it.
How did you handle your finances to make your change possible?
This was probably the biggest struggle.
I remember working out how many of the freelance graphic design jobs I would need to do per month to pay for rent, then the photography would supplement the rest, eventually taking over the graphic design. I worked freelance at my old job at the magazine now and again too. This took about a year to fully transition from graphic design to allow solely photography to support me.
I also had great support from my family and learnt to not be too proud to say that I needed a bit of help. Cash flow was the hardest part of the process; I often had to wait three months to be paid for freelance work, so this kind of loan was a saviour on numerous occasions.
It was also essential to be on top of paperwork and to maintain a good accounting system for invoicing, chasing overdue payments and managing expenses, so that I had the best chance of staying afloat.
What was the most difficult thing about changing?
The most difficult thing was taking a break.
I overworked and exhausted myself.
I also found it to be a huge knock-back when I had only few responses at first; it can feel quite a lonely process (that's where the importance of people comes into play once again).
What help did you get?
Any I could.
My family were always there for me for that kind of support, and professionally I sought out as much advice as possible. I also read constantly: online tutorials and books.
What resources would you recommend to others?
Other people. And a good accountant.
Relevant learning material for your field. Lisa Pritchard's book Setting Up A Successful Photography Business was particularly relevant to me, covering everything from building a portfolio to producing quotes and copyright laws.
What have you learnt in the process?
Anything is possible with determination, hard work, support and consistency: "He who dares wins".
What do you wish you'd done differently?
Nothing.
Hindsight is a wonderful thing. I'm proud of where I am today.
What would you advise others to do in the same situation?
Always remember that it is possible.
Work hard, but take a break and refresh your brain; it's easy to get overrun with too many thoughts and tasks.
To find out more about Alex's services, visit www.alexwallace.co.
What lessons could you take from Alex's story to use in your own career change? Let us know in the comments below.