"I went into work every day to perform a role that was written for someone else."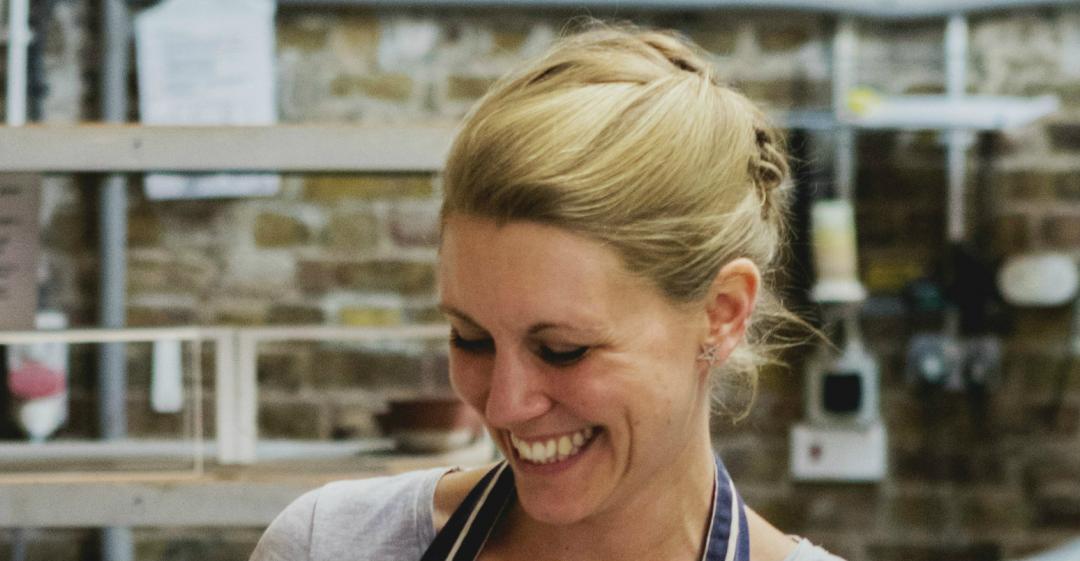 From Criminal Law to Ceramics (Plus Post-shift Update)
What work were you doing previously?
I worked in the City of London as a business crime lawyer.
What are you doing now?
I now run my own pottery studio, SkandiHus, where I make and sell handmade ceramics and teach classes.
I just moved to a new studio six months ago and have four employees working for me.
I have had my ceramics used by Jamie Oliver and Tom Kerridge. Nigella Lawson follows me on Instagram – together with 47,700 other people.
I've had my work featured in The Guardian Cook, ES Magazine, The Times, Grazia, Metro, The Evening Standard, Stylist Magazine and Vogue. I have 17 retailers selling my work and three galleries representing me.
I'm currently making plates for a Michelin-starred restaurant and a private members' club in Mayfair, and there are a lot of other exciting projects in the pipeline.
How did you feel about your work before you decided to make a change?
I often felt like I went into work every day to perform a role that was written for someone else.
I always wanted to be an artist, but somehow I ended up following a different path.
Why did you change?
I quit because I was desperately unhappy in my job.
I had this feeling of "There has to be more to life than this".
I distinctly remember the feeling I had every morning when I came up the escalators at Chancery Lane. The further up these escalators I came, the more suffocated and overwhelmed I felt, like life was closing in on me and I was just standing there letting it all happen.
I quit because life had become so serious, so full of responsibilities, and I just needed a break away from it all. A break to focus on myself, who I was and who I wanted to be – not what I wanted to be.
I didn't know it at the time, but what I was doing was to look around me at the things that made me happy. My (then) partner did, my dog did and my evening pottery classes did. So I quit to have more time for those things that gave me a sense of meaning and fulfilment.
When was the moment you decided to make the change?
I'd been going through my life thinking "Once I qualify as a lawyer, it will get better...", then "Once I get promoted, it will get better".
One day, I stopped and thought "What am I doing with my life?" and a friend said to me "Stine, you get one shot at life; don't waste yours."
This was the beginning of an amazing journey for me.
How did you choose your new career?
Whilst still working as a lawyer, I decided to do various evening courses and one of them was a pottery class.
My teacher said that as soon as I touched the clay, she saw a look in my eyes that reminded her of when she was young and the instant love she had felt for the material. She was right. I knew instinctively that I had found where I was meant to be in life. I can't really explain it other than there was simply no going back from that point onwards. This was about four years ago now.
I didn't know that I'd be able to make a living from my ceramics – nor did I know that my partner would leave me shortly after. And that's the thing, you never really know what's going to happen.
I knew I felt a sense of happiness when making. That's all I knew.
I've since come across the ideologies behind mindfulness. It was like someone else had put words to what I intuitively felt and knew to be a better approach to life. When I was making, I was there in the moment, 'staying' with what I was doing and, probably for the first time, not running away from things.
Are you happy with the change?
I have no doubt that it is the best thing that I ever did.
I think I've slowly stopped taking life, and myself, so seriously.
I remember always having this sense of attachment and obligation that felt like a burden. I worried so much about things that actually really don't matter.
I think once I'd quit and let go of some of this, I felt an overwhelming sense of contentment and freedom. I realise now that once I stopped caring so much about my 'career' and everyone's expectations (not least my own), I set myself free to do what I actually wanted.
I shook myself out of this sleep-like state that I'd ended up living in.
What do you miss and what don't you miss?
Perhaps a little surprisingly, I don't miss anything about being a lawyer.
Setting up my own business has come with its own challenges. I have my hands pretty full with both designing and making every piece I sell, on top of running the company, managing my staff and the day-to-day running of the studio.
But I definitely don't miss going into a job every day that gave me no fulfilment or meaning.
What didn't go well? What wrong turns did you take?
I think that sometimes in the beginning, I played it a bit too safe.
I should probably have scaled up quicker than I did (I lost out on commissions, etc., because I couldn't deliver my work quickly enough).
One of my biggest challenges has been to refrain from the temptation of only doing production pottery because it's an obvious means to an end (i.e. being able to pay the bills) and then losing the creative joy of designing and making something new.
Another challenge for me has been to balance making a living with keeping my products affordable.
It is also sometimes a challenge to both run a business, and have time to still be a maker.
How did you handle your finances to make your shift possible?
I'd saved up enough that I didn't have to work for a year.
I also had the financial support of my partner, which helped take off the pressure and gave me a safety net.
I stripped down my spending and started living off very little money. It was almost liberating to do this and my life suddenly felt more straightforward and free from 'noise'.
What was the most difficult thing about changing?
I struggled for a while to take myself seriously after I'd quit my job.
The job itself had almost become my identity, so I suddenly had to figure out who I was without the lawyer title.
I also struggled with a sense of guilt. I felt guilty for being happy and not feeling completely stressed and overwhelmed all the time.
At some point I also had the realisation that even if you have your dream job, there are elements of it that you'll enjoy less than others. However, if I'm ever a bit bored now (e.g. after wedging fifty balls of clay!), I remind myself that the alternative is to sit in an office all day and then I quickly feel very humble and fortunate again!
What help did you get?
I applied for the Arts Council's Finance Scheme and through that got a business mentor.
The guidance and assistance I've received from her has been invaluable.
What resources would you recommend to others?
The Crafts Council has a whole variety of useful information and guidance on their website.
It's been vital for me in getting to where I am now.
What have you learnt in the process?
I've learned that it's okay to feel fear.
I was scared when I quit my job. I was scared when I set up SkandiHus. I was scared when I employed my first assistant, and then my second assistant, and then my two new teachers.
The trick has been not to let it paralyse me. I've had to stop caring so much about what the world thinks or whether I might fail.
So what if I fail? If you haven't failed or taken some chances, you haven't lived your life. You've just kept standing on those escalators, letting life happen to you.
What would you advise others to do in the same situation?
Make sure that, whatever you do, you do it for you and that you bring your whole self with you.
I didn't start making ceramics because I was hoping that one day Nigella Lawson would start following me on Instagram. Don't get me wrong, it's amazing that people like what I do, but I did it for me. Not for Nigella, not for my parents, not for my careers advisor or anyone else.
I did it because I love making ceramics. I'd like to think that when people pick up one of my pieces, they can feel that it's been made with passion, care and love – that this isn't something that's been made just for commercial gain.
Be brave, take some chances and stop striving for perfection. It's OK to fail and it's OK let go of control.
Stop caring so much and take the pressure off yourselves to achieve.
There's so much that's not under our control. But what is in your power is to step off the grind of everyday life – step off those escalators! Pause and make a decision to focus more on yourself and the things that give you a sense of happiness and purpose. Whether that means going part time, quitting completely, taking a sabbatical or just signing up for evening classes.
We caught up with Stine recently to see how her shift was working out, a few years on. Here's what she's been up to, and the biggest lessons she's learned.


What's changed for you in your career since we first published your story?
I've opened a second SkandiHus studio. I run classes from both studios and I've scaled up my own production too. I now employ nine people.
My work has been used by Nigella Lawson and Ottolenghi.
How do you feel about your work now?
I love it more than ever.
What challenges have you come up against since making your shift, and how have you dealt with them?
I couldn't keep up with demand and things were selling quicker than I could make them, so I decided to scale up and open a second and larger studio. Classes were also selling out almost as soon we put them online, so we now offer twice as many classes across both studios.
How is the financial side of things panning out?
I've just reinvested all my money into the expansion but things are going according to plan, so I'm positive about the future.
What have you learned since making your shift?
To always follow my gut instinct and that when you do something you love that comes from a genuine place, it automatically attracts other people who want to be part of it.
Basically when you follow your light, it ripple effects out to people around you.
To find out more about Stine's business, visit www.skandihus.co.uk.
What lessons could you take from Stine's story to use in your own career change? Let us know in the comments below.