"I wanted to be able to tell my grandchildren that I'd been on an adventure."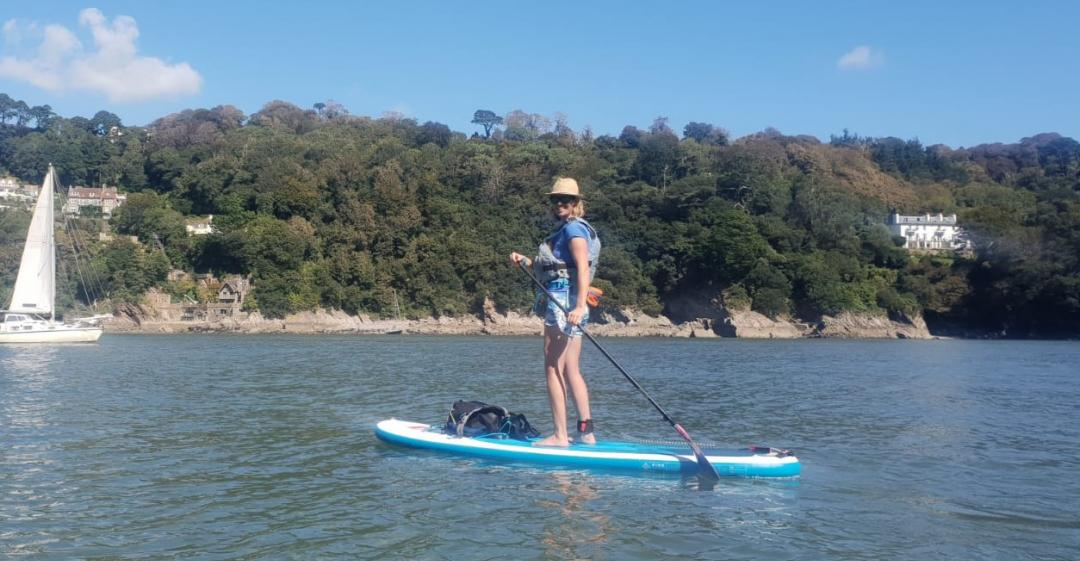 From Consultant to Outdoor Instructor
What work were you doing previously?
I spent seven years at IBM as an IT consultant, in London.
What are you doing now?
I'm an outdoor instructor currently based in Devon.
The sea is my office! This summer I've been teaching stand-up paddleboarding and sea-kayaking. I worked the winter in New Zealand (which was actually their summer), taking kids out canoeing and camping.
Last summer I was based in Dorset, working mostly with school groups delivering a variety of activities including coasteering, climbing, kayaking, hiking, bushcraft, archery, axe throwing, pioneering, and team building... the list is endless.
I get paid to have fun. Sometimes I forget that I'm actually working!
How did you feel in your work before you decided to make the change?
I felt like I was on a travelator, and I needed to get off.
Although I was based in London, my clients were all over the UK, so I spent most of the week living in a hotel away from home. It wasn't as glamorous as it sounds and the novelty wore off after a while.
Even though on paper I had good things – a successful career, a lovely home, nice holidays – I just wasn't happy.
Why did you change?
Life is too short.
I wanted to know I'd given life 100% and lived to the max. I wanted to do something that was rewarding and fulfilling.
When was the moment you decided to make the change?
The catalyst on my journey was when I took time off work to do the Clipper Round The World Race.
That opened my eyes to the fact that there's life outside the office.
I wanted to be able to tell my grandchildren that I'd been on an adventure.
How did you choose your new career?
When I worked at IBM I helped organise a team day by a lake in the countryside.
We got to build rafts, have a go at archery, and I remember thinking that the people running it had a great job.
I discounted it at the time. I didn't think I could do it as the people running it had been doing it since they were young, and I didn't have that background.
Then later, while I was exploring my options, I found an outdoor instructor training course, with no previous experience required.
Are you happy with the change?
Absolutely.
Some people have said that I'm a totally different person now and have a glow that I didn't have before.
I get to help people enjoy the outdoors whilst also learning new things every day.
What do you miss and what don't you miss?
I miss my colleagues, but I still keep in touch with a lot of them.
I don't miss sitting in an office for hours, having to pretend to be someone that I'm not, and commuting!
How did you go about making the shift?
I signed up for the Careershifters Career Change Launch Pad.
After doing the Launch Pad, I did a couple of personal development courses and then took redundancy from my job. I left without a plan and that was scary. It took some time to get to where I am now.
When I left work I rang people up who did interesting jobs and asked if I could shadow them. I talked to lots of people.
During this time I found the outdoor instructor training course. I spent a whole winter playing in the sea and gaining my qualifications. Now I get paid to do that. It's the best decision I've ever made.
What didn't go well? What wrong turns did you take?
I was a bit lost for a while. I lacked direction.
I did wonder if I'd thrown away a well-paid career and years of education, but now I realise that was all part of my journey.
Also, a lot of the skills and experience that I developed in my previous career are useful in my new career.
How did you handle your finances to make your shift possible?
I took redundancy from IBM. They managed to make that work for me which gave me a few months' cover so I could explore my options.
I moved out of my house, started renting it out, and moved in with my parents. That was quite challenging.
There have been lifestyle changes – I'm not living in the city, although that means my outgoings have decreased. Plus, a lot of what I enjoy doing – spending time outside with friends and family – is free, once you've paid for all the kit!
I get paid less, but my life feels much richer.
What was the most difficult thing about changing?
About six months after leaving my job, I wasn't exactly sure what I was doing.
People were asking me about it, and I didn't have a clear answer! But I reached out to family and friends for support.
There were times when I thought I'd have to go back to what I'd done before. I was lucky that I didn't have to do that as the qualifications course came up.
What help did you get?
I was fortunate that I could move in with my parents to save some money.
My friends and family have been very supportive and encouraging.
What resources would you recommend to others?
It was a combination of different things that made the difference for me: courses, workshops, lots of research...
Most important was talking to other people. So I'd encourage that.
What have you learnt in the process?
To be ready for a few wrong turns and paths along the way.
I thought I was going to become a school teacher, but instead I pivoted to what I'm doing now.
Also, if you don't ask, you don't get. My voluntary work in New Zealand came about through mutual contacts, as did my current work.
What would you advise others to do in the same situation?
You've got to listen to what's most important to you.
Don't get worried if it takes time – keep going. Remember that you will find something that's right for you.
To find out more about Tatty's work, visit www.thepaddleshack.co.uk
What lessons could you take from Tatty's story to use in your own career change? Let us know in the comments below.
Tatty took part in our Career Change Launch Pad. If you're ready to join a group of bright, motivated career changers on a structured programme to help you find more fulfilling work, you can find out more here.