"I felt that there was a whole world of possibilities out there."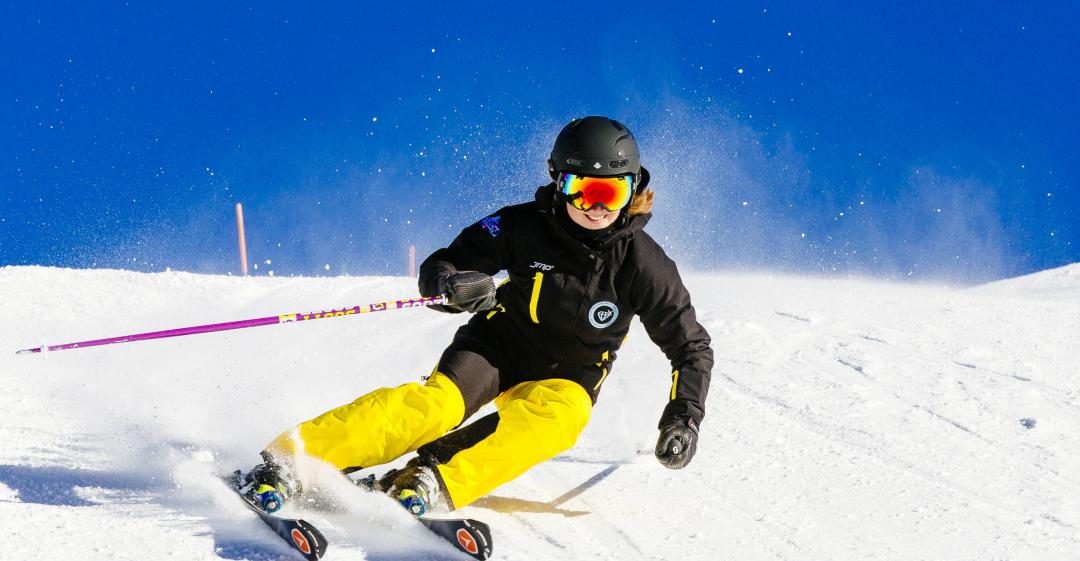 From City Life to the Mountains
What work were you doing previously?
I worked in London, firstly in an IT consultancy, then with a larger management consultancy.
What are you doing now?
I now co-own and run a private ski school – Matterhorn Diamonds – in Zermatt, Switzerland.
How did you feel about your work before you decided to make a change?
I loved the work, found it challenging, and enjoyed being in that environment, but there was still something missing.
It felt like there was so much more to do than just work in one city for a large corporation. I wanted to travel and had a lifelong love of skiing.
I started to get itchy feet!
Why did you change?
I felt that there was a whole world of possibilities out there.
Despite having worked in the consultancy business for eight years, I wanted to dip my feet into another world and see how it went.
When was the moment you decided to make the change?
I had started taking all my holidays during the winter season, just to get as much snow time as possible.
I realised that it was getting ridiculous. So I spoke to my superiors, and arranged to take a sabbatical for the following winter.
How did you choose your new career?
I started skiing when I was very young, on ski holidays with my parents while living abroad.
I then became involved with the ski race club at university, to live out my passion on the dry slopes around London, but I missed the real thing.
I wanted to see if I could combine my passion for skiing with a way to make a living, so I decided to retrain as a ski instructor, and see where it took me.
Are you happy with the change?
I am very happy.
Running my own school is a huge challenge and I'm learning all the time. It's a very humbling experience.
The autonomy that you get with running your own business is dizzying and quite scary at times. Making sure I have an excellent team around me makes a huge difference.
Having the flexibility to wake up early, get some work done and then head up the mountain for a ski is fantastic, and reminds me every day how lucky I am.
What do you miss and what don't you miss?
Living in a ski resort is great in the winter, but when you're prepping the business in the off season, from May to October, it can be quite quiet.
That's when I really miss the hustle and bustle of city life. However, because it's a seasonal business, I am more flexible with my working location and working hours outside of the main winter season; so, as long as I have my laptop and my phone with me, I can travel, which is a huge bonus.
I've always found a sense of fulfilment from working in a buzzing environment that's always looking to innovate and develop; I try to emulate this with our team here in Zermatt.
How did you go about making the shift?
I started off by taking a sabbatical.
This helped me to keep a foot in both camps, in case the skiing bug dissipated after one winter, or I realised that there was no legitimate way to make much money from it.
However, I was lucky enough to be taken back on for the six-month summer periods in the consultancy. This was a great support, until my path (to jump into ski instructor and resort life completely) was clear and financially secure.
After I qualified as a ski instructor I went on to become the first British female to attain fully certified Ski Instructor status (ISTD and BBT) in both British and Swiss Ski Instructor systems.
What didn't go well? What wrong turns did you take?
Being quite risk averse, it took me a while to commit to establish myself fully in Zermatt.
I had done quite a lot of research prior to starting my first season about where I wanted to go. but I was still lucky in the sense that Switzerland had just started changing in terms of ski school legislation, which opened up a lot more opportunities for private ski schools to establish themselves.
With hindsight however, there were definitely some opportunities that I missed by splitting my time between London and Switzerland for the first few years.
How did you handle your finances to make your shift possible?
I ensured I had enough savings to support myself for the first year if things didn't pan out.
I also had a job back in London to fall back on.
What was the most difficult thing about changing?
The trickiest part for the first few years was finding employment once the ski season ended.
You can't ski teach in the Alps all year round as there just isn't enough business in the summer months, although that is slowly changing as the tourism market shifts.
However, it helped being able to speak French and German. Before I'd set up my own ski school, this enabled me to segue into employment locally with hotels or chalet companies.
What help did you get?
I received some very helpful advice from my business mentors in London, but in many ways there weren't many people that had taken the path I was setting out on, so quite often I was making it up as I went along.
I made sure therefore that I gave myself a bit of space every spring and autumn, to take stock and make sure the path I was on was still worthwhile, both financially and in terms of my longer-term goals.
What resources would you recommend to others?
Look at some of the ski instructor associations online.
Organisations such as the British Association of Snowsport Instructors, the Irish Association of Snowsport Instructors, and the Canadian Ski Instructors' Alliance will give you an idea of the courses you'll need to take to qualify as an instructor.
What have you learnt in the process?
Languages really help.
I spoke German and French before I arrived but still really struggled with the local Swiss dialect in Zermatt. To integrate into village life you need some basic phrases at the very least.
Learning a new skill, or perfecting one, like skiing takes hours and hours of practice. So, I had to make sure I skied every day, rain or shine. That's how you get better!
I've also learnt to look after my body. The majority of the people in resort gyms are instructors getting strong to prevent injuries. (And it makes you look better in your ski school uniform too!)
What would you advise others to do in the same situation?
If you're looking to work as a ski instructor in the Alps, I would speak to some ski schools that already operate in the resort or area you would like to work.
This will help you to get an idea of the resort and the mountain, the cost of accommodation and a lift pass, how busy the resort gets, and the kind of work you can expect.
Try to work out what you are looking for specifically: are you just looking for a break, or are you looking to make a lifestyle change for the longer term?
If it's the latter, look for a position that's going to be a stepping stone towards this longer-term plan: a more senior position in a chalet company for example, rather than just working as a chalet host, and taking some on-site training to become a ski instructor with a clear idea of where you could work afterwards.
To find out more about Rowena's business, visit www.matterhorn-diamonds.com.
What lessons could you take from Rowena's story to use in your own career change? Let us know in the comments below.