"It was unsettling to finally get my 'dream job' and discover it wasn't quite what I'd imagined."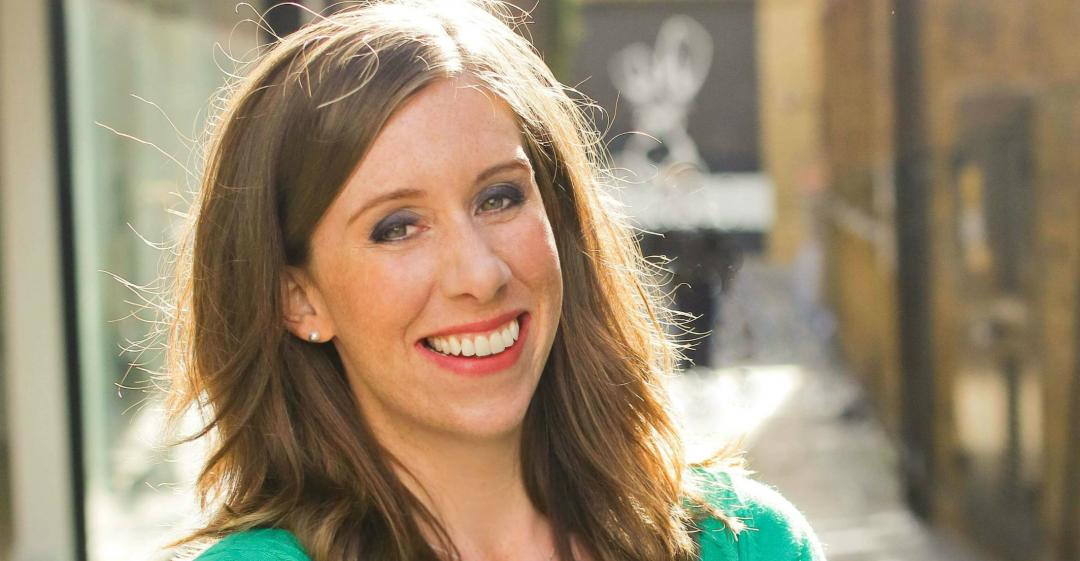 From Broadcasting to Sobriety
What work were you doing previously?
I was working as a broadcast journalist at the BBC.
I started out as a newsreader in local radio before moving into TV. I spent six years working behind the scenes on BBC Breakfast – finding contributors and writing scripts.
What are you doing now?
I run my own business, The Sober School.
It's an online coaching programme that helps women navigate early sobriety and feel good about alcohol-free living.
How did you feel about your work before you decided to make a change?
I was feeling stuck and confused.
On paper, I had a great job – working in TV is supposed to be exciting. But most of the work was far from glamorous. There were 12-hour days, night shifts, weekends… Plus, producing a TV programme is surprisingly repetitive – you end up doing the same tasks, day in, day out.
The problem was that I'd wanted to be a journalist for so long (I used to be part of the Newsround Press Pack!) that it was all I'd ever focused on. It was unsettling to finally get my 'dream job' and discover it wasn't quite what I'd imagined.
Why did you change?
The main trigger for my career change was alcohol.
I'd had a difficult relationship with booze for many years; I was one of those people who didn't have an off switch. I'd tried to quit lots of times, but it had always been a struggle.
About four years ago, something finally clicked and I managed to stop for good. With sobriety came amazing clarity – it was like a fog lifting. It became blindingly obvious that I was in the wrong job and bored silly.
So I started doing all the classic things that you do when you're confused about your career: I scrolled through endless job adverts and applied for completely random things.
At the same time, I began writing an anonymous blog about my experience of being sober in a boozy world. I've always loved writing and people seemed to like what I had to say. It made me realise that there were lots of drinkers out there who felt a bit lost and unsupported.
People kept asking me how I'd done it – what were my tips, strategies, advice? It was around this time that I joined Careershifters' Career Change Launch Pad. That was all done online and I remember thinking how great it would be if there was some kind of course for people who needed support to stop drinking.
And so the idea for The Sober School was born.
When was the moment you decided to make the change?
The idea for The Sober School kept niggling away at me but I kept putting it off.
Sometimes I'd do random things like buy a domain name and design a logo… and then do nothing else for ages and ages.
Then I decided, on a whim, to apply for a grant from a social enterprise funding body. I had to pitch my idea to a panel of judges and to my surprise, they gave me £4,000 to cover my start-up costs.
This was a massive confidence boost and the kick up the backside I needed. It forced me to take action because you had to spend the money within a year. Plus, I had an award manager who kept checking on me!
How did you choose your new career?
It feels as if it chose me, really.
But I did make that change happen. I attended a Careershifters Workshop in London and then joined the Launch Pad.
Are you happy with the change?
Absolutely.
Helping people to stop drinking – and to let go of a habit that's been holding them back – is incredibly rewarding work.
I love working for myself and being my own boss. Best of all, having a website and running a course means I still get to do a lot of writing and creative work. These were some of the things I loved about journalism.
What do you miss and what don't you miss?
I'm still a news junkie.
When the general election was announced, I longed to be in a newsroom, surrounded by all the craziness that happens when news like that breaks. So sometimes I miss that buzz.
But I really do not miss the commute, the night shifts or sitting in a stuffy office when it's nice and sunny outside!
How did you go about making the shift?
The Launch Pad course introduced me to the idea of having a 'portfolio career'.
This wasn't something I'd ever considered or even heard of before. I applied for a part-time job at the Advertising Standards Authority and got it.
I'm still in that role now actually – I really enjoy it. It takes me about 8–10 hours a week, it's well paid and I can do 90% of it from home. For a year, I worked for the BBC full time whilst juggling the ASA on the side and trying to get my business off the ground. Doing all three was hard work! But I managed to save up a lot of money.
About two years ago, I reduced the number of hours I was working at the BBC so I had more time to focus on building my business.
By the middle of last summer, The Sober School was doing pretty well – so well that I started to wonder whether I could risk leaving the BBC. I thought about it for quite a while, because taking that final step seemed like such a big deal, even though I'd been working towards it for ages!
Then one day in September I arrived at work to find the annual email asking for volunteers to work over Christmas and New Year. And suddenly I thought: now is the time. So I handed in my notice.
What didn't go well? What wrong turns did you take?
Just as I was starting to think seriously about The Sober School, I had a cancer scare and ended up having quite a big operation.
I was off work for six weeks afterwards and it really shook my confidence. It was the first time I've ever been reliant on sick pay and I was grateful to have a 'proper job' to fall back on.
Fortunately, all turned out OK health wise. But career wise, I got cold feet. I started to wonder if I just needed a different job within the BBC. I took a four-month attachment in radio current affairs (home of hard news and 'proper' journalism). But I wasn't any happier there. With hindsight, I can see that attachment just delayed my career shift.
How did you handle your finances to make your shift possible?
I was able to save quite a lot of money when I was working full time at the BBC and getting a second, extra income from the ASA. That really helped.
I also moved out of my rented flat in Manchester city centre and bought a flat in the countryside. I know that sounds like a crazy financial commitment to make when you're thinking of ditching a stable income, but the mortgage payments are much less than what I was paying in rent before.
What was the most difficult thing about changing?
Taking responsibility for everything.
In my old job, I could always refer up whenever I was unsure about stuff, or I could call IT when something wasn't working. Now I have to figure everything out myself!
What help did you get?
I've been lucky to find incredible help along the way – from books and blogs to online courses.
I've also been part of some incredible Facebook groups – they're great places to meet people and make contacts.
What resources would you recommend to others?
If you're at all interested in setting up your own business, I'd recommend Chris Guillebeau's book, The $100 Startup. It's really inspiring.
What have you learnt in the process?
You have to be prepared to make mistakes!
They're bound to happen and really, they're the only way you learn. Success happens when you take action.
What would you advise others to do in the same situation?
Remember that you can't be what you can't see.
Don't be afraid to pursue ideas that seem a bit crazy or pointless – you have no idea what they might lead to!
To find out more about Kate's business, visit www.thesoberschool.com.
What lessons could you take from Kate's story to use in your own career change? Let us know in the comments below.