"I became desperately unhappy. Was this all there was for me?"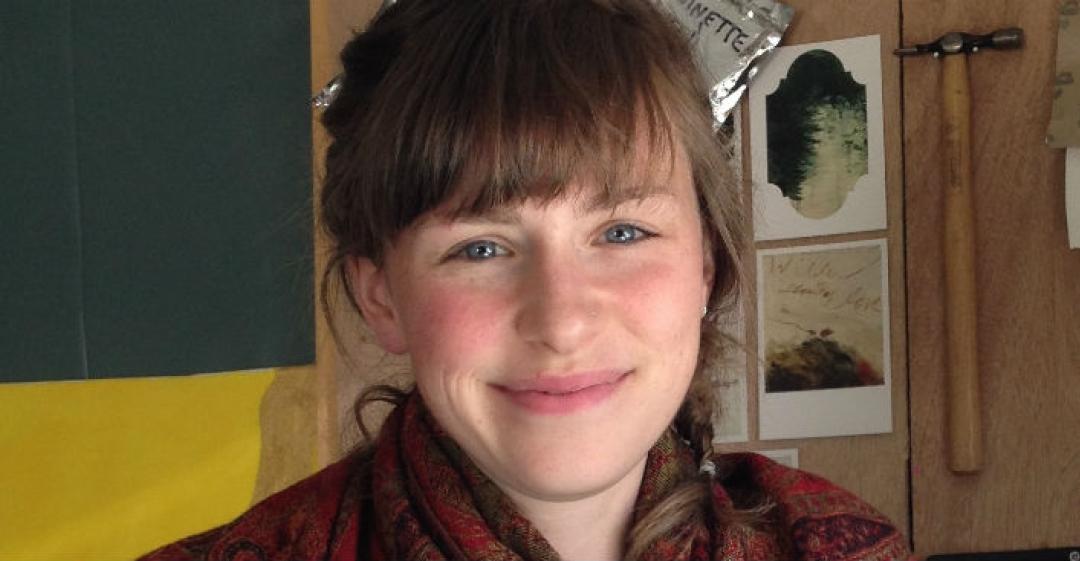 From Art Restoration to Portfolio Career
What work were you doing previously?
I was an art restorer for a small gallery and restoration studio.
What are you doing now?
All sorts!
I'm now working as a freelance artist and have set up my own art restoration studio, Antoinette Brown Fine Art Restoration.
Outside of the studio I work as a freelance visual arts educator for schools, museums and local community groups. I also work part time as an art technician at a sixth form college. Phew, that sounds a lot!
Why did you change?
This time last year I was in a job where, although I liked the work, everything else about it was starting to wear me down.
I became desperately unhappy. Was this all there was for me?
I found myself wishing my time away (something my mother had always told me not to do), and generally becoming very restless and anxious about my situation. Something had to change.
When was the moment you decided to make the change?
I don't think there was a single moment, but rather lots of little moments which led to the change.
I realised I needed to change my situation quite a while before I made the leap. I felt very lost for a long while, not knowing where I was headed. After months of relentlessly searching Google for my ideal job, doing various personality tests, reading all the books and articles I could, and constantly asking myself where I was going, something did actually change.
During this time I gained a new colleague at work. Having worked at a small company for five years with only three other people, this was kind of a big deal! We got on incredibly well and we used to talk a lot about our problems, our hopes and dreams (cheesy I know)! Also, the discussions I had with my amazing partner and our close like-minded friends all helped me along on my way.
These persistent conversations about pushing for something better caused something to finally click for me. I started creating my own artwork again! After seven years, I just started making work.
I realised what I wanted – to make my own artwork and have my own studio to do this in. The next question was – how?
Are you happy with the change?
To quote Jon Krakauer, author of Into The Wild: "There is no greater joy than to have an endlessly changing horizon, for each day to have a new and different sun".
This is a quote I noted down during my shift, something I desperately sought. Looking back, I realise I have achieved this, but I'm still making a conscious effort to continue on this path.
A year on and I've moved into a part-time role as an art technician. I was afraid when I initially took the post, but it's worked out for the best. Now, I no longer live for the weekends. As soon as I changed roles everything else changed too. I set up my studio and continued to create artwork, plus I was getting my own restoration work from a website I set up. I also got in touch with some old contacts; through them I started working as a freelance educator at a local arts centre, and worked on some collaboration artworks.
But most of all I started to (and still do) feel so much happier and balanced.
What do you miss and what don't you miss?
There is nothing that I miss.
I don't miss the unhappy struggle, but if it wasn't for that I wouldn't have changed. It's important to reflect, and looking back I realise how far I've come.
How did you go about making the shift?
During my shift I had all the usual questions, and a lot of them: What will I do if I don't do this? How can I change? What about money? Where am I going in life? And one that wouldn't go away – What do I love?
From a young age I'd always been passionate about visual art, but my intense dislike for my job made me question whether I actually did anymore. Was it just something I fell into without thinking? (Yes, that was yet another question.)
However, after all the questioning and searching, I realised that art and creating art was what I loved. That realisation was enough to keep me going in the job I disliked, but it had definitely sparked and started something.
Having that spark and the support and encouragement from the people around me was enough to make me set up my own art restoration website. I decided to try taking on restoration work for myself in my spare time. If it didn't work, there was no loss – I still had my job. It was a small step, but it worked. To my surprise, I started getting my own work.
So, now I was in a position where I was working for myself in my spare time, I'd realised what I wanted to do, and was making my own artwork. After all this, I was still unhappy at work. It was time to leave. It was definitely time to leave.
I know it sounds clichéd but when I did, as I mentioned, everything else seemed to fall into place. My enthusiasm to get out there, try new things and change was enough to lead me to different people and places. I think what I do now is called having a 'portfolio career', but I would say the work I do has become more a way of life.
What didn't go well? What 'wrong turns' did you take?
I think I stayed in the job I was in for too long.
I thought that doing my own artwork and the restoration work in my own time would make up for miserable days at work. It didn't.
After leaving the job I was in, I became much happier, although there were still challenges to face and things to figure out. I still have bad days, even though I'm doing what I love. There are days when I question myself, when I wonder whether the effort is worth it, but it's all a learning curve. When I reflect on where I was this time last year, I soon realise how far I have come and that it's definitely worth it.
How did you handle your finances to make your change possible?
I had a part-time role to maintain a regular basic income.
When I started this role I did worry a little about money. However, as I had set up the restoration website and was already getting work in from that, it was alright. It was a good idea after all! In addition, I've been picking up various bits of freelance work along the way, which keeps things going nicely.
These changes in my financial situation have been scary, but I've lived within my means and I've found a way to make it work. As my partner always reminds me – you can always make money but you can't make time.
What was the most difficult thing about changing?
The struggle of not knowing.
Not knowing what the hell I was doing, what I was going to do, or how I was going to make it work.
The unknown is a scary place, but for me it came down to what was more scary: moving on or staying where I was?
It was a complete emotional roller coaster that was best faced head on. Changing and making the shift wasn't easy and I still hit challenges along the way. But I'm so glad to have gone through it, realised what I wanted, and to have been able to work towards that.
What help did you get?
Being surrounded by and talking (often till the early hours) with my partner and like-minded friends was a huge, huge support.
The positivity and support I received from family and friends was invaluable to my shift.
Resources such as Careershifters and other blogs were a tremendous help. Books, life stories, fiction and, yes, self-help books were great at opening my eyes and making me see things a bit differently.
And my artwork. They say art is therapy – it most certainly was.
What have you learnt in the process?
To listen to myself – to really, honestly listen.
To change something when it's not right, and to be open to change.
What do you wish you'd done differently?
I wish that I hadn't let my previous job have such an emotional hold on me, although maybe I wouldn't be where I am if it hadn't been for that.
What would you advise others to do in the same situation?
Don't accept things as they are. Seek change. You'll get there with a little persistence.
Surround yourself with like-minded people and talk – to friends, people you trust, positive people. Be open: they might just nudge you in the right direction.
What resources would you recommend to others?
I have a few favourites that I would definitely recommend to anyone making a shift. The most significant book I have read and would recommend to everyone I could would be Think and Grow Rich by Napoleon Hill. If you take anything from my story it should be to read that!
Others include: The Alchemist by Paulo Coelho, a beautiful tale about following the right path; real-life stories Eat, Pray, Love by Elizabeth Gilbert and Into the Wild by Jon Krakauer; and F**k It, an inspiring and humorous self-help book by John C. Parkin (I would also recommend subscribing to the mailing list for regular F**k It tips.
To find out about Antoinette's artwork visit www.antoinettebrownartist.tumblr.com
What lessons could you take from Antoinette's story to use in your own career change? Let us know in the comments below.