"I was fed up with working on other people's brands; it was time to create my own."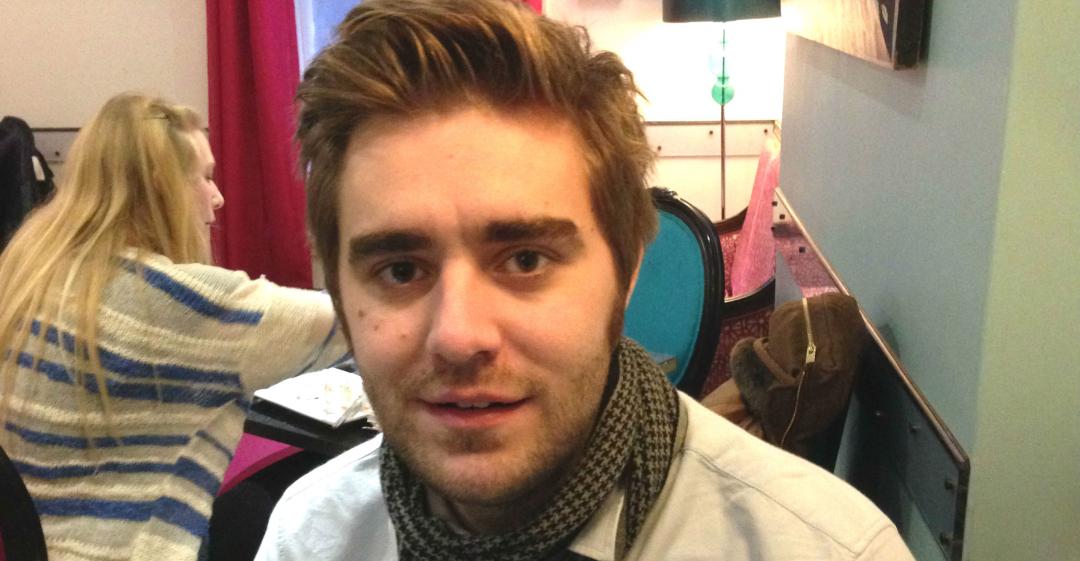 From Advertising to Start-up
What work were you doing previously?
I was, and still am, Head of Creative at AOL on a contract basis.
I manage a team of designers and developers that create digital ads, interactive video campaigns, web builds and other internal creative requests.
What are you doing now?
As well as working at AOL, I'm now running Snapd, with my business partner, Anthony Prior.
It's a photo-messaging app / social network that we're getting ready to launch on the iOS App Store.
Snapd is a really fun app that lets you share photos with friends and capture their reactions as they view them.
It's something we've built ourselves from the ground up and has taken over 18 months. It's only really now that it's all starting to take off.
Why did you change?
I wanted to change career paths because I've had around eight years in the ad industry, working for lots of different creative agencies.
I got to the point where I was fed up with working on other people's brands / products; it was time to create my own.
When was the moment you decided to make the change?
I was really struggling to find motivation or any passion for my work, and things started to become very monotonous.
As a creative, that's never good; I knew it was time to start thinking about making a change.
When we began pitching for investment, it started to become real. When we successfully secured investment, I realised we were ready and that it was actually happening!
We're not at a point where it's become our full-time jobs, but we're working on it!
Are you happy with the change?
So happy.
Working on your own product is such a breath of fresh air; the freedom and the level of ownership you have is so rewarding.
Working with my best mate is another highlight; we've known each other since school, and even went to the same university, but we've never actually worked together until now. He's a very talented designer, while I handle the technical and business side of things; we make a really good team.
What do you miss and what don't you miss?
I miss being able to take annual leave, or even a sick day for that matter!
It can get very stressful as you simply can't switch off from your own business. Quiet days and time off are a thing of the past!
But I certainly don't miss office politics and being wrapped up in things that aren't important.
How did you go about making the shift?
To be honest, it's been a slow process.
We've built the app in our spare time and over weekends, then returned to our day jobs Monday to Friday. This has been very difficult as it's felt like living a double life: Head of Creative by day, entrepreneur by night. It's also meant time with my family has been cut short; all they've seen of me is my face buried in a screen.
What didn't go well? What 'wrong turns' did you take?
We worked with an app production studio in the UK that I thought could help us out but it didn't go very well.
It ended up being quite a costly wrong turn – both financially and in terms of time wasted. Unfortunately, they weren't at the level we were at. In the future I'll be a lot more careful about selecting partners.
How did you handle your finances to make your change possible?
I've been working as a freelancer through my limited company for a few years now, so I've got plenty of experience in handling accounts and the financial side of things.
Online banking is in a really good place right now, so I can handle invoices and expenses from the office.
What was the most difficult thing about changing?
Leaving the comfort of a salary and a full-time job is really scary, especially when it's to work on something that you have no idea whether will succeed or fail.
I tried to explain to my family but they just think I'm mad.
However, I'm in quite a fortunate position in that I can leap back into freelance work if I need to.
What help did you get?
We were fortunate enough to raise some investment from Haatch, a UK-based digital investor and business incubator. I'm really happy we found them as they offer much more than just the investment – business advice and general support when you need it, for example.
We invested half the money in ramping up resources and finishing phase one of our app. The rest of the budget is going to be used on marketing (my old career background), as well as technical support for our users.
What have you learnt in the process?
I've learnt that it takes an incredible amount of effort, drive and motivation to build up your own business.
It's full of highs and lows. There are times when I feel like I could just give up, but then there are times when I feel like a superhero.
What do you wish you'd done differently?
I just wish we'd done it years ago!
We could have launched the app way sooner. I think we were almost too afraid to get it in front of the public, in case people complained about or criticised certain things. With your own product it really is your own neck on the line, so you take criticism really personally.
Looking back, we should have got it out there earlier and continued to mould the app based on the results of the early adopters' experience of using it.
What would you advise others to do in the same situation?
When your product or business is at the stage where it's functional and usable, get a few users on board early.
Even if they're just test users, the feedback you get from them is way more important than you'd ever think. It will highlight issues or areas you might have missed, even to the point where you pivot from the original concept completely.
What resources would you recommend to others?
There are a lot of good resources on the web and plenty of good books around.
I try to read when there's not an opportunity to do any work, such as on the morning and evening commute.
It's a really good time to be running a start-up right now. It's become such a big culture over the past couple of years; there are specific start-up communities that have been built up in cities all across the world. So definitely see what's happening in your area and get involved!
I think finding like-minded people with similar goals and ambitions is also very important. Try to find a good network of people from different backgrounds, so you can all help each other out in different areas.
To find out more about Neil's app, visit www.yousnapd.me
What lessons could you take from Neil's story to use in your own career change? Let us know in the comments below.