"I didn't like the way 'normal' businesses were run... which just made me miserable."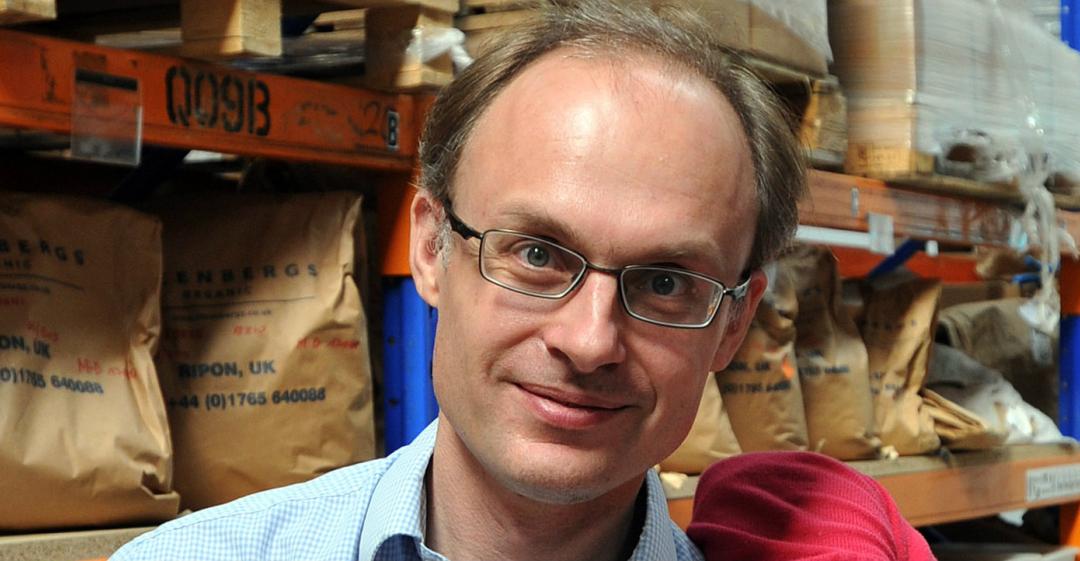 From Accountant to Fair Trade Entrepreneur
What work were you doing previously?
I had trained as an accountant, worked in the City, then was a Finance Director for a couple of small quoted businesses.
What are you doing now?
With my wife, we run a small ethical food importing and packing business, called Steenbergs.
We focus on organic spices, herbs, teas and extract, as well as Fair Trade products. We mix the ingredients to our own recipes and have 12 people involved with Steenbergs, including Sophie and me.
I particularly enjoy connecting Steenbergs back to social enterprises around the world, whether in India, Sri Lanka, Turkey or elsewhere, and to people trying to make the best from the cards the world has dealt them. I also like helping new staff (who, often, have been unemployed or down on their luck), giving them their confidence back and training them up.
Why did you change?
We wanted to build something together, based on sound ethics, responsible trading and employment.
When was the moment you decided to make the change?
It was when one of the businesses that I was running was taken over in an acrimonious takeover battle.
At that point, I realised that I didn't like the way 'normal' businesses were run, nor people's values and attitudes within them, which just made me miserable.
I also felt that responsibility and fairness were not necessarily incompatible with business, just that it was the way most people framed it.
Are you happy with the change?
Definitely.
What do you miss and what don't you miss?
At times, it can be less intellectually stretching, but I have been doing an Open University degree in Environmental Studies to fill that space.
I really don't miss any of it at all, particularly the excessive focus on money, the internal politics of the career path and the lack of genuine concern for people or the environment.
How did you go about making the shift?
The shift was, on the face of it, quite simple.
I chose not to stay with the company when it was taken over, so one day I was in and the next out. The more difficult part was deciding what to do next.
Initially, I worked part time in a small AIM-listed minerals exploration business, but never felt motivated by it and felt that I had sold out by doing something similar to what I was doing before.
My wife and I looked at several businesses to buy into – a small property portfolio, a soft drinks business, a spice business and a sauces business. But in the end we didn't have enough money to buy these and transform them into the ethical business we wanted.
So, we simply took the plunge and started on our own. We took on an empty starter unit at Barker Business Park outside of Ripon. Before we started we put in place systems and became organic certified with the Organic Food Federation. We then bought our first kilos of spice stock, and worked out labels and packaging.
We started by doing consumer shows and built a website, learning by doing and making lots of mistakes. I guess that's been how we've evolved ever since: hands on, learning through practice and from our mistakes. And by saying yes to ideas whenever they arise.
But also we've stuck to our principles of top-quality raw materials, organic products wherever possible, always ethically traded and Fair Trade wherever possible, and finding and stocking the curious and unusual that you never find on the high street. Then, with our staff, it's inclusive (with more women than men), everyone is paid the same wage from me to the newest recruit, and we try to set a hard-working but relaxed and happy working style.
What didn't go well? What 'wrong turns' did you take?
We've made more mistakes than I could have thought possible, but luckily we've done more things that have worked than gone wrong.
The only places we've really gone wrong were when we tried to emulate others rather than do our own thing, because customers can quickly see through insincerity.
For example, we launched some everyday tea products called 'Peace Tea' and 'Green Tea' that tasted great but were neither cheap enough nor that much better than other brands. So, in the end we had to sell it for nothing to a stock-clearance business. That hurt.
But most of the mistakes have been selling to customers who never pay – bad debts are always a hurt in trading businesses. We've now learnt from experience how to spot customers who are too good to be true.
How did you handle your finances to make your change possible?
We borrowed against our house, and became very frugal (not such a bad thing in itself!).
We struggled for at least five years before the business started making a cash return, and it took until last year (over ten years) to repay the start-up costs.
What was the most difficult thing about changing?
Learning everything from scratch.
I've found myself Head of IT one day, HR another, and so on, without any internal departments to help me out.
What help did you get?
Working with my wife on the business has been great as we complement each other well and have supported each other in developing Steenbergs.
However, we've had virtually no external help.
What have you learnt in the process?
The main thing I learnt is to take risks, make mistakes and then learn from them, because in the end no-one will help you when you start your own enterprise.
What do you wish you'd done differently?
I wish I had started my own business when younger.
Energy, enthusiasm and time are the most important attributes in starting a business like ours.
What would you advise others to do in the same situation?
If you are unhappy, just change.
All the risks you worry about are simply artificial barriers that will resolve themselves when you make the change, so long as you are prepared to be more frugal. But if you won't compromise on your lifestyle (e.g. car, ski holidays or the latest technologies), then you're not ready to make that shift.
To find out more about Axel's business, visit www.steenbergs.co.uk.
What lessons could you take from Axel's story to use in your own career change? Let us know in the comments below.