"I'm more passionate than I've ever been before about working hard."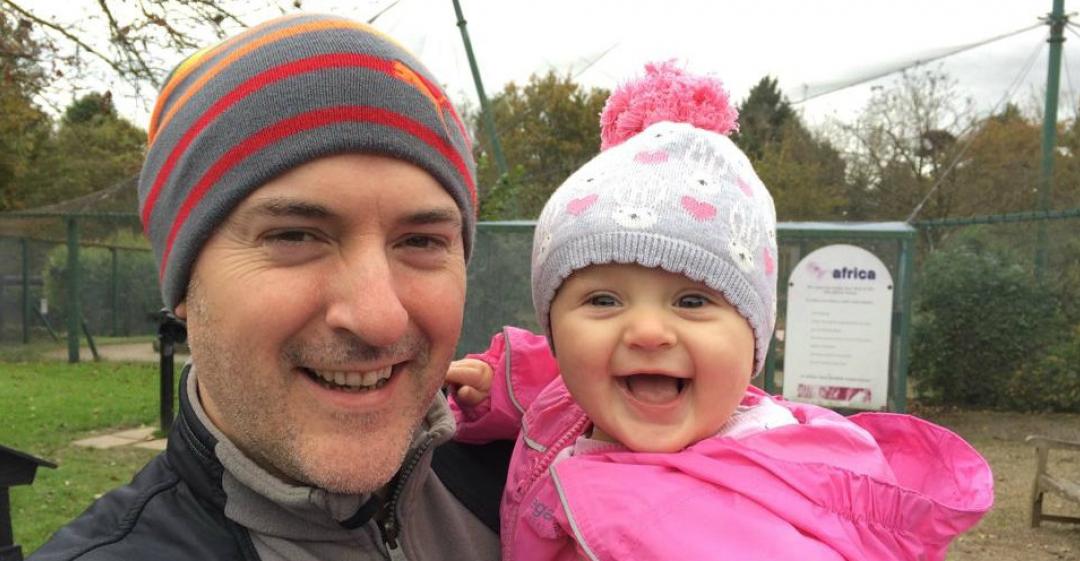 From 9–5 to Flexible Home Working
What work were you doing previously?
My education and career background has been a mixture of IT and business.
A chance meeting with a old friend about five years ago found us becoming business partners in a joint venture creating an online portal / website for construction. I managed the design and build of the website.
Following on from this experience, I designed and managed the build on several more websites for other friends and acquaintances.
What are you doing now?
I've set up and grown my own business – Little Star Cards – which sells keepsake baby development cards.
The business has now developed to the point where both my wife and I can work from home managing it.
Why did you change?
After the birth of my 'Little Star' daughter, I wanted to spend more time at home.
I couldn't bear the thought of leaving her five days a week, working long hours and missing bedtimes. I hoped that if I could get a business off the ground, my wife and I would be able to work from home rather than having a daily commute to an office every day.
I've always been very ambitious and career minded; I wanted to work to support my family. And I wanted to be around as much as possible, especially while my daughter was young.
I also didn't want to lose my passion and desire to work and succeed in my career; I just needed to do something that would allow flexibility, on my own terms.
Starting my own business seemed like the best option. I'm more passionate than I've ever been before about working hard and I'm happy with the time I get to spend with my daughter.
When was the moment you decided to make the change?
Following the birth of my daughter, I felt the need to create a legacy for her: if I could create a successful business, it would give her more choices when she became older.
I needed to fund the start-up and at that point it was still just an idea in development. I worked full time, but worked on developing the idea and designs when at home in the evening.
The moment came last Christmas when I offered some free samples of Little Star Cards in a competition. The success of the response and feedback was fantastic and at this stage I realised this was something I had to dedicate more time to.
My employer was extremely understanding and very supportive of flexible working.
Are you happy with the change?
Yes.
I work longer than full-time hours, but I'm so passionate about making the business a success that I enjoy every moment I spend working. I don't work 'traditional' 9–5 hours; I work flexibly around my family. I often spend a morning with my daughter and make the time up in the evening. There are lots of late nights!
I feel much better in my work–life balance, but it hasn't been without stress and sacrifice. Little Star Cards is a start-up; we're just going in to our second year and I don't earn the salary I earned before. I knew from the start that building a business would take time and I'm prepared to make financial sacrifices for that. I'm lucky to have a very supportive partner!
I still have the challenge that I need to keep my brain alive (more than ever) and I get to set my own work hours, which is so important to me.
What do you miss and what don't you miss?
I do miss the office environment.
It can be quite lonely and isolating working from home (we don't have premises yet), but I don't miss the set hours and rigid routine.
How did you go about making the shift?
The keepsake gifts we received following our daughter's birth, although very nice, all seemed a bit cutesy and not very unique.
I felt there was a gap in the market for a gender-specific and humorous keepsake baby development card. Something that would make you smile or even laugh.
I sat down with a talented graphic designer I'd worked with on some of my other websites and we came up with some card ideas and some animal characters that we thought would work. We enlisted some local parents from our nursery and set up some market-research sessions. At the same time, I was actively looking for ways to work flexibly and thinking about how I could apply my experience and skills to something I felt passionate about. It was the combination of the two scenarios that led me to set up Little Star Cards.
Once I'd decided to start my business, I stayed employed for as long as possible, working in the evenings and at weekends pre- and post-launch, mainly for financial reasons.
I was very lucky to have a supportive employer and we agreed a date for me to leave and pursue the business. I was very honest with them and they have been extremely supportive and still help me out wherever possible with my business plans.
I made sure I had enough savings (or the possibility of freelance work) to see me through the first year. I then just went for it and haven't looked back. I do think it's very important not to burn bridges and make sure you have some ideas of ways to make money during your start-up phase if you plan to launch a business.
What didn't go well? What 'wrong turns' did you take?
I think, for me, it was a problem not having a defined work space at home.
I was set up at the kitchen table and it wasn't long before I realised my paperwork was taking over the house, and I was replying to emails during family mealtimes.
I'm not sure I thought through the logistics well enough.
How did you handle your finances to make your change possible?
I think this is one of the most difficult things about making a change: the difficulty of finding enough money to do it and the fear of never earning anything again.
For me, the key was to accept there would be a period where I didn't earn what I did before, and sometimes perhaps not anything at all. I kept in mind my long-term objectives and found ways to support myself during the transitional period. I also doubled the length of time that I thought it might all take and made sure I had a back-up plan in case things got desperate.
What was the most difficult thing about changing?
The financial risk and the fear that I would put myself in a weaker position long term.
Then again, fear is a great incentive to keep moving and working hard, so it's not a bad thing.
After all, it wouldn't be as rewarding if it were easy!
What help did you get?
Help came mainly from friends and family.
I asked everyone I could for advice, according to their knowledge and experience.
I realised I had a set of very varied and clever friends and family!
What resources would you recommend to others?
Social media is good for networking with others in a similar situation.
And Enterprise Nation offers support for small businesses and hosts some great events.
What have you learnt in the process?
I'm not a patient person and I've really had to learn not to expect immediate results.
I've also learnt many new skills in the process.
What would you advise others to do in the same situation?
Plan for things to take longer than expected.
Make a back-up plan to help manage the fear of change, then just pick a date and go for it.
Expect to work harder than ever before, but remember your personal, long-term goal and keep that in mind during challenging times.
To find out more about Louis's business, visit www.littlestarcards.com.
What lessons could you take from Louis's story to use in your own career change? Let us know in the comments below.