"I was a real 'staffer' in mentality and wasn't sure I'd survive in the 'big bad world'."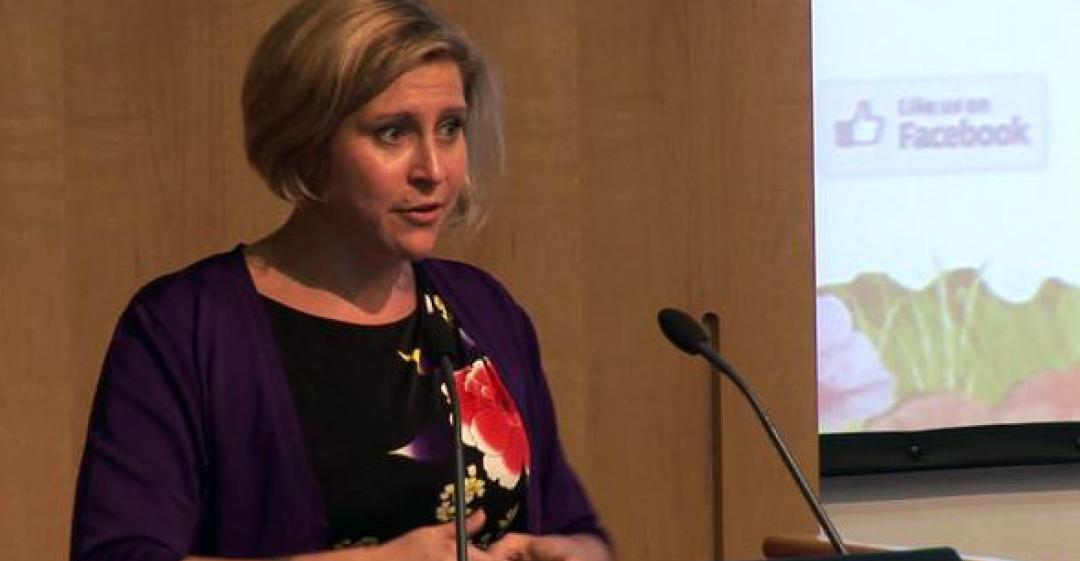 BBC Director to Founder & Director of Express Yourself Mums
What work were you doing previously?
As a producer and director at the BBC, I made science documentaries.
This involved researching and then scripting the documentary, directing the filming, and then working with an editor to edit the film. So, it was a creative role that required clarity of thinking, a clear sense of narrative and solid project management (I was in charge of my own budget).
At various points I was also a Development Producer motivating and managing a team of eight researchers to develop possible new story ideas.
What are you doing now?
I'm the founder and a director of Express Yourself Mums, a social enterprise which is a central resource for breastfeeding mothers and the healthcare professionals who support them.
Express Yourself Mums has a core aim to help increase breastfeeding rates in the UK. I now have two partners and we each have our own remits. My role is wide reaching, and includes:
Customer service (for mums who are ordering breastpumps, breastfeeding pillows, etc.)
Talking to mums who are having problems expressing
Meeting and networking with healthcare professionals who are passionate about breastfeeding
Meeting and networking with other social entrepreneurs, largely through the support organisation UnLtd, leading to cross-fertilisation of ideas and sometimes cross-marketing opportunities.
PR and marketing Express Yourself Mums to the general press, industry press, and TV and radio
Promoting Express Yourself Mums at conferences
Talking at conferences about my personal experiences
I am also training to become a breastfeeding counsellor
Why did you change?
My first son, David, was born with a cleft palate and couldn't breastfeed.
So, I chose to express all my milk for him. I tracked down The Easy Expression Halterneck Bra from the United States which allowed me to double-pump hands free. I used it for six months and then wondered why no-one else had one. So I set up a small company, Express Yourself Bras, which I ran as a sideline once I returned to work at the BBC.
My second son, Joshua, was born with a cleft palate too, and was also critically ill with viral meningitis. After an extremely tough start and seven months of expressing, Joshua finally became a fully breastfed baby after his palate-repair operation. I took voluntary redundancy from the BBC so that I could retrain to be a breastfeeding counsellor and launch my venture, Express Yourself Mums.
I planned to use my years of experience working in science and the media and the many contacts I had built up:
to help mums and healthcare professionals overcome the many barriers to successful breastfeeding
to source and commission articles and advice from leading healthcare professionals which will be made freely available to all visitors to my site
to provide the best breastfeeding and expressing products and learning materials in the world to mums, to clinics and to hospitals
to positively impact on breastfeeding rates in the UK
to raise significant funds for charity
I also hoped that by working for myself I'd be able to work fewer hours and spend more time with my two boys.
Are you happy with the change?
The decision to leave the BBC was terrifying.
I was a real 'staffer' in mentality and wasn't sure I'd survive in the 'big bad world'.
On a superficial level, one might think that I'd undergone a brain transplant – from BBC Producer to webmaster in just a few months. But then again you can never predict what life is going to throw at you and I've just decided to pick it up and run with it.
And on deeper inspection the parallels are not insignificant: the whole website is an authored piece, just as my films were. And the only reason I got into TV in the first place was to be a communicator of science; now I'm communicating health information and hoping to have a positive impact on the health of our country's children.
What do you miss and what don't you miss?
So far, I've yet to draw a penny in salary from Express Yourself Mums and have sunk my BBC redundancy package into starting up the project / business.
As a family, we really do miss my salary and feel that we can't carry on like this for more than another year – the clock is ticking, which does add pressure. This contrasts starkly with the regular monthly income I received as the employee of a large corporation.
I occasionally do miss the creativity and the buzz of film-making. However, jetting round the world on film shoots would simply not be compatible with my lifestyle and my young family. If I had stayed at the BBC I would most likely have ended up with a more office-based editorial role. Also, further down the line I hope to be in a financial position to commission or indeed make some excellent breastfeeding teaching resources.
Friends and family were concerned that I'd miss the intellectual rigour and challenge that I enjoyed at the BBC. But this has been replaced by diving in to breastfeeding research and thrashing out ideas with research professors. Also, every day I'm motivated by the women I'm helping, with the products they are buying, with the information they are reading and with the money that I'm raising for charity. I'm also constantly plotting and planning new ways to break down the barriers to breastfeeding.
I used to like the project basis of film-making. I'd work for six months flat out on one project and then move on to a new film. However, I'm actually finding it more satisfying to focus on one area, breastfeeding, confident that in time I'll make a tangible difference.
How did you go about making the change?
There were really two steps to the change.
Step one was to set up Express Yourself Bras, which I did when I was on maternity leave with my first son. I set it up as a small sideline business; I never imagined that it would evolve into what it has become. I just tracked down a single product that had changed my life (the Easy Expression Halterneck) and I wanted to allow other British women to access the expressing bra while also raising money for charity.
But, of course, looking back, Express Yourself Bras was the solid foundation for Express Yourself Mums – I had networked widely and have enjoyed huge support from leading lights within the world of breastfeeding and special care baby units.
Having my second son, also born with a cleft palate, and desperately ill for the first three weeks of his life, my focus shifted. As he got older and stronger, and as my maternity leave was drawing to an end, voluntary redundancies were coming up at the BBC. It was such a perfect opportunity, so I put myself forward and my redundancy package gave me the money to build the website, buy some stock, get leaflets made, and get Express Yourself Mums fully under way.
What was the most difficult thing about changing?
Humans are creatures of habit; we are often, by nature, risk averse, and I was no exception.
I'd also had a very tough start with both my boys, and I think I'm not alone in having a dip in confidence during my maternity leave.
There were times when it was difficult to imagine how I'd been so successful in the high-powered job I'd had. To launch a new project / business takes immense confidence and inner belief, so I had to dig deep into myself to have the confidence and energy to take the leap into the unknown.
What help did you get?
My husband and family were extremely supportive.
Fairly early on, I realised that there were big gaps in my skill-set around the financial side of a business, managing a film budget is one thing, but being in charge of a business and its profit / loss and cashflow forecasts is something altogether different!
Through Business Link I discovered Harrow in Business and joined their 16-week Women in Business Course which was excellent. Many of the sessions were very helpful, for example 'Taking the Fear Out of Financials', but the highlight was meeting other women who had or were about to take the leap and were in the process of setting up their own businesses.
A key turning point was the BabyGROE conference where I discovered the term 'social entrepreneur' and realised I wasn't alone, or crazy, to want to give money to charity and to instigate social change. Meeting like-minded people was incredibly motivating.
Then I had a lot of help from Carly, my first business partner. I'm a people person, always have been, so it was great to have someone to bounce ideas around with and her financial input meant that together we became the sole distributors of the My Breast Friend breastfeeding pillow, a superb breastfeeding pillow which we are now selling to mums, nurseries, shops and the NHS. More recently, we've taken on a third partner, Sharon, and she is now a key member of the team.
I was lucky enough to get a mentor through Harrow in Business, I found it incredibly helpful to have someone experienced in business, with a bit of distance, guiding us through our decisions.
UnLtd has given and continues to give key support, both financially and through the help and experience of my Development Manager and the other resources and networking opportunities that they offer. Also, it has meant a huge amount to have the external recognition that Express Yourself Mums is worthy of support from UnLtd.
What have you learnt in the process?
I've learnt to believe in myself and to tap into my inner drive and motivation.
I've also learnt that you never know what life will throw at you, and that you can never predict what the future will bring.
What do you wish you'd done differently?
It's still very early days: Express Yourself Mums has only been running a year.
No doubt in time I'll look back with hindsight and see all the things I could have / should have done differently.
For now, my two big regrets relate to marketing 'opportunities' that I got suckered into, one for a voucher booklet that was going to reach 270,000 new mums every six months. But you live and learn. I've been on an extremely steep and challenging learning curve. It would be impossible to get everything right first time!
What would you advise others to do in the same situation?
Not to make decisions in a vacuum.
Talk to friends, talk to a careers counsellor if necessary, and if you are going to make a move do tap into networks and do 'skill up' in areas where you are less experienced. But perhaps most importantly I'd say to believe in yourself and follow your heart.
Only you know what you are truly capable of!
Find out more about Express Yourself Mums at www.expressyourselfmums.co.uk.
What lessons could you take from Alison's story to use in your own career change? Let us know in the comments below.