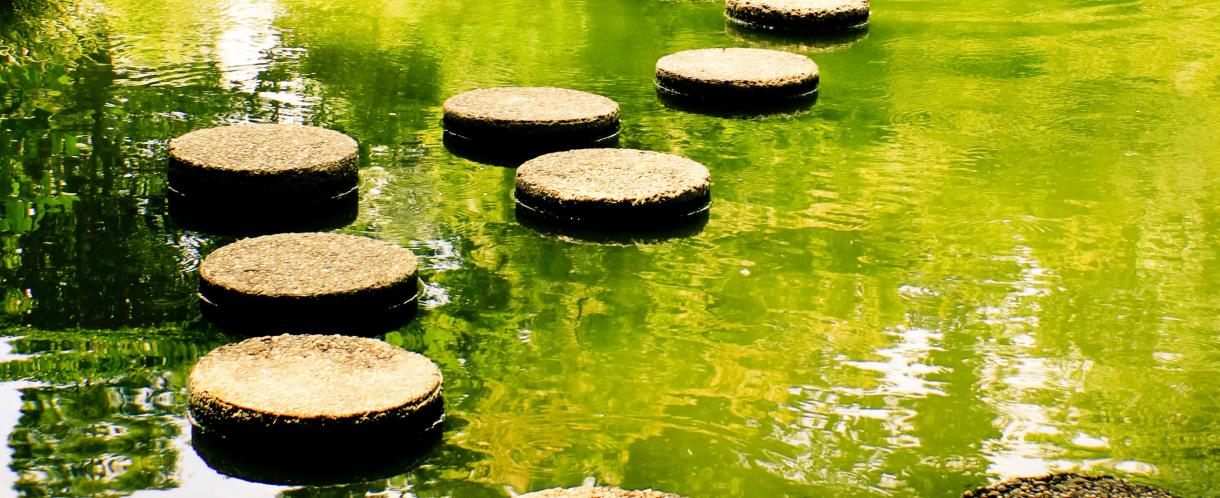 So drained by your current career that you don't have the time or headspace to work on your shift? Scared you're going to get stuck in your current job or face making a risky leap? There is a middle way – an option that can give you the freedom, time and resources to make a gradual (and safer) change.
Whether you know what your ideal job is or not, it probably feels a really long way away right now.
If you're looking for your 'what', you feel like you can't take real action on your career change until you've figured out what you want to move into. And you're so drained by your current job that you rarely have the headspace to give it any meaningful attention.
And if you know what you want to do, but not yet how to get there, the fact that your dream career feels a million miles away from your current reality is paralysing. Making a big leap feels too risky, yet you don't have the resources to take it slow.
If either is true for you, there is a type of role you can move into that will help you move wholeheartedly in the right direction for your career and lifestyle. I call it a stepping-stone role – and it can create that much-needed space to give your career transition the attention it deserves.
What is a stepping-stone role, and who is it for?
A stepping-stone is a shift to a temporary, flexible role. It's usually freelance, contract or part-time work. It's a position that provides financial support and creates free time in your week, so that you can focus on the areas you are passionate about in your spare time.
This type of role is not for everyone, but has huge benefits in certain circumstances:
If you are completely unsure what careers would suit you next, a flexible role can provide the time and space in your life for you to wade out into new waters and experiment for a while.


If you have lots of ideas that interest you, this type of position gives you the opportunity to 'try things on' before you commit to your next major career role.


If you are in a rush to make a change, this pathway will create both immediate change and motivation for the rest of your career transition.


When you feel emotionally exhausted by your current work, a flexible role is an immediate route out of the stressful environment. By removing the source of stress and creating headspace, you'll be able to plan your next steps much more calmly.


When you want to start your own business, this type of role enables you to build your business on the side without the unrealistic pressure for it to immediately support you.


When you are aiming to move into a new field, but don't have the experience or connections you need, this type of role can give you the financing and time freedom for you to volunteer in new arenas and bolster your CV / resumé.


While you are in your current position, it can be hard to see all the roles that might suit you. A role that creates freedom to explore wider opportunities can open up avenues that you simply cannot see until you get out of a full-time situation and have time to stretch into new areas and meet new people.
How to find your stepping-stone role
To start looking for a stepping-stone role that is right for you, you'll need to loosen the boundaries you've set yourself for what your next role looks like.
There are two key features of a stepping-stone role:
First, it should provide the finance you need to support you through the rest of your career change.


And second, it should create free time for you to stretch, volunteer, experiment, try on roles, and make your career change with far less pressure and stress.
An obvious place to start is to consider which part of your current skillset you'd enjoy using in a flexible role, and research the roles that you can do with these skills in a part-time or flexible capacity.
Be sure to reach out during your research. I guarantee there'll be roles out there you're not aware of. Ask around in your current networks, and with contacts in industries that appeal to you. You may be surprised that your current skill-set applies to some flexible roles that had not been on your radar, or to opportunities that are immediately available within your network.
If you're adventurous and want a bigger change, think about the roles you would love to do. They don't have to be forever and they don't have to provide you with 'status' or a ' career path' in themselves. They can simply be an enjoyable, stress-free way to earn money while you focus on the things you're passionate about.
If you're more risk-averse, you might want to use your current skill-set in new role that provides more free time but also guarantees you a secure ongoing contract. Or, negotiate flexible hours right where you are. Ask yourself if you would be as eager to leave your current role if it was a temporary means to an end to facilitate your career change, instead of your long-term career plan.
What different ways are there to shift to a stepping-stone role, and who have they worked for?
Let's take a look at some real-life examples of things you could do.
1. Move your current skill-set to a less stressful position
Jeff was working as a GP. He knew that he wanted work with less stress, and to create a business of his own that would make a difference. He researched flexible opportunities to use his medical skills and moved into a freelance role providing medical tribunal exams. By getting away from a draining full-time role and using his skills in a well-paid freelance capacity, Jeff had the free time and headspace to start testing his entrepreneurial ideas without stress.
2. Negotiate for a flexible role right where you are
Sonia was working in an advisory role at a university careers service. She was eager to move into work as a trainer, but didn't have the experience she needed. Sonia couldn't afford to move to a lower salary, so she negotiated with her current boss to move to flexible hours, working longer hours some days in order to have mid-week time off. She used her flexible schedule to network and develop contacts in her chosen field, and build the volunteer experience she needed for her CV / resumé.
3. Make a radical change to how you live and work
Antonio was working full time as an editor. He loved cooking in his spare time and wanted to have his own market stall business selling homemade jams and preserves. He and his wife were both adventurous and happy to make a radical change to their lives together. They gave up their flat and moved into a much cheaper live–work space where Antonio could cook professionally from home. As he built his new business, Antonio worked as a freelance editor from home to support the family while the jam making income grew.
4. Be happy with a fun, lower-paid role that tides you over
Marta was working as a business coach in her spare time, and found that while she remained in her full-time HR role she didn't have the time or headspace to build up her coaching business to the income she wanted. Marta had savings she could lean into, so she quit her job and worked three days a week as a waitress for a year while she built up her coaching practice. As Marta had already started her business while in full-time work, and considered the coaching to be her main career, she was happy to take a part-time job that was simply enjoyable, stress free, and topped up her savings.
As you can see from our four case studies, there are ways to make this kind of transition that are adventurous and also ways that keep more security in place.
What risks are there with a stepping-stone role, and how can you avoid them?
There are potential pitfalls to the stepping-stone role, which are important to know about to prevent them impeding your own career-change journey.
Flailing
Moving into a temporary flexible role can feel quite radical and risky for some people, particularly if you're used to being on a more linear, stable career path.
It will be important for you to create a sense of security in new ways. For example, aim to secure a stepping-stone role that you know you can stay in as long as you need. Plan a timescale for your transition. And put a structured plan of attack in place for how you're going to use your new free time to advance your bigger-picture career change plans.
Hovering
Once you're out of your current role, your career change journey will just be beginning. If everyone you know is still in their 9–5 roles, leaving you spending a lot of free time alone, it can be easy to get demotivated and let days and weeks slip by in inaction.
Make a point of creating a support team to help you stay motivated. This could be a professional coach, other career changers who understand what you're going through, or friends and family.
Family confusion
It's easy to worry that your career change will affect the people closest to you.
Plan the conversations you want to have with your loved ones to give them a place to voice their concerns and to ensure you create a transition plan that works for all of you. Explain to them the reasons behind your move, and get them on board as your support team to help make your stepping stone as temporary as possible.
Status-stalling
Many flexible roles don't provide the status and recognition you may be used to in your current career. If these elements are important to you, be prepared for the fact that you may 'stall' in your day job, waiting for a more high-status stepping stone to come along.
If this is you, you may choose to only consider flexible roles that feel high status to you in some way. Or you may want to make the move anyway, using the fear of low status as motivation to keep your career change moving along fast.
Cash-crunch
Finally, look at affordability. A flexible role is designed to create more free time for your continued career transition, so by its very nature it won't provide as large an income as you have now. Look at the budget you realistically need to support you (and your family).
If you have savings or other forms of support, the role you choose may not need to provide as much income. Using savings for six months to get from job A to job B may feel like savings well spent.
If you are dipping in to your savings, be sure to have a plan in place so that you use them well instead of drifting.
If you are financially stretched, look at ways you may be able to lower your household costs for the transition, and research flexible roles that provide as much income as possible. Or, consider full-time roles with flexible hours, over part-time positions. These may not be immediately obvious, but can often be negotiated through discussion if a company is open to the idea.
Using a stepping-stone role to create more free time for your career transition may be the perfect solution for your all-or-nothing thinking. Suddenly, you can create a temporary transition space. Room to breathe. Freedom to stretch and learn and experiment and build on your ideas. And maybe, just maybe, your ideal career and lifestyle.
Could a stepping-stone role work for you? What could you do to give yourself some headspace and freedom in your career change? Let us know in the comments below.