"My enthusiasm had dwindled. It wasn't the job I'd first started."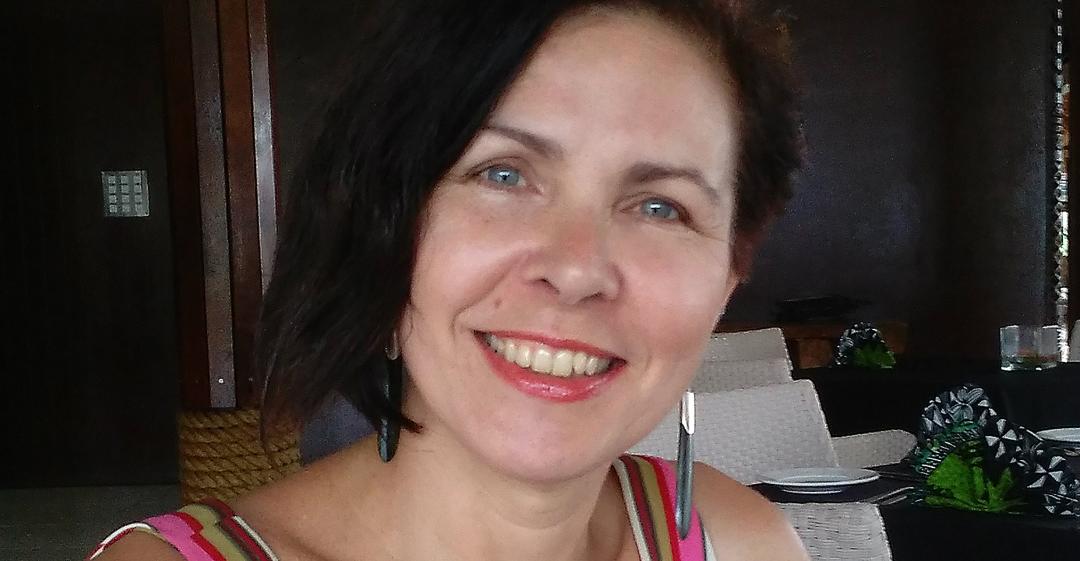 From Newspapers to Design Consultancy
What work were you doing previously?
I was a graphic artist for the newspaper media industry.
I worked at various papers, including The Age, The Guardian, The Mail and The Telegraph, until I eventually I settled at Today newspaper. When Rupert Murdoch closed it down, I got transferred to The Sun.
At The Sun, I was Graphics Editor for 20 years. I trained and led a design team to produce infographic content for print. As the media landscape changed from being print-centric to digital, I developed the team in providing digital and motion graphics for The Sun online and their various native apps.
What are you doing now?
I run my own company, KG Design Consultancy.
I moved back to New Zealand two years ago and decided to change my career. That's when I heard that mobile video consumption was expected to increase tenfold by 2020. I thought of all the marketers that would need to produce more video content, so I decided to start my own company, and that's how KG Design Consultancy was born.
I help small businesses and organisations to communicate their ideas, by creating shareable, consumable video content to connect with their audience.
I also work part-time, three days a week, for New Zealand's most prominent online news outlet, Stuff.co.nz, as a Digital Designer. I team up with journalists, developers and user experience designers to create illustrations, designs, infographics and motion video for in-depth, long-form articles.
How did you feel in your work before you decided to make the change?
The newspaper had begun to lose its domination within the mass media market.
So, for around five years, many changes had occurred within my team to try to address this steady decline. As a manager, I had overseen many facets of these changes.
I found them soulless and soul-destroying for all concerned.
Why did you change?
My enthusiasm had dwindled.
It wasn't the job I had first started, and I didn't enjoy the high level of stress.
I decided that when the right moment came along, I would leave. I felt like something better was on the horizon.
When was the moment you decided to make the change?
When a new editor took over the paper, and voluntary redundancy came along, I felt the time was right to make my move.
I left The Sun and returned to New Zealand to start something new.
How did you choose your new career?
Firstly, I had an idea to animate the news.
This was because I felt the current offerings on social media weren't cutting it. 'NewsAnimate' would be an alternative media outlet that produced highly engaging, real news content designed for quick, on-the-go consumption. But this would have been a massive undertaking, probably requiring many resources. So I decided to put that on hold, at least for a while.
The way people consume media is always changing, including the way we watch videos, so that's when I realised I could focus on creating videos which are designed with current viewing habits and expectations in mind. I wanted to keep things simple, clear and focused, to help businesses to stand out amongst the noise of social media.
That's why I decided to start KG Design Consultancy.
Are you happy with the change?
So far, I'm enjoying every second of my adventure.
It's been an incredible journey, and I have met loads of interesting people along the way. I've learnt a ton about being an entrepreneur, and in turn, it's allowed me to get to know myself better.
Granted, sometimes it's tough, and I think to myself "What am I doing?" but overall, I'm delighted I made the change.
What do you miss and what don't you miss?
I think the thing I missed the most when I first left my job was the camaraderie of my workmates.
I'd worked so closely with them and experienced so many highs and lows together; I felt like I was missing members of my family.
I don't miss the late nights and working on weekends. Although, having said that, I still work weekends on my business, but now it's because I choose to do so!
How did you go about making the shift?
When I first had the idea to start a business, I attended a course with a company called Mum's Garage who teach people how to turn business ideas into companies that make money and have a positive impact.
That helped me to hit the ground running.
I knew the key to succeeding would be to network, so I went to as many meet-ups and events that aligned with what I was doing and spoke to as many people as possible, exchanging details.
I also joined a co-working space at Enspiral Dev Academy – NZ's premier full-immersion web-development school – and met a great bunch of start-up people. Learning of their journeys and understanding more about precisely what's involved in setting up a business, and just how hard it can sometimes be, has been inspirational.
What didn't go well? What wrong turns did you take?
For the first eight months, things were ticking along nicely.
Then Christmas and New Year came around. Here in New Zealand, many businesses close down over that period for three weeks or more. Not only that, but because it's summer, many people also take their holidays around this time as well. So, things start to wind down at the beginning of December and don't ramp up again until late January.
I had no work for two months.
In the New Year, I got a call from a person I knew through the shared working space which was working for an insurance company developing a product for them. They wanted some explainer videos created, so I went and had a meeting with all concerned. It seemed to be OK and would be a good earner if it came together, but as time progressed it became apparent it would not.
Unfortunately, I got caught in between two parties who couldn't agree with each other as to how to proceed. I lost another month of work.
How did you handle your finances to make your shift possible?
At first, I used my redundancy money to self-fund setting up my business.
Then, I then got a part-time job which helps to pay the bills. Some months are better than others, but if I'm short, I dip into my savings, which has been a life-saver.
What was the most difficult thing about changing?
I'd say leaping into the unknown.
It takes a certain amount of faith and a ton of guts.
Holding your nerve when things aren't going to plan and when you feel like throwing in the towel can be difficult, especially when finances come into play.
Not knowing how things are going to pan out in the long-term is frightening at the beginning, but it does fade, with time.
What help did you get?
I met up with an old friend who'd been through a similar experience, involving going back to university to get a business degree and setting up her own company.
She gave me loads of advice and helped me to formulate my idea, so it became more defined.
Natalie, from Mum's Garage, has also been inspirational and is fabulous at talking through ideas. I would highly recommend the courses she provides to anyone who has a business idea and wants to quit their job to start a business.
What resources would you recommend to others?
When I first returned to New Zealand, I spent three months upskilling by doing courses online – through Udemy, Skillshare, Linkedin Learning, Lynda, and Codecademy.
These helped me to become more confident using some programmes I knew I needed to master to further my career.
Mum's Garage has some free resources online which are designed to help you work through the various components of building a valuable company.
As a designer, I always need inspiration, so I use Muzli – it can be downloaded as an extension in Chrome so every time you open a new tab, it offers you design stories and examples.
Another fantastic design resource is Dribbble, which helps me with ideas for animations.
What have you learnt in the process?
I've learnt so many things during the last two and a half years since leaving my job, but the main takeaway is that I know much more about myself.
I've realised my greatest strength is in networking and connecting with others. I've learnt I'm adaptable and that it's important to listen and learn before making decisions. But I've also discovered that in business you need to have a tough skin and not take things too personally.
What would you advise others to do in the same situation?
Although this process has not been without its pitfalls, I would advise anyone who is thinking of changing their career to go for it.
Life is way too short and if you can see a way out of a dead-end job then make plans to manoeuvre yourself out of there!
I would suggest, before leaving your full-time job, doing some background research into what it is you'd like to do so that you can be sure of what you want to pursue. I would also highly recommend having some money behind you as it takes a while before you start earning any money at all. Maybe start by making your idea a side business first and see how it goes.
To find out more about Kathryn's business, visit www.kgdesignconsultancy.com.
Also, find out more about Mum's Garage in our Retraining Directory.
What lessons could you take from Kathryn's story to use in your own career change? Let us know in the comments below.