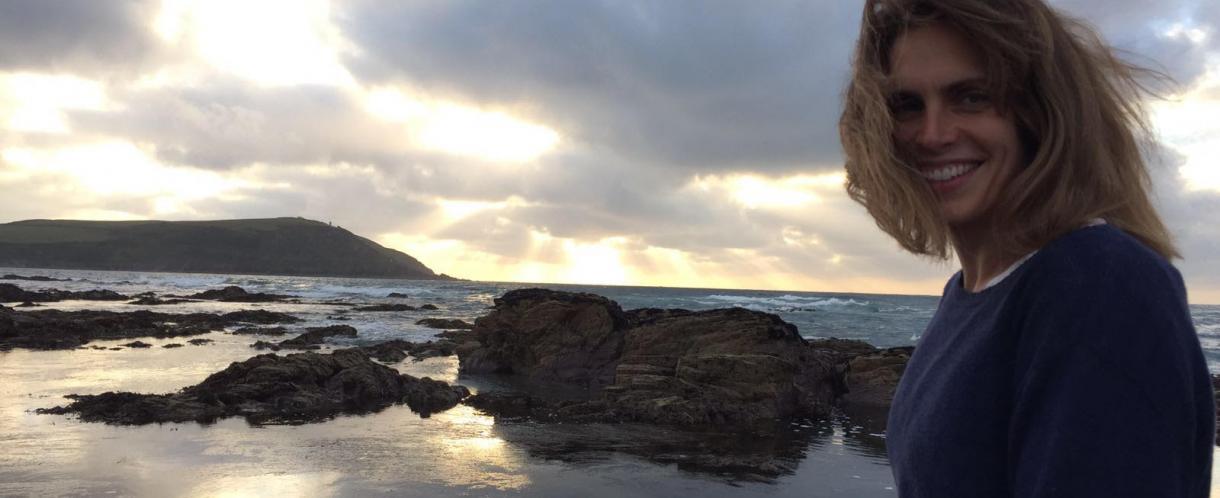 If you're stuck in your shift, the first thing you need to change is probably not your career. It's your mindset. Here, Launch Pad graduate Alison shares how her new perspective helped her leave a well-respected but unfulfilling career for something that feels just right.
For 12 years, I was a lawyer in private practice.
To be honest, I was getting along fine, but I certainly didn't feel like I was put on this planet to be a commercial lawyer, and I wasn't fulfilling my potential.
That was beginning to grind me down.
I could see my husband was getting a lot more out of his work than I was. He was really busy, but he was finding it energising. I was also really busy, and I really wasn't enjoying it. I had a complete lack of energy, and trying to juggle our two kids, my career and my husband with his work… it was just too much.
I'd been mulling over options for a long time, but I never came up with anything that felt like a goer.
My ideas all felt like pipe dreams – a bit silly and unrealistic.
And even if they were realistic, I would't have known how to go about making them my career. I was considering training to be a Pilates instructor, and opening up a coffee shop, but thoughts like those felt a bit cliché.
I now get why I was attracted to them – there are elements in those ideas that feature largely in what I'm now doing: the themes of wellness and people… so they make sense with hindsight, but at the time they felt badly thought out.
And I just didn't have the confidence or the skills to break it down, understand why I was attracted to those things, and evaluate whether or not they'd really make me happy.
I felt a bit lost, to be honest.
And then I read about Careershifters in one of the weekend newspapers, and I thought, "I have to get in touch with these guys…"
Funnily enough, my mum sent me a message that same day, having seen the same article, saying, "You have to get in touch with these guys!"
I went to the site and read the Success Stories and articles, and I realised I wasn't alone.
There was a whole community of people working on this subject, I realised, so I wasn't a bad person, and my career wasn't a failure; it was just a mismatch.
I was just in the wrong career.
And that felt like a huge weight coming off my shoulders.
It woke me up to the point where I stopped thinking, "If I just wait a bit longer, it'll get better".
I realised it was never going to get better. I had to do something.
To be honest, I was a bit overwhelmed by the thought of actually making a career change.
It seemed like too big a task to tackle and I didn't know where to start.
So, when I signed up to one of Careershifters' online calls, it felt like a revelation. It was one of those situations where you just stumble across exactly what you need without having known that was what you needed.
Within ten minutes, I knew this was going to be life changing. And the Launch Pad really was life changing.
I loved the idea that the process could be enjoyable.
I'd never imagined the process of changing career could be anything other than a difficult slog with a lot of navel gazing.
But it became clear that yes, the course was going to be a commitment, but one that was really fun and valuable.
And I had this incredible community to help me.
The group was so supportive; it was a big melting pot of backgrounds and influences and perspectives, and it popped me out of the bubble I was in. I don't know if I'd have been able to do what I did without the group. I'm a very self-motivated person, but I would have struggled to do everything I did on my own.
My biggest turning point on the course was when I started the Connecting section – when we learned how to reach out and connect with people who could help you with your shift.
I suddenly had this influx of people all getting in touch and offering their help and ideas and support, and one of them was a woman I'd known for 16 years.
She looked at what I'd written in my email, and she said: "You know, everything you've described here sounds a lot like Business Psychology…"
It felt like a jigsaw puzzle clicking into place.
I spent the next year using the techniques we learned to test and check my ideas and plans.
I got out there, doing my best to be curious and inquisitive, exploring the industry. I spoke to as many people as I could – friends, friends of friends, friends of my husband's colleagues… I spoke to over 50 people in the space of a few months.
I feel very lucky.
I never thought I'd get to the end of the course and come out with such a firm idea of what I wanted to do.
Not everyone was in the same position as me, but I came out with real clarity on something I was excited about.
I'm now preparing to start a Master's programme in Business Psychology at UCL in September.
I always thought I'd be so worried about leaving a profession that I'd worked at for 12 years… but I've not once doubted that I'm doing the right thing.
I'm so clear I'm headed in the right direction, and I know if I ever do wobble, I have all the tools of the Launch Pad at my disposal to reinforce the fact that I'm on the right track.
I've always loved studying – I even loved law school, and I don't think many people say that! My biggest concern was how to make it work financially and choose the university, and that was basically just a question of timing.
I remember being in awe of people who changed career: it seemed so bold and confident and brave. These days people are saying that to me – "Gosh, how brave you are!" – but now that I've done it myself and have all the reasons why, it feels like the most natural thing in the world.
The biggest thing I learned was about being open and inquisitive.
Instead of questioning everything, I started to just give things a go.
It takes commitment to be more of a 'yes' person – there are only so many hours in the week(!), but I learned something from every conversation, every action I took, even actions that turned out not to be quite as productive as others.
So much of making a successful shift is about making it clear to the world that you're interested, and eager, and open to playing. Once you start doing that, people just pop into your life and offer you amazing things.
For example, I signed up to go to a conference run by the Association for Business Psychology.
It was slightly intimidating being there, surrounded by all these business psychologists while I was still a lawyer, but within about ten minutes I'd met this woman in the hallway who had transitioned herself from banking. She was also doing her Master's, and she'd volunteered to help organise the conference. The next day I got an email from her saying, "I think you should join the team to organise next year's event."
We're now three months into organising the conference, I'm having a great time, and it's been a huge asset to my Master's applications.
I've asked people to work-shadow them, I've connected with strangers on LinkedIn who ended up being great assets and supports… before the Launch Pad I just wouldn't have had the confidence to do things like that.
I've learned that career change isn't a simple problem / solution equation.
This is a journey, and there's no one right answer.
I'm always going to be checking in with myself now to see what I need to tweak and adjust about my career.
I don't really know where this is going to take me, but I'm fine with that.
I'm going to continue changing and evolving, and my work will too.
Alison took part in our Career Change Launch Pad. Find out more and apply here.