YOUR CAREER CHANGE TEST RESULTS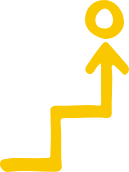 Congratulations for taking the test
Your full report will be landing in your inbox shortly. Ahead of then, here's a 20-second summary of the most important points.
You're at the 'Shifter' stage
Congratulations! As a Shifter, you've made your initial shift into more fulfilling work. Your primary question is 'How can I succeed in my role?'.
You feel excited about your career, relieved to have made the shift, but also daunted by how you can do your best in your new situation.
The biggest mistakes to avoid making is believing your shift is over
Though you've made a successful shift, there's still more for you to do. In particular, you'll need to overcome imposter syndrome, which might otherwise drain your confidence and effectiveness in your new career.
You'll also need to be careful about burning bridges with what you did previously, and you'll want to avoid sharing an outdated personal brand, which may prevent you from attracting the next exciting opportunities.
Building your shift capital is your next most important step
Stay curious; build the experience and connections you need not just to succeed in your current role, but also to position yourself for future ones; and, given you've now made a successful shift, you might want to consider helping others with theirs.
If you'd be open to inspiring others with your career change story, we'd love to hear from you. Drop us a line at hello@careershifters.org.