YOUR CAREER CHANGE TEST RESULTS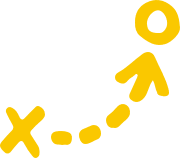 Congratulations for taking the test
Your full report will be landing in your inbox shortly. Ahead of then, here's a 20-second summary of the most important points.
You're at the 'Pathfinder' stage
As a Pathfinder, you're clear on what you want to do next, but you haven't yet made your career change. Your primary question is 'How do I make my shift?'.
You feel excited about having some direction, hopeful about what an updated work situation can bring, but also daunted by fear and the practical realities of making the shift.
Your biggest mistakes to avoid
Though you know where you want to be going, you'll often find yourself in paralysis, particularly around your fears about finances and what could go wrong in your career change.
And when it comes to finding work, the biggest mistakes are focusing too much on yourself and using ineffective channels to find work. Both of these will hamper you finding opportunities and could leave you unable to make the shift.
Your most important next steps
Tell a compelling new story about yourself, get close to the people and organisations you care about, and proactively offer what you do really well to them.
If you'd like some help with these from a range of subject matter experts, we have a series of on-demand and live masterclasses covering multiple topics in this space. Click on the button below to find out more.