"I feel extremely grateful that I'm able to live the life that I've always dreamed of, after years that felt incongruous."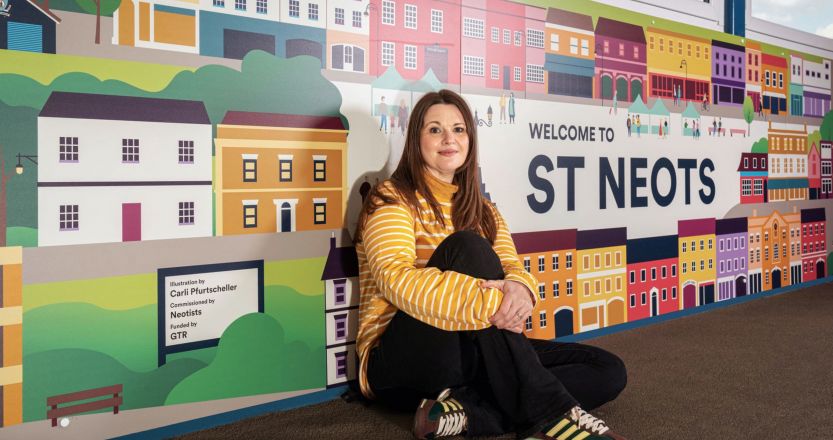 FROM LOGISTICS TO GRAPHIC DESIGN
Why did you decide to join the Launch Pad?
I was totally fed up with my career path.
I wanted to do something creative, but I didn't know how to approach moving into a different job, or what I wanted to do.
So, I was looking for help to move forward.
What were your reservations or skepticism?
I was a bit nervous about spending money on a course initially, but I felt that it was something I'd not tried before and so worth a go.
The information I had upfront from the website made me feel I'd found something that could really work for me.
It really resonated with how I was feeling at the time.
What was the experience like?
I found it exciting and nerve-wracking.
But it was also supportive and really helpful at pushing me to try things and ask questions of myself that I'd not considered before.
What were the highlights?
It was really useful to hear the stories of other people who had changed careers – and felt better for it!
It was important to test things in the real world (and not just in my head).
I don't think I would have pushed myself to try things without the support and ideas that the course brought.
What were the toughest moments?
Probably when I had rejections for things when I'd put myself out there.
I asked a local gallery if I could exhibit some work and they said no – but they did give me some constructive and kind criticism.
Also, when I contributed to an article about making my shift, I received a negative comment along the lines of 'what makes you think you have the talent to change careers' (to an artistic job). This really knocked me and made me question myself at a time when I was feeling very sensitive.
I think the whole process can at times make you feel quite vulnerable, as you're stepping into the unknown.
What was the impact on you?
I changed from a 9-5 as a logistics manager to going back to university and getting a BA in Graphic Communications.
I then worked for two years freelancing as a graphic designer.
What on the course led to that impact?
Seeing from the examples of other peoples' stories that it was possible to change my life.
If they could do it, why couldn't I?
Doing exercises that forced me out of my 'comfort zone.'
Where are you now in your career?
I've decided to make another change!
I've just started an MA in Children's Book Illustration.
How do you feel about your work?
I feel extremely grateful that I'm able to live the life that I've always dreamed of, after years of living a life that felt incongruous with who I am.
I feel like I've given myself permission to do what I really want to do and am in control of what my life looks like from day to day.
What's been the impact of your shift on your wider life?
Wow so many things… I'm healthier and happier than I've ever been.
I'm a different person to who I was six years ago.
I feel as though I've taken the reins and have remade myself into the person I always wanted to be.
My mental health is so much better and I'm generally calmer.
I still get stressed though when there is a deadline looming or frustrated when I'm unhappy with work I've produced!
What would you recommend to anyone considering the Launch Pad?
I would say if you're on the fence just go for it.
If you really want to change your life, you've got to stop doing what you've always done and try something different.

Photo © Maciek Platek
To find out more about Carli's work, visit carlipfurtscheller.com.
You can find full details about the course on our dedicated Launch Pad page.