How To Find The Work You Love (Intensive)
Our London one-day career change workshop
The world's longest-running career change workshops
Get a deeper understanding of yourself, your drivers and talents
Develop tangible ideas and possible options for your new career
Get individual attention (a maximum of 12 people take part)
Get a whole day to hatch an escape plan to start doing the work you love








Join a focused, practical and inspiring workshop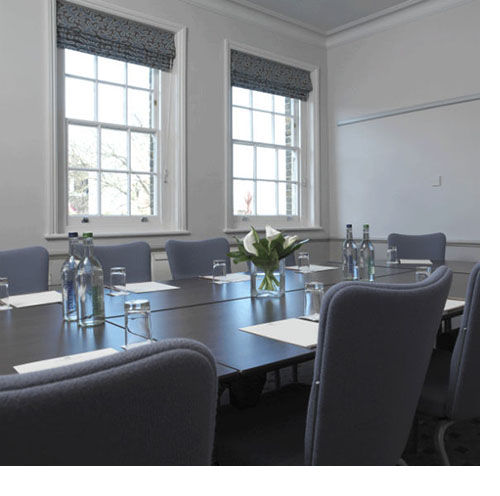 Set in a beautiful location in Richmond, London and working with a small group of 12 people, this is an intimate, high quality experience. With a whole day to focus on you and your work, it's a chance to take a step back and really get stuck in.
Experienced career coach Sonia Lakshman or Sarah Dawrant will take you through an expertly conceived process designed to help you deepen your understanding of yourself, then building on ideas and options from there. We'll also look at how to get past common blocks and challenges and pack the session with advice on how to get going, create opportunity and open doors.
You'll find yourself in the company of people who feel like you do and want to finally change that. Because of the small group size you get individual attention to get past the areas where you personally feel stuck. There's pre work too, to help you prepare and get the most out of the day.
If you've never really known what you've wanted to do, that you've fallen into what you do now, that you once loved your work but don't anymore, or that you're just not quite sure how to make the life you want happen – but desperately want to – you need to be at this workshop!

Excellent on all counts. Really useful, great energy and style, fantastic value for money. It's given me real direction, has helped me process my thoughts, and realise what I want and the opportunities I have."
Lindsay Hargreaves
- Teacher
We break down the two big work questions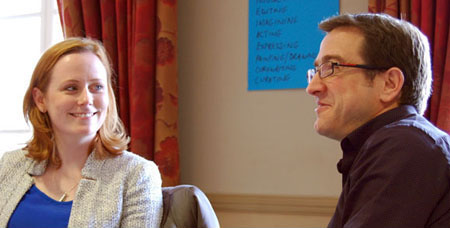 ​WHAT is it that you really want to do?
and
HOW do you make it happen?
We work intensively – there's prework so you're prepared; then we delve deeper, help you understand yourself and your needs, explore options and ideas and establish next steps; as well as getting thorny subjects like cash, confidence and confusion off your chest and on the table. You leave with clarity, inspiration, workable ideas AND with an action plan to get on with.

Superb at the 'What next' bit. I've got some really useful key things to action immediately. Ten out of ten!"
Annette
- Senior Management Consultant
Here's the itinerary for our intensive workshop
Pre-work sent to you ahead of the workshop
10.00 - 1.00 Get Clarity – Self analysis and understanding
[Break for coffee at 11.30]
1.00 - 2.00 Lunch
2.00 - 4.00 Get Thinking – Generate ideas and options
[Break for coffee and cakes at 3.15]
4.00 - 6.00 Get Going – Next steps, know how and success strategies
All materials are provided including refreshments (except lunch, you can bring sarnies or eat at the restaurant or the local cafes) and the price is fully inclusive. The workshops are held at a beautiful venue in Richmond, London. Richmond is well connected both by tube (district line), Silverlink and British Rail and there's parking if you're driving.
Full details for the day will be sent to you at the time of booking.

I'm amazed and happy at the result from the workshop. I love the idea I've come away with as it simply encaptures all my interests / talents / ideas into one concept and that is what I've been struggling with for so long. Now I wonder why I hadn't thought of it before!! Thank you!"
Hannah
- Creative Educator
You'll be in the hands of one of two top career coaches, Sarah Dawrant or Mary Wilson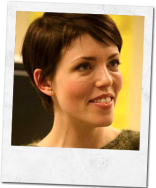 Sarah Dawrant, BA, CPCC is a dynamic and experienced career coach with a talent for understanding and developing people's unique gifts, strengths and abilities.
Sarah works with clients around the world to support them in figuring out what they are innately best at, as well as how to set boundaries and be more assertive in the workplace. As an interactive trainer, she has run workshops across Canada, the UK and Europe for blue-chip companies, charities and governments.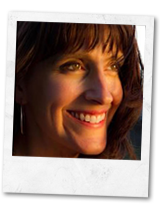 Mary Wilson
Mary Wilson, MA Cantab, has an enduring curiosity in what makes people tick at work and why and how they choose the jobs they do.
With a background that spans the charity and educational sectors, she now specialises in career transition. She also enjoys working as a musician performing, teaching, composing and facilitating community music projects.

Sonia, I had a great big smile on my face when I got off the train to arrive home on Saturday. I've not felt so spontaneously optimistic for a long time. Thank you for a great workshop!"
Louise
- Commerical Manager
This workshop will be best suited to you if you...
Want to love your work and are positive and motivated to sort out the status quo
Aren't sure what you really want to do next, or have some ideas and don't quite know how to choose
Are currently working or not long out of the workplace (this is not a job search workshop and will not be ideal if you are under urgent pressure)
Understand that we don't give you the answers, but provide you a structured, practical and inspiring way to explore your options
Are ready to get stuck in!
Here's what people have to say about the day...

The workshop shook things up in the best way possible. I came out excited, inspired with a sense of purpose and motivation. Perhaps most importantly for the long-term I felt as if I knew myself, my aptitudes, strengths and what would fit me best career-wise infinitely better than when I had arrived that morning. Cannot recommend it highly enough!
Sophie Holborow
- Psychotherapist

It was the perfect location, ideal atmosphere and a small group of like-minded people. My life has become an exciting journey since. I started meeting so many interesting people which seemed unreachable before. I am looking into creating passive income streams, so I can spend more time making my dreams come true. It's been amazing to say the least.
Eddie Porucius
- Construction

Thanks for hosting a great workshop. Loved it. It was a great opportunity to step back from the day job and give serious thought to my own aspirations for a work/life balance. I found it empowering , stimulating and supportive. I now face the small challenge of putting some of my new thoughts into action!
Roisin Coleman
- Service Delivery Manager

Really, really, really good."
D Johnson
- Management Consultant

I have known for a very long time that law wasn't for me, but I really wasn't sure how I could move on. You tackled the issue from the "bottom up", looking at who we were and building it from there. I didn't expect to come away from it feeling so positive and inspired. In the past I felt scared to take my head out of the sand and look at the problem in the face, but now I feel really excited about the future. I really can't thank you enough.
Life's too short to waste in the wrong career — come to this workshop and kick start your career change into action!

The workshops are held at a beautiful venue in Richmond, London. Full details for the day will be sent to you at the time of booking.

I'm a natural cynic and therefore always approach these kind of events with more than a pinch of scepticism. However on this occasion I genuinely feel I have clarity on what I'm good at and the avenues I can explore. Great pace, great activities, lots of inspiration. I've thoroughly enjoyed the day – 10 out of 10 – thank you!"
Frequently Asked Questions
Who is the workshop for?

Anyone who feels stuck workwise and isn't sure what next. You may have fallen into what you do now or never really known what you wanted to do. Maybe your industry has changed or your commitments have. It could be that you used to enjoy what do but don't anymore. Or you're returning to work after a break and aren't sure where to begin. Participants come from a wide range of backgrounds and ages, all with one thing in common: they all really enjoy want to enjoy what they do. You'll find you're not alone – and, in fact, in stimulating company.
What can I expect to get out of the day?

It's an intensive session and we pack a lot in! You'll have the chance to step back and to really address your working life in a focused way. You leave with a deeper understanding of yourself, freshly thought through ideas and options, equipped with how-to's, first steps and connections. Plus lots of stimulation, inspiration and motivation.

I'm not sure whether to come to a workshop or to have one to one coaching?

It depends what you are trying to address. If, for example, you need help with a job search or how to position yourself in the work marketplace, one-to-one coaching would be preferable (see 'Coaching' link at the bottom of this page for more information). Or, if you also want very concentrated individual help then again one-to-one would be a better solution. Otherwise this workshop will really help you address things, get clarity and get going. If you later feel you'd still like one to one to hone things further and to help you get there, you can always bolt on individual coaching too.

Is the venue wheelchair accessible?

Yes, it is. We do need to make special arrangements, so please let us know at the time of booking.
I can't make the date listed. What are your next available dates?

Please click the 'Can't make this date?' link underneath the booking button on this page and leave your details. We'll then let you know as soon as we publish the date of the next workshop.

Do you have a reserve list?

No, we don't. To be honest, we don't normally have drop-outs. If you want to be guaranteed a spot, we recommend you book on the next available workshop shown on this page.

Do you run the workshop on other days?

We run these workshops on Saturdays. If you'd prefer a weeknight, take a look at our London evening workshop, which is currently priced at £85, or if you'd prefer to to take part online, take a look at our online workshop, which is currently priced at £65.

Do you run workshops outside of London?

Yes, we run an evening workshop in Manchester. We also run an online workshop, which you can take part in from home.

Can I buy a ticket on behalf of someone else?

Yes. Just buy a ticket as normal and write to us at hello@careershifters.org to let us know the name of the person you've bought the ticket for. We'll do the rest!

I have a question that isn't listed here. Who can I ask?

Just drop us a line at hello@careershifters.org and we'll normally be able to get back to you within 24 hours on working days.

The workshop was particularly good getting to think about specific ideas. I've now got the motivation to do something and the confidence that I can get to the next step. 100% recommended!"
Simon
- Business Development Manager
Life's too short to waste in the wrong career — come to this workshop and kick start your career change into action!

The workshops are held at a beautiful venue in Richmond, London. Full details for the day will be sent to you at the time of booking.

Excellent workshop and excellent value for money. For the first time I've got a clear idea!"