"It felt like I was caught in a hamster wheel, getting increasingly frustrated."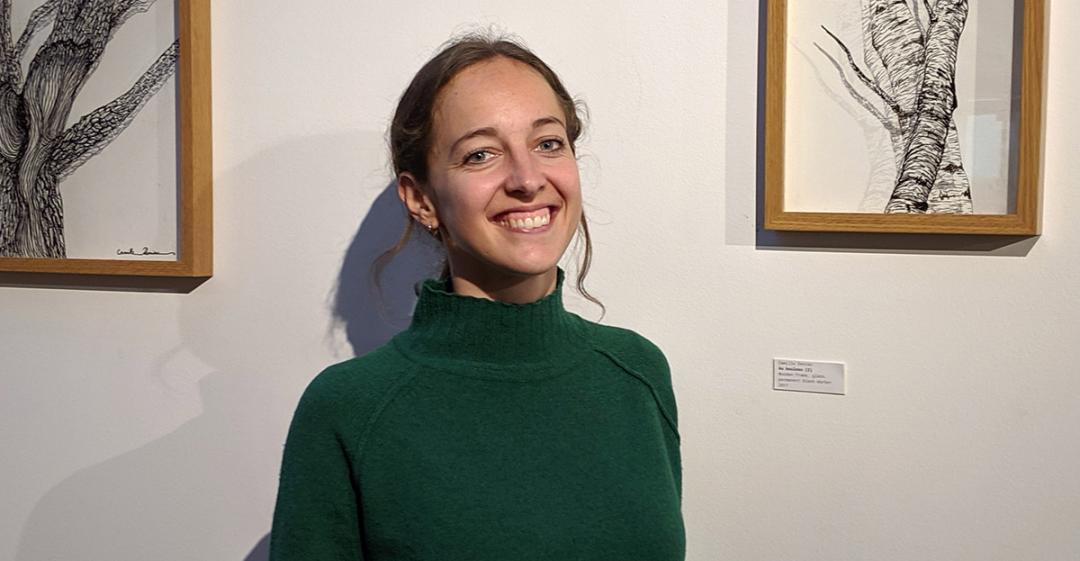 From Digital Marketing to Business Owner (Plus Post-shift Update)
What work were you doing previously?
I worked at Google for almost seven years, as a Sales & Partnerships manager in digital marketing.
What are you doing now?
I am Founder and Director of Project Roots, an online shop where I sell my artwork.
I also have a part-time job on a short-term contract in the Google for Education team.
Why did you change?
Since I started my career, I'd always chased the next 'carrot' without intrinsic motivation or personal happiness in mind.
I was just ticking boxes – a good job, a good company. It felt like I was caught in a hamster wheel, getting increasingly frustrated.
I thought there must be more to a professional life. Inspired by stories of successful entrepreneurs and leaders, I decided to change.
When was the moment you decided to make the change?
Earlier this year after changes in my team, I decided to look for a new role.
I interviewed for a new full-time role in the same company and was offered a position that, on paper, ticked all my boxes, but I really didn't feel excited.
In that moment, I realised I needed to stop chasing what others thought was good for me and focus instead on what really motivated and excited me, which is my creative work.
Are you happy with the change?
Yes, I'm very happy with the change.
I feel a lot more serene and balanced. I feel like I'm expressing my full self building Project Roots and I'm full of ideas and excitement.
Part-time employment is also really working out for me, as it allows me to structure my life and still maintain a dynamic social and professional network. The role is also very interesting, so that helps!
What do you miss and what don't you miss?
I miss being part of something big, and I really miss the teamwork.
I don't miss the feeling of being an insignificant cog in a big machine, and I don't miss the struggle to wake up in the morning to get myself to work.
Mostly, I don't miss my old self: closed, critical and negative!
How did you go about making the shift?
It took me a year.
The year before I made the shift I was not in a good place. So, even though I was terrified of not having a salary for three months, I took a sabbatical.
I invested this time in Project Roots: building the website, making a video, getting inspiration, creating. This helped me to release all my frustrations, face my financial anxieties (and realise I would figure it out) and get excited about life again.
I came back to work ready for a change, but I didn't know what or how yet. The following January, there were changes in my team and this external trigger pushed me to act. I started exploring different options and scenarios for a change, and working on Project Roots is what really excited me.
During the COVID-19 lockdown, I further developed Project Roots and realised that it had so much potential. I had a real vision, a great response from the market and a very long to-do list of things to improve and grow.
At this point, I felt it was the right time to shift, so I decided to rent out a studio space in a creative community.
What didn't go well? What wrong turns did you take?
What is challenging at the moment is setting the boundaries for part-time work.
Shifting from one type of work to the other is still something I'm trying to improve.
How did you handle your finances to make your shift possible?
After working full-time for eight years, like many I'd become very anxious about my finances.
The fear of starting a business and losing the lifestyle I'd built for myself was daunting.
However, after speaking to several founders, I realised few entrepreneurs start off full-time on their business. To secure enough income to pay my mortgage, I decided that starting with a part-time job for six months would be a great way to support my shift.
It felt important to have a side job to reduce stress and feel empowered when starting a business, instead of being overrun by the financial burden. I plan to progressively reduce the amount of days worked as Project Roots sales increase.
What was the most difficult thing about changing?
For my career change I had to spend time in this 'in-between' zone doing exploration and thinking to really build up to a powerful shift.
As an action-oriented person, this was uncomfortable for me.
I also found that self-doubt and maintaining a feeling of confidence and empowerment throughout the process was difficult. It's so easy to fall into the 'little' you and give up.
What help did you get?
I had one-to-one professional coaching sessions once a fortnight for a year.
I can't recommend coaching enough; it made the difference for me. Without this year of working on my purpose, my saboteur voices and building my project, I wouldn't have had the clarity and confidence I had when making the shift.
Most importantly, being supported and encouraged by my partner and my family in the last year has been crucial.
What resources would you recommend to others?
The Artist's Way by Julia Cameron (parts of it were helpful).
Journaling. Writing daily in the mornings helped me work through my self-doubt, generate new ideas, and transform frustrations into empowerment.
Connecting and talking to people who had changed careers. Don't hesitate to reach out!
Also, surround yourself with friends and family who care about you and believe you deserve a more fulfilling career.
What have you learnt in the process?
To not be afraid, and be brave.
All the obstacles I came across were in my head! Understanding this and working through this brought me a sense of freedom and confidence.
There are many ways to make starting a business work financially, I just had to think about what would make it work for me specifically.
What do you wish you'd done differently?
I'm not sure there is anything I would have done differently at the moment.
It feels tempting to say I wish I'd done this sooner, but it takes the time it does and it's hard enough to do a shift altogether.
What would you advise others to do in the same situation?
Be ready to explore your inner world and really face your fears. This is what will get you there.
Get help, talk about it. It's too hard to do alone.
Don't stay thinking and daydreaming about change. Start making / building / exploring the ideas you come up with. All you need is to start somewhere. Where that will take you is a mystery, but it can't be worse than that Sunday sinking feeling.
We caught up with Camille recently to see how her shift was working out, roughly a year on. Here's what she's been up to, and the biggest lessons she's learned.
What's changed for you in your career since we first published your story?
Since you published my story, I decided that I was ready to go full time on my art business, Project Roots.
I'd been doing part-time / short-term contract work. Instead of renewing this contract or finding another full-time job, I decided to leave the corporate world entirely and dedicate 100% of my time to my new business.
It felt like my business was ripe. I had sales and encouraging feedback on my project, and if I was going to take this opportunity, it was the time to jump!
How do you feel about your work now?
I love it more and more.
Every day I learn something new. It feels like I get to solve a puzzle every day and I love it. Every time I'm drawing or painting, making an art piece or a commission for a client, I think to myself – this is what I do for a living, isn't that insane?
I get to do what I love, and get paid for it. It blows my mind every time I have this thought!
What challenges have you come up against since making your shift, and how exactly have you dealt with them?
The first thing that's been really hard for me is not having a structure.
After almost ten years in the corporate world, I got so used to having people telling me what to do, or simply having a structure in place to give me some kind of path or direction. A lot of what I was doing was executing.
Now, a lot of what I have to do is thinking about the strategy and building the structure around me to get me there. This is much harder than I thought.
I've felt lost so many times. I've sometimes blindly jumped into the next thing to execute on my list, without thinking, "Is this the right thing to do?" It's taken me down a few rabbit holes, and led me to a few mistakes.
What I've done to overcome this is work with a business coach and mentor (who's a successful entrepreneur herself) on a weekly basis. She helps me build a short-term and long-term direction and vision for Project Roots.
Another big challenge has been feeling lonely. I don't have a co-founder, I'm alone in this adventure. There is no one to externalise with, share ideas, but also to get energy and motivation from. It all has to come from me and it's been really exhausting.
Mostly, I've been trying to overdo it. In winter, and during lockdown, there wasn't much distraction, so I just worked late to fill the time and try to get ahead. Big mistake! I ended up sitting on the couch exhausted for about three weeks doing nothing.
Eventually I started to process what was going on in my head and came out of this more aware of my limits (especially the mental strain that COVID has put on us), and have now found a much better balance. I've changed the way I approach and prioritise my to-do list; nothing revolutionary, but it's been important, because I'd got carried away.
Brexit has also been a big challenge for my exports to Europe. About 70% of my revenue comes from export, and that means customs duties have really affected me. I'm still in the process of figuring things out! Thankfully, there's a lot of help out there for small businesses with navigating this transition.
How is the financial side of things panning out, and is this what you'd expected?
I made sure I had enough savings to last at least six months.
Because of the various COVID lockdowns and restrictions, there were little spending temptations. Travel was one of my biggest expenditures, as was dining out. Living without this and optimising grocery shopping has just reduced my spending without even trying! A small perk.
It's stressful still, knowing there's an end in sight and needing to pay my mortgage every month after that. Living with that insecurity is both a great motivation to succeed, but also a pressure that is sometimes unwelcome. I've learnt to live in the present moment more than ever and celebrate whatever daily / weekly wins I've had.
In terms of the business finances, what helped me relax a little and see the bigger picture was simply getting my accounting in order. It's helped to see my monthly revenues against my costs and how that's improving. I can't recommend this enough! I'm definitely not paying myself a salary yet, but at least I'm seeing progress which is exciting!
What have you learned, since making your shift?
Going full-time doesn't accelerate the speed at which I progress, more than being part-time. So I'm glad that I started off with part-time work to keep that stability and reduce financial stress.
I now understand that I'm playing a long-term game. Previously I was always thinking in short-term cycles of two to three years max, and now I'm thinking five years ahead, seven years ahead and projecting myself further into the future. It's a marathon, not a race and there really isn't such a thing as overnight success. These were all very difficult things to accept.
Another big lesson from going full-time on my business has been that I've had to completely shift my mentality. I'm not an employee anymore; I'm a business owner and entrepreneur. This makes me think differently and has opened up a huge world of possibilities, connections, etc.
Connecting with some of the amazing and successful freelancers, business owners, and entrepreneurs out there has taught me just how much there is to discover in this world. I'm amazed by the self-awareness that all successful small business owners have. Being an entrepreneur really puts you in front of your fears, strengths and limitations, and you've got to get through all these thoughts every day to progress. Growing a business is a self-discovery journey.
I also recently realised that no one knows what they're doing, that there's no magic formula to starting a business. It's just about taking a series of informed decisions every day, taking risks, trying new things, connecting with people. One thing we all have in common when we start out is that we don't know anything.
Is there anything else you'd like to share?
There is a saying that 90% of new businesses fail. That stat feels like it's just used to scare us off.
The only kinds of business owners I've met so far are extremely persistent, yet adaptable and flexible people who succeed at what they do because they don't give up. They're ready to evolve their ideas, products and business. It really looks to me that if we persist, yet stay flexible, there's no reason we would fail.
To find out more about Camille's work, visit projectrootsart.com.
What lessons could you take from Camille's story to use in your own career change? Let us know in the comments below.