Get clear on the 3 – 5 career themes that you're excited about (whether you have no ideas about what to do next -- or too many)
Learn (and practice) how to test your new career ideas, without needing to risk your financial security
Understand how you can use your skills in different careers
Propel yourself forward with a support network of coaches, mentors and bright, motivated, like-minded shifters from around the world (whether you're a social butterfly or an introvert)
Leave with a customised roadmap for how to move forwards
You're ready to make a change, but you're not sure where to start
On the outside, you have a good career. On the inside, you know there's more to life than this.

You've had enough of waking up and feeling flat about the day ahead. You can't shake the sense that you're in the wrong place, and it's leaving you feeling frustrated and unfulfilled.

You want to create a career that feels good on the inside, rather than just looking good on the outside. You want to do work that feels like "you".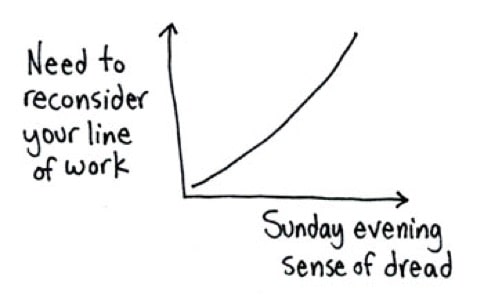 "The course was transformative. It put a rocket under my shift and helped me to identify a career that I didn't previously know existed."
Beth
From Creative Agency to Social Impact Consultancy
There's never been a better time to create a career that works for you
The world of work is radically different from the one you grew up in.
There are hundreds of careers today that didn't exist five years ago; our working lives are lengthening; flexible working is now much more accepted; and technology is fundamentally changing the way in which we work.
This means that it's now much more possible to shape your work around your life, rather than the other way round.
So, whatever you want to be – whether it's an employee, a flexi-timer, a freelancer, a consultant, a portfolio careerist, a digital nomad or someone working in a start-up – there's never been a better time than now to make an active choice about the work you do, and how you do it.
Twenty years from now you will be more disappointed by the things you didn't do than by the ones you did do. So throw off the bowlines. Sail away from the safe harbor. Catch the trade winds in your sails. Explore. Dream. Discover.
The Launch Pad is an 8-week experience to help you get clear on what you really want to do – and how to get there
You'll get:
• A step-by-step, action-focused process: Weekly missions and exercises break you out of analysis paralysis, and give you structure and confidence to know what steps to take. Filter out the ideas that aren't realistic and surprise yourself with ones that are using a set of refreshing, unconventional techniques. You'll kick-start your imagination, test out potential career options, and create opportunities for yourself, right from Week 1.

• Expert how-tos, templates, scripts and exercises: The best techniques, approaches and lessons we've developed over the last decade, neatly packaged and easy to use. Tweak them, adjust them, tailor them to your own situation, and feel confident in the knowledge you're going about your shift in the most effective way.
• A powerful, supportive community: Coaches, career-change experts, mentors, and a small army of people just like you, committed to finding and shifting into work they love. Move through the process alongside others. Bounce ideas around, tap into fresh perspectives and new networks. Reach out for support, inspiration and guidance at any time, and ride the momentum created by the people around you.



I'm in a new career and grinning from ear to ear – I can't believe that I'm actually doing it! Amazing course. Enthusiastic trainers. Highly recommended.
Sarah
- From Project Manager, international FMCG company, to Portfolio Career
It's designed to work around your current commitments – and from wherever you are in the world
The challenge with a career change is fitting it in around everything else you've got going on in your life.
That's why the course takes place online.
And that's why too you can do the activities in your own time, in a way that fits your schedule.

All we ask is that commit to an average of at least 30 minutes a day (3.5 hours a week) to do the missions and exercises in the course.
I can't believe the changes over the past year since the course. My new bespoke catering business went live last week. I wouldn't have had the confidence to go for it and keep with it without the Launch Pad and Careershifters.
You'll follow a proven, structured process
The Launch Pad is designed around three phases of content and coaching:



I couldn't make a change on my own. I needed someone else to help me understand what I was great at, to guide me through the process of transferring my skills to something more meaningful.
TJ
- From investment banking to charity
You'll be in action – and seeing results – from Week 1
Career change is like swimming – it can't be learnt from a textbook.
That's why you'll get straight out of your head and into action.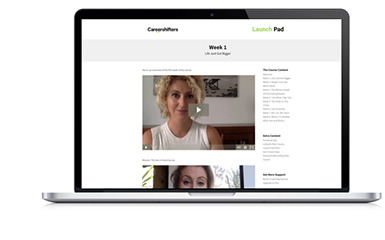 Each week, you'll be assigned a set of Missions and Exercises:
Missions are challenges that pull you out of dreaming and into doing. They'll take you into the real world in a way that's designed to stretch your comfort zone, get evidence-based feedback, and clarity on your direction.
Exercises are more theoretical, 'thinky' challenges. They'll involve answering questions, trying out new ways of thinking and sorting through the uncertainty in your head.
Every Saturday, you'll join the team and your community for a live, online coaching call
Celebrate your successes, pick apart the nuts and bolts of what worked, and learn from the experiences of others
Share your challenges and obstacles, get short, sharp bursts of coaching from the Launch Pad Team, and leave knowing exactly what to do to overcome your blockages
And in-between, you'll work through the week's tasks with the support of your community
Share ideas, questions, challenges and resources with your fellow Launch Pad participants in a buzzing secret Facebook group
Through a lightbulb moment in Week 3, the course has given me absolute crystal clear clarity about what it is I wish to pursue as a career.
Find work you love, faster

You'll join a group of bright, motivated Launch Pad participants across the world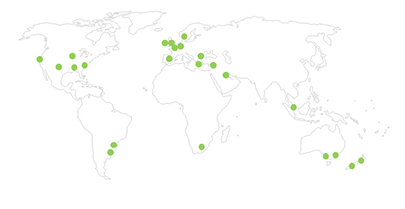 Launch Pad participants are project managers, teachers, administrators, designers, bankers, mothers, fathers.
And they come from 28 countries around the world.
The one thing they have in common?
They're committed to doing what it takes to make a shift into fulfilling work.
The course IS for you if you are:
Willing to think big, take action, and push the boundaries of your comfort zone
Able to commit a minimum of 3.5 hours a week (or an average of half an hour a day) to the process
Excited at the thought of being a positive, supportive member of the Launch Pad community
The course is NOT for you if you are:
Expecting to sit back, relax, and be given your dream career on a silver platter, without investing time and energy yourself
Under significant financial pressure, or struggling to make ends meet
Particularly emotionally vulnerable at present (if this is you, please get in touch with the team at

[email protected]

before you decide to register)
Here's what Launch Pad participants have said

I'm in a new career and grinning from ear to ear – I can't believe that I'm actually doing it! Amazing course. Enthusiastic trainers. Highly recommended.
Sarah
- Project Manager to Portfolio Career

Movement, action... at last! Getting from the stuck phase into the 'doing' phase, just feeling I'm making progress in some direction has been massively beneficial. The course delivered more than I expected. All too often courses are sold with certain aims in mind, but this one actually delivered.

Today I finished my first week at work in my new job! A big thank you to you all for the advice and amazing support that has come from this Launch Pad group over the last year.
Samantha
- Section Manager to Expedition Coordinator

An eye-opening, challenging experience that will give you the tools to understand the work that suits you. I'm not sure I've ever made a better financial investment than for this course!
Dan
- Project Manager to Portfolio Career

"After applying what I learned on the Career Change Launch Pad, I've secured myself the job I wanted in the company I wanted. Never dreamed it would come true!"
Nicky
- From redundancy to Account Manager

If [my wife and I] had somehow had a crystal ball back when I signed up that could fast forward to now, and if we had been allowed to see the change in gear and mindset that I would get out of the course, then frankly we would have probably been happy to pay four or five times what we did, such is the value.
Jamie
- Accountant to Adventure Company Owner
The course starts this Saturday 3rd June and runs until 29th July
Our kick off call is 10.00am UK time, Saturday, 3rd June.
The coaching calls will be held as follows (all UK times):
Week 1: Saturday, 10th June, 10.00am-11.00am
Week 2: Saturday, 17th June,

10.00am-11.00am

Week 3: Saturday, 24th June,

10.00am-11.00am

Week 4: Saturday, 1st July,

10.00am-11.00am

Week 5: Saturday, 8th July,

10.00am-11.00am

Week 6: Saturday, 15th July,

10.00am-11.00am

Week 7: Saturday, 22nd July,

10.00am-11.00am

Week 8: Saturday, 29th July,

10.00am-11.00am

(FINAL CALL)
We'll also be running these extra calls (all UK times):
Get It Done Day 1: Saturday, 24th June - 9.00am-5.00pm
Get It Done Day 2: Saturday, 15th July - 9.00am-5.00pm
LinkedIn Q&A Session: Saturday, 8th July, 2.00pm-3.00pm
Transfer Your Talents call: Saturday, 22nd July, 2.00pm-3.30pm
Can't make one or more of the calls? We post recordings within 24-48 hours on the Launch Pad site, so you'll easily be able to catch up. Also, for all calls, you'll be able to submit questions ahead of time, whether or not you end up taking part.
Take part at no risk
We've put hundreds of hours into creating the Launch Pad and we stand 100% by the impact we believe it can make on your life.
That's why we've included a guarantee. If, within the first two weeks of The Launch Pad, you decide you'd rather not continue, we'll refund you the cost of the course. No questions asked.
And whatever you decide, you'll get to keep the (£75) Talent Dynamics profile test that comes with the course.
"The course was transformative. It put a rocket under my shift and helped me to identify a career that I didn't previously know existed."
Beth
From Creative Agency to Social Impact Consultancy
The course starts this Saturday 10th February and runs until 7th April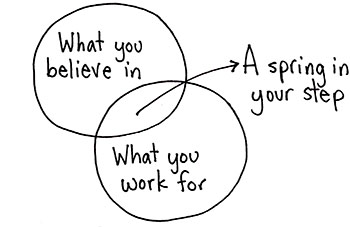 Where will you be in April?
The worst thing you can do in your career change is to do nothing.

The Launch Pad is a chance for you to be in a profoundly different place in three months from now.
Imagine:

It's April 2018. How would it feel to...
Have a huge new level of clarity about what you really want to do – and be able communicate that in a compelling way to people around you
Understand the strategies, ideas and techniques that really work to move into a career you love – to the point where they're second-nature habits
Know you can reach out to a global community of people who truly understand you, for inspiration, support, and accountability when you need a boost
Be confident about who you are and what you're doing in the world
Wake up proud and excited about what's happening in your life
This is your chance to:
Move faster than you would do by yourself, reducing the time, money and stress involved in your shift
Reduce the risk of your career change by getting expert input and a support team around you
Open up a whole new set of connections and work opportunities that you might never otherwise have had
I would still be stuck doing my 'day job' right now if it wasn't for the boot up the **** that the Launch Pad gave me. Thank you!