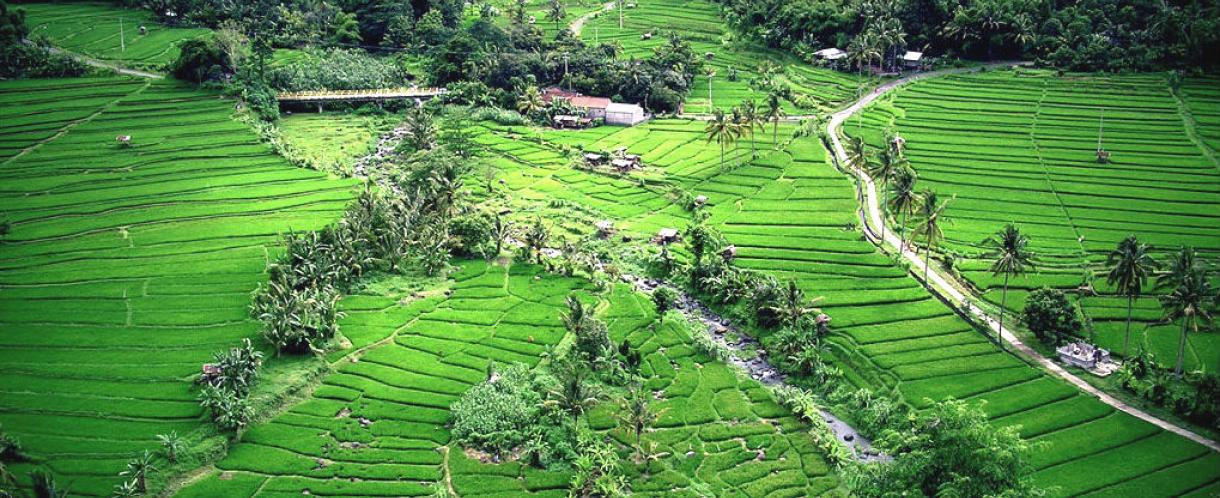 After eight years working in the not-for-profit sector in London, Sarah resigned and took off on a round the world trip with her husband, a designer, and their three year old daughter to find a new place to call home. They now live in Bali and Sarah is now officially a writer.
This is the second part of Sarah's article about living abroad. You can read the first part here.
Money, money, money
You can't just say "stuff it" on this one, unfortunately. You're going to need some.
Probably the most important thing is figuring out how much you will need. I don't know what it is you want to do – if you want some idea of costs for travel here you go:
c. £1500 for a RTW ticket with 6 stops.
Here is how much we have spent so far (we are 2 adults who like beer, 1 small child who likes colouring books, and we've been staying in pretty good accommodation – not hostels but not five star either, and childcare when we can get it):

India £800 a month
Bali £1600 a month
Malaysia £2000 a month
Singapore £100 a day
We also took a hit early on when our boiler back home broke and we had to fork out to fix it. We are lucky that John can work remotely (he's a designer) so I just pimped him out extra hard.
Things like insurance, taxis, visas, bribes, exit fees, additional flights etc cost a lot too…
Once you have your budget add another 20%. You'll thank me for that one.
Raising cash
Sell things like shoes and your husbands records. But don't sell your body or your house. Leverage against it if you can – your house that is. But leverage only what you can afford to pay back each month.
Rent your house. This needs to cover the mortgage and the bills.
Start saving – don't eat out so much, ebay old clothes, buy Lambrusco instead of Malbec. Ok don't do that but don't have that second pint in the pub. Take your own lunch to work. If you really want this trip you'll save.
Sell your record / shoe /stamp collection
Take a mortgage holiday for 3-6 months (do this BEFORE you resign)
Don't resign – see if you can switch to contract work or whether you can work remotely for a few months.
Figure out what skills you have. We've met people earning money whilst they travel, in the following ways: aerial art (trapeze), flame throwing, yoga teaching, shiatsu, massage, writing, teaching English, nannying, teaching in kindergarten, flyer distributing, dj-ing, designing, web building, marketing, clothes designing, chef-ing.
If you have circus skills, you'll be well placed to live in Goa.
NB: Working and Visas. To tell or not to tell.People do work without visas in every country. But there are consequences – big ones. There were a LOT of people working in India without a visa to do so. But if you get caught you're in trouble. In Bali they fine you $25,000US and chuck you out the country. Not worth it.
Making your stay cheaper
Your biggest outlay is accommodation. Here are some ways of reducing that outlay:
Couchsurfing
Stay in hostels
House sitting
Friends and Relatives, preferably ones you like who have swimming pools.
If you stay longer it's generally cheaper.
WOOF – some organic farm thing. But you have to work. On a farm. 'nuff said.
If you go out of high season it's even cheaper
Rent a local's house – it will be much cheaper than anything owned by an ex-pat or advertised on the internet. In Bali a local house would be 50% cheaper. Our pink house on the beach in Patnem cost £200 a month.
Don't book a long term stay from the UK. You will pay a lot more. Wait until you get to a place and decide you like it, then ask in the local shops and the taxi drivers if they know of any houses or rooms for rent.
For city stays couch surf or if you can't find then try www.laterooms.com for cheap hotel deals or www.hostelbooker.com
If you have moved abroad, what practical tips could you offer others who are considering this route? Leave a comment below.